Here are the headlines from the S&P/ASX 200 (INDEXASX: XJO)(ASX: XJO) and Australian finance circles on Wednesday morning.
But first, here are the data points:
Australian Dollar ($A) (AUDUSD): 73.37 US cents
Dow Jones (DJI): up 0.1%
Oil (WTI): $US68.54 per barrel
Gold: $US1,208 per ounce
Australian Investing News
Making finance news today are a host of ASX 200 companies which release their financial results as part of the last week of Reporting Season.
Bellamy's Australia Ltd (ASX: BAL), the infant formula company, reported a 37% increase in revenue for its 2018 financial year. Andrew Cohen, Bellamy's CEO, said the results are consistent with its turnaround plans.
"Our FY18 results set a new high for the business, delivering a 37% increase in sales and a 65% increase in EBITDA, and represents a material turnaround of our business," Cohen noted. Bellamy's is pushing forward with its plans to gain SAMR registration, which will enable it to sell its products in mainland China. China is a key growth market but accounted for just 6% of sales.
"SAMR registration of our Chinese-label formula is important to concluding the turnaround and we remain confident in our technical application and prospects for registration," Cohen added.
Read more: Bellamy's Milks Bigger Profit
Building materials company Boral Limited (ASX: BLD) reported a 49% increase in profit for its 2018 year thanks to a stronger performance from Boral North America, as well as solid results from Boral Australia.
"In recent years we have worked to initially fix and then transform Boral's portfolio to leverage strong markets in Australia, and capitalise on opportunities to grow in North America and in USG Boral's markets in Asia, Australasia and the Middle East," Boral CEO Mike Kane said.
Boral announced it will pay a final dividend of 14 cents per share, 50% franked. (Click here to learn what franking means).
Bega Cheese Ltd (ASX: BGA) revealed a 17% jump in its yearly revenue and announced a final dividend of 5.5 cents per share. The company said its Bega Foods unit helped it deliver the top-line revenue growth.
Sukin skincare products owner, BWX Limited (ASX: BWX), reported a 104% increase in revenue for its 2018 financial year with a normalised profit of $40 million, up 52%. A final dividend of 4.2 cents per share fully franked was declared.
"Geographical expansion remains a key element of our growth strategy and in 2018 we continued to make significant progress in expanding our Sukin brand into new markets, whilst consolidating its position in territories already acquired," Chairman Denis Shelley said.
In May, BWX received a takeover offer from two senior BWX executives. The deal is being backed by private equity company Bain Capital. Mr Shelley said a strategic review is being undertaken and is expected to be completed by Mid-September.
Read more: BWX Reports "Pivotal Year"
The Australian Investors Podcast
The Australian Investors Podcast provides insights from Australia's best investors, entrepreneurs, authors and financial thinkers. Download the latest episode free on iTunes, Castbox, YouTube or wherever you choose to listen.
Rask Media
Free high-quality* financial news for everyone (*with an occasional spelling mistake). That's our mission. It's what we do. Visit raskmedia.com.au to find the latest news, insights, video and audio content.
Related posts
Investors Podcast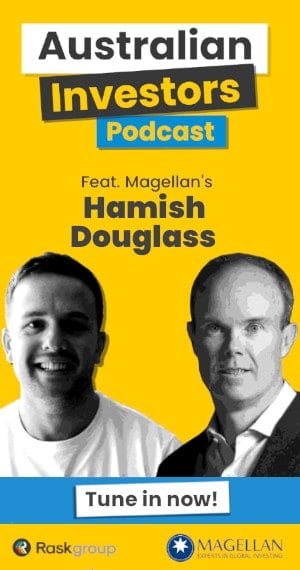 Search: