Welcome to your guide to buying shares in Australia for the first time. This is an exciting step on your investing journey, and I'm happy to help you get started. This guide will give you an overview of everything you need to get started, plus in classic Rask style, plenty of resources to make sure you have everything you need.
Please note: you will need a broker account to buy shares. See our guide: best share broker platforms in Australia.
I'm ready to invest in shares
Hold your horses there friend, I just need to make sure you understand some of the basics before I give you the keys to the universe. More specifically, I just want to make sure you understand what shares are, why investing is different to gambling and that you have a plan.
Shares are simply a small piece of ownership of a company. Now that company could be something as big as CBA or Telstra (name's you've probably heard of), or something as small as an explorative gold mining company. 
By having a marketplace, in particular the Australian Securities Exchange (ASX), you can easily buy and sell that piece of ownership in over 2,000 companies without ever having to meet the person on the other side of the transaction. Sweet! 
Did you hear about our free share investing course for beginners? 
You could just spin the bottle and buy shares in whichever company it lands on, but I'd love to introduce you to a slightly less painful and more planned approach. That is, by becoming someone who actively invests in great businesses that are solving problems.
By focusing on becoming an investor, rather than being someone picking companies on a whim (or worse, from an online forum), you can start to focus on building wealth in a slow and steady manner (turtles might not have as much fun, but they get the job done).
So before you jump in consider the following:
Have I paid off debt (think credit cards, Afterpay & personal loans)?

Do I have an emergency fund (think 3-6 months of living expenses)?

Am I buying shares to make a quick buck or to build wealth over a long period of time?

Do I understand that my investment may go down in value?

Have I taken the beginners share investing course that Rask offers for free?

Am I prepared to do my research, make mistakes and keep going?
Finally, make sure you have a plan. I'd recommend starting a Google Doc to document your journey, so you you make notes of each purchase you make and why you chose to invest in that business. Then when sh*t hits the fan as it always does, you've got something to come back to that's grounded in reality. You could even try paper trading before you get started.
You will make mistakes, but this is a great way to learn, rather than just throwing your hands up and declaring the market has decided to make a fool out of you (and trust me, it's going to be a rollercoaster ride).
Picking the best brokerage account
Look, we've got a whole guide dedicated to picking the right brokerage account for you, but let me give you a rundown. 
The broker is the matchmaker who hooks up buyers and sellers of different shares, without ever having to introduce anyone. It happens within microseconds through the use of technology, and if they can find a seller to match your order (and if the price is right), you'll be the proud shareholder of Company X.
The great thing is, there's plenty of competition in the brokerage industry, which means lots of choice for you. Unfortunately, this is where many of our community members get stuck, because too much choice can become paralysing. Like many things, brokers come in all shapes and sizes, so think about what features you need! 
So let me give you a few questions to guide your search. Please note, the relevance of each of these points will depend on your investing priorities (make sure to read our broker guide). 
What are the fees to buy shares?

Do I get good data & live share pricing?

Do I like the user experience and is it easy to use?

What research do I have access to?

Can I buy shares in

international markets

?
You really want to make sure that your chosen broker is easy to use because even though we have the technology for an amazing user experience, many brokers are still years behind. 
My #1 tip with brokers
Before you fully commit to a broker, give it a test drive (without any money involved) to make sure it's straightforward to buy and sell using the app. Also, test out their customer service team (give them a call) and ask them about the reporting they provide you at tax time — it'll make your life so much easier!
Which shares should I buy?
Ah, that age-old question. Even the experts sit at their desks and ponder this one. But let's reframe the questions as to what great business should I buy. Because, the sharemarket can seem overwhelming, but if you focus on finding great businesses, run by great people, it starts to become a lot less scary.
Although we do help members figure out what to buy with our research arms (Rask ETFs), there are plenty of places to go to help you find these companies. 
Here are some places to discover new ideas:
Share investing checklist
The team at Rask have put together a 5-point share investing checklist to help you with your research. Note: PDF and spreadsheet versions of our resources are available to students of our free investing courses.
How to buy shares in a brokerage account
Now you've got a brokerage account and something in mind to buy, it's time to actually place your order. This will look different depending on which broker you use, but there's some key parts of this that will be the same, regardless of the platform you're on.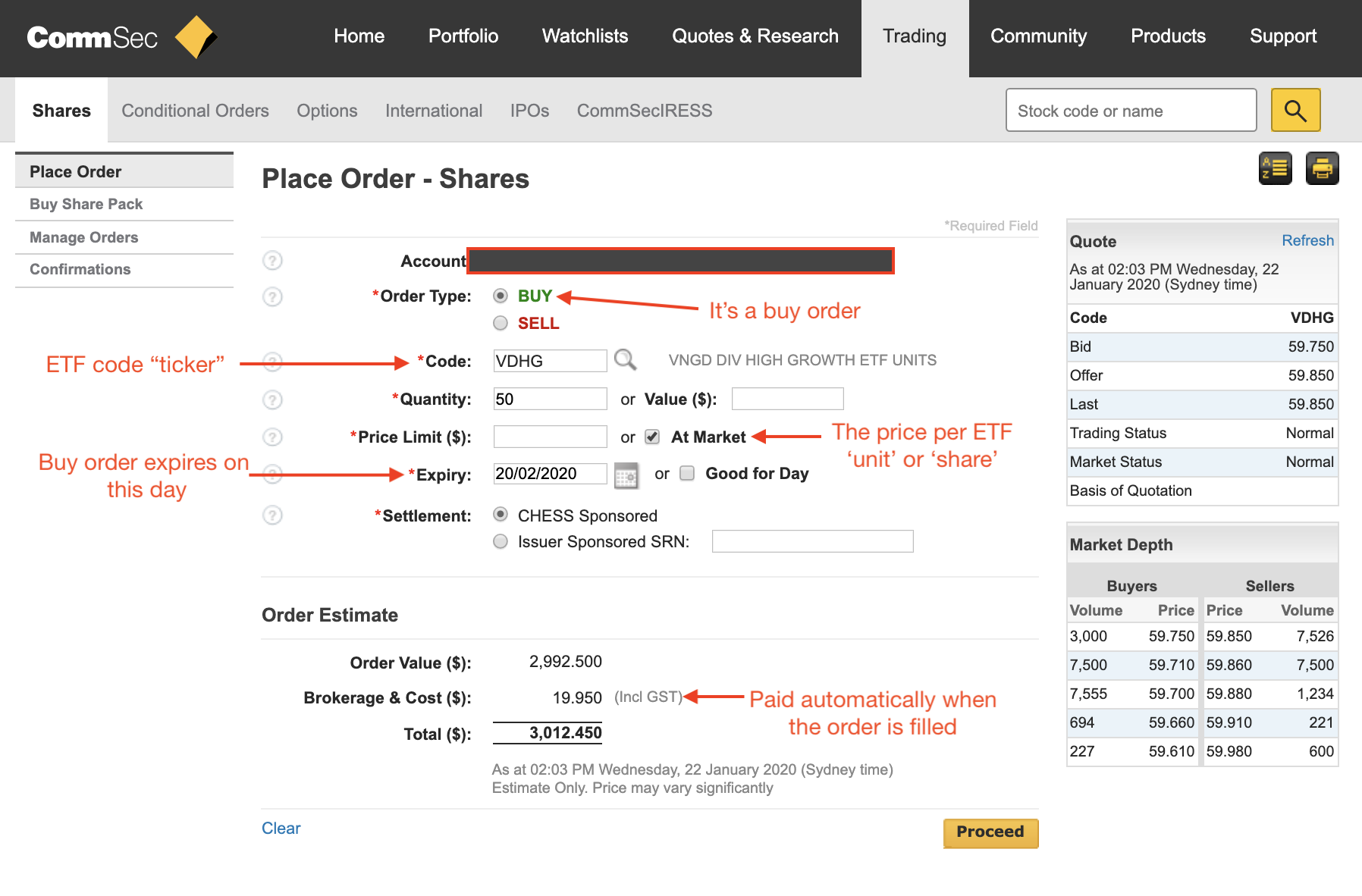 Order type (buy/sell): Make sure you click buy, if that's what you're here to do.
Stock code (usually three letters): Double-check this by doing a quick search, to make sure you're buying the right company. There have been plenty of overexcited people before you that have purchased the wrong company after getting the stock code wrong.
Quantity/value: Do you want to buy 1,000 shares (quantity) or $1,000 worth of shares (value)? 
Price (limit/market): Here you can choose what price you're willing to pay for the company. If you're happy with the current share price and are happy for your order to go through at that price, you can just select the market price, and let the broker do its thing (this is not always advisable when it comes to illiquid small companies). 
If you have a specific price in mind, you can enter a limit price. Just be prepared that your order won't go through until the other sellers are willing to sell at that price. 
Expiry: If your broker can't match you up with a seller, do you want your order to expire on the same day or a specific date in the future?
Then you'll have the opportunity to review your order and hit go (just make sure you've got money in your account for when the order goes through). If the broker can find sellers that match up with your order, it'll automatically execute and you'll see these shares appear in your portfolio. 
Share investing dividends, tax & paperwork
You've just purchased your very first ASX share and you're feeling like a legitimate grownup now. You know, someone who does things like 'invest in their future' and all that. 
However, you can't bring out the bubbles just yet, because like everything, there's paperwork to sort out (sigh). Take it from me, if you don't get some of these things sorted out in the beginning, it will make life more difficult for you down the track.
Firstly, I want you to read through ourguide to share registries, as that will help you understand how to update your tax file number, bank account details, contact details, communication preferences and vote on things.
Now the fun bit. If you haven't heard yet, you'll have to pay tax on any capital gains made when you sell your shares or receive a dividend. You might choose to use a Dividend Reinvestment Plan (DRP), that pays your dividend in additional shares, rather than cash.
I typically keep track of the purchase date, purchase price, ticker code and total purchase cost (cost base). I'll also keep any statements I receive via email in a specific folder, so they're accessible at tax time. You can also download dividend statements in your share registry account (once they're issued).
Common methods of tracking all this for tax time include using Excel, Google Sheets, and Sharesight (my personal favourite).
Learn from share investing experts
Now that you've made it through our guide to buying shares, do you want to do a real valuation like Owen? Take the 100% FREE share investing valuation course. Watch Owen as he walks through the 6 most popular valuation models! Complete with downloads, pre-built spreadsheets, and more!
You can also tune into the Australian Investors Podcast, to learn more about share investing from the best in the game.