The Australian Dollar (A$) ⇨ US Dollar ($) (AUDUSD) is expected to end 2018 at 78 US cents, according to a poll run by Reuters.
Currently sitting at 77.80 US cents, the Australian dollar (AUD) has been on a wild ride over the past few months with expectations of rising US interest rates leading the calls for a lower Aussie dollar and Donald Trump's plans to impose tariffs on imported aluminium and steel.
Australian Dollar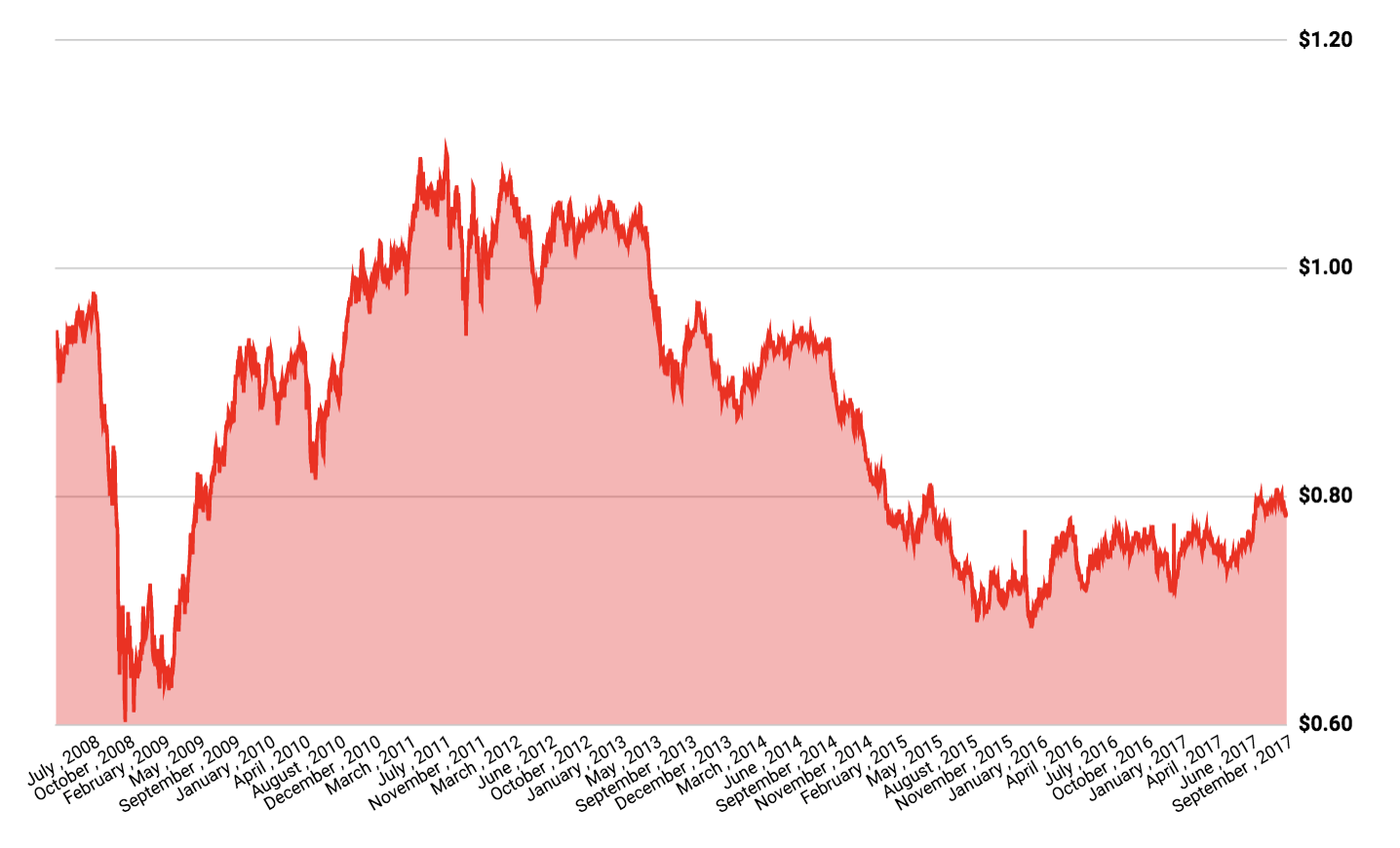 Trump's Import Tariffs
Less than a month ago Trump announced that his Government was, "going to build our steel industry back and we're going to build our aluminium industry back". They said they will impose extra costs on products imported from overseas. It was feared the announcement could start a trade war between the US and China.
Our Steel and Aluminum industries (and many others) have been decimated by decades of unfair trade and bad policy with countries from around the world. We must not let our country, companies and workers be taken advantage of any longer. We want free, fair and SMART TRADE!

— Donald J. Trump (@realDonaldTrump) March 1, 2018
However, the 'tariffs' are expected to hurt the American economy more than they protect it, according to some pundits. In response to Trump's decision, the European Union threatened to impose their own tariffs.
Yesterday, Trump signed off on the tariffs, the SBS reported.
US Interest Rates To Rise? 
Typically, rising interest rates are a sign of a stronger economy and a strengthening currency. As we wrote last month, 3 Signs The Australian Dollar ($A) Could Fall Below 80 Cents, many top economists expected Australian interest rates to stay flat in 2018. Conversely, US interest rates are tipped to rise, which some commentators believe will lead to a weaker Australian dollar.
Westpac Banking Corp (ASX: WBC) Chief Economist Bill Evans wrote recently: "Associated with that expected increase in the USD; an expected fall in Australia's Commodity Price Index of around 20%; and a deteriorating yield differential as the RBA remains on hold in 2018 we expected a fall in the AUD from around USD 0.765 to USD 0.70." Meaning, Evans expected the Australian dollar to hit 70 US cents.
However, he said the bank updated its currency forecasts on the belief that US interest rates will rise three times by the end of 2018. "…with the starting point much higher (USD0.807 vs USD 0.765) our revised target for AUD/USD by end 2018 is now USD 0.72," Evans said.
Broadly speaking, the Australian dollar is expected to fall during times of market stress, since the local economy is heavily influenced by commodity prices, which are cyclical. Some of Australia's largest companies are miners such as Rio Tinto Limited (ASX: RIO), BHP Billiton Limited (ASX: BHP) and Fortescue Metals Group Limited (ASX: FMG).
Interested in finance & investing?
Join Rask Group's investor's club newsletter today for the latest news and education on finance and investing. Join today – it's free. BUT, you'll need a good sense of humour and a willingness to learn.
Disclaimer: This article contains general information only. It is no substitute for licensed financial advice and should not be relied upon. By using our website you agree to our Disclaimer & Terms of Use and Privacy Policy.
Rask Media
Free high-quality* financial news for everyone (*with an occasional spelling mistake). That's our mission. It's what we do. Visit raskmedia.com.au to find the latest news, insights, video and audio content.
Related posts
Search:
Investors Podcast