It seems the laws of physics don't apply to Brainchip Holdings Ltd (ASX: BRN), with the company's share price increasing 53% this week alone.
Over the past nine trading sessions, the Brainchip share price has risen 140% from $0.315 to $0.755, with an intra-day high of $0.97 reached yesterday.
Here's what Brainchip's run over the past three months looks like: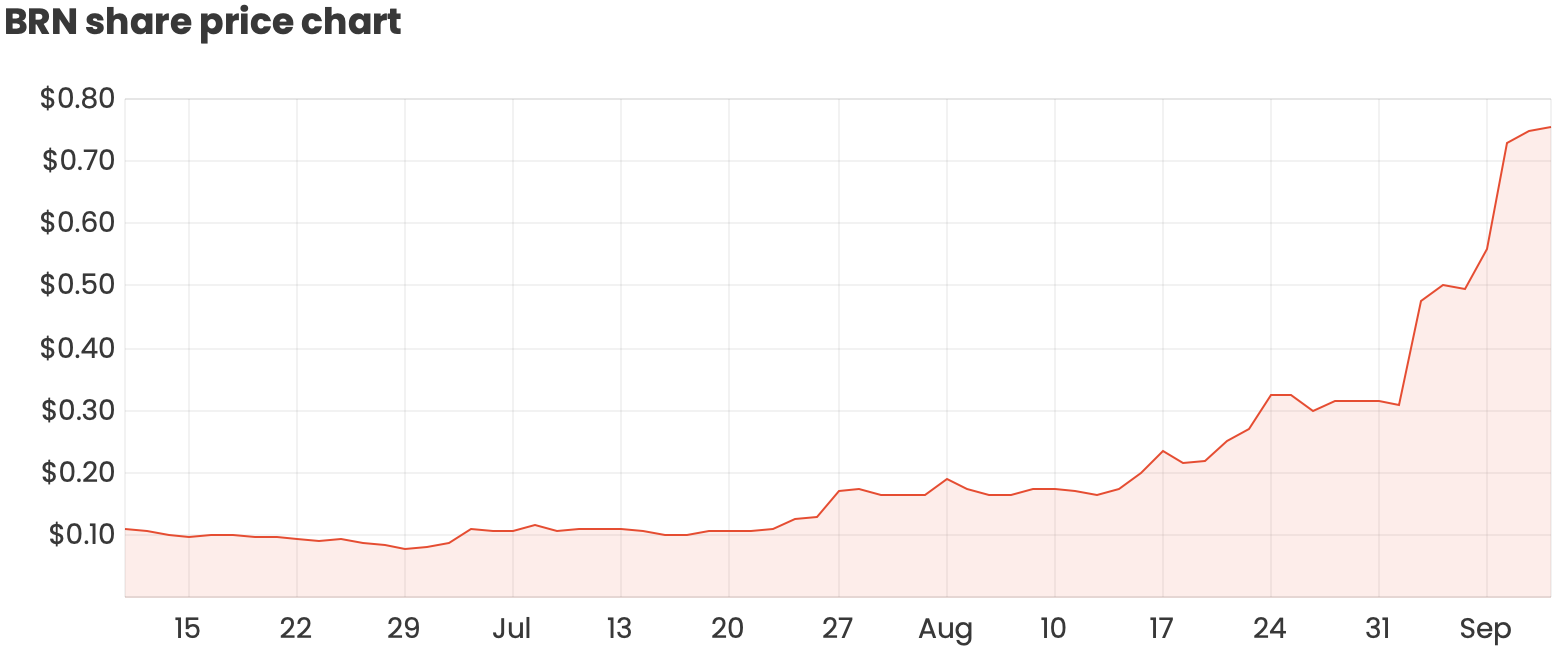 Who is Brainchip?
Brainchip is a technology company that has developed a propriety neuromorphic processor called Akida.
The processor is inspired by the "spiking nature of the human brain", which gathers artificial intelligence through event-driven processing to learn in real-time.
Data is analysed at the processor, instead of requiring transmission to the cloud or a data centre, reducing system latency and increasing efficiency.
Half-year release
In its most recent half-year release, Brainchip announced a US$6.86 million loss with just US$13,397 in revenue from operations.
The company holds US$5.35 million of cash on its balance sheet. Using the first-half loss as a benchmark, it is likely the business will return back to the market requesting more capital from investors within the next six months.
Brainchip most recently raised $3.12 million from investors in April to fund operational costs.
Why the sudden increase in share price?
On 1 September, Brainchip agreed to collaborate through an early access program with VORAGO Technologies to support NASA's Phase I Radiation-Hardened Neuromorphic Processor Program.
The agreement included "payments that are intended to offset the company's expenses", however, the exact amount was not specified.
In addition to the early access program, the company announced its addition to the S&P/ASX All Technology Index. This likely contributed to buying as funds tracking the index add holdings in Brainchip.
On Tuesday, the company received a price query from the ASX requesting if any other information could explain the recent share uptick. The company subsequently responded no.
The rapid share price appreciation may be attributable to the VORAGO agreement and index fund buying, however, I would argue the primary reason is speculation amongst investors and day traders, who achieve returns through volatile share prices.
Final thoughts  
Brainchip is a marketer's dream, with buzzwords including technology, artificial intelligence, and NASA.
However, the business is well outside my circle of competence. Furthermore, Brainchip is still in its infancy regarding revenue and developing contracts with potential customers.
If deciding to invest, I would encourage investors to focus on the Brainchip's fundamentals and growth prospects, rather than the volatile price action.