The Altium Limited (ASX: ALU) share price has been one of the ASX's best performers over the past 5 years, rising from around $2.20 to roughly $30 today.
Who Is Altium?
Altium is an Australian multinational software business that was founded in 1985. It has offices spanning the globe, with a presence in key areas such as San Diego, Shanghai, Sydney and Munich. Its software focuses on the design of printed circuit boards (PCBs), which are the little electronic pieces (usually green or blue) that sit inside everyday devices.
Altium has benefited from the Internet of Things (IoT) revolution, a term used to encapsulate the rise of 'smart' devices. In 10 to 20 years from now, it is not unreasonable to foresee almost every household object having a computer chip inside it.
According to market research firm Statista, the number of IoT connected devices is projected to rise from 26 billion in 2019 to 75 billion in 2025. Altium, alongside its industry peers including Mentor Graphics (now part of Siemens) and Cadence Design Systems (NASDAQ: CDNS), looks set to capitalise on this multi-year trend.
Altium Best-In-Class Products
Altium has a range of market-leading software products and platforms including:
Altium Designer, the most widely-used PCB design tool on the market. Engineers use it to design most types of electronic devices.
NEXUS, a collaborative team-based PCB solution (e.g. designers and engineers working together in one place)
TASKING, an embedded systems development solution
Octopart, basically the Google search of PCB parts or pieces — making it easy to price the designs of equipment.
How Does Altium Generate Revenue?
Altium currently generates its revenue from three key areas:
Subscription services for its core product Altium Designer
Perpetual and term-based software licenses for Altium Designer, NEXUS and TASKING
Search advertising through its Octopart platform
A breakdown of the company's H1 FY19 revenue sources are shown in the graph below.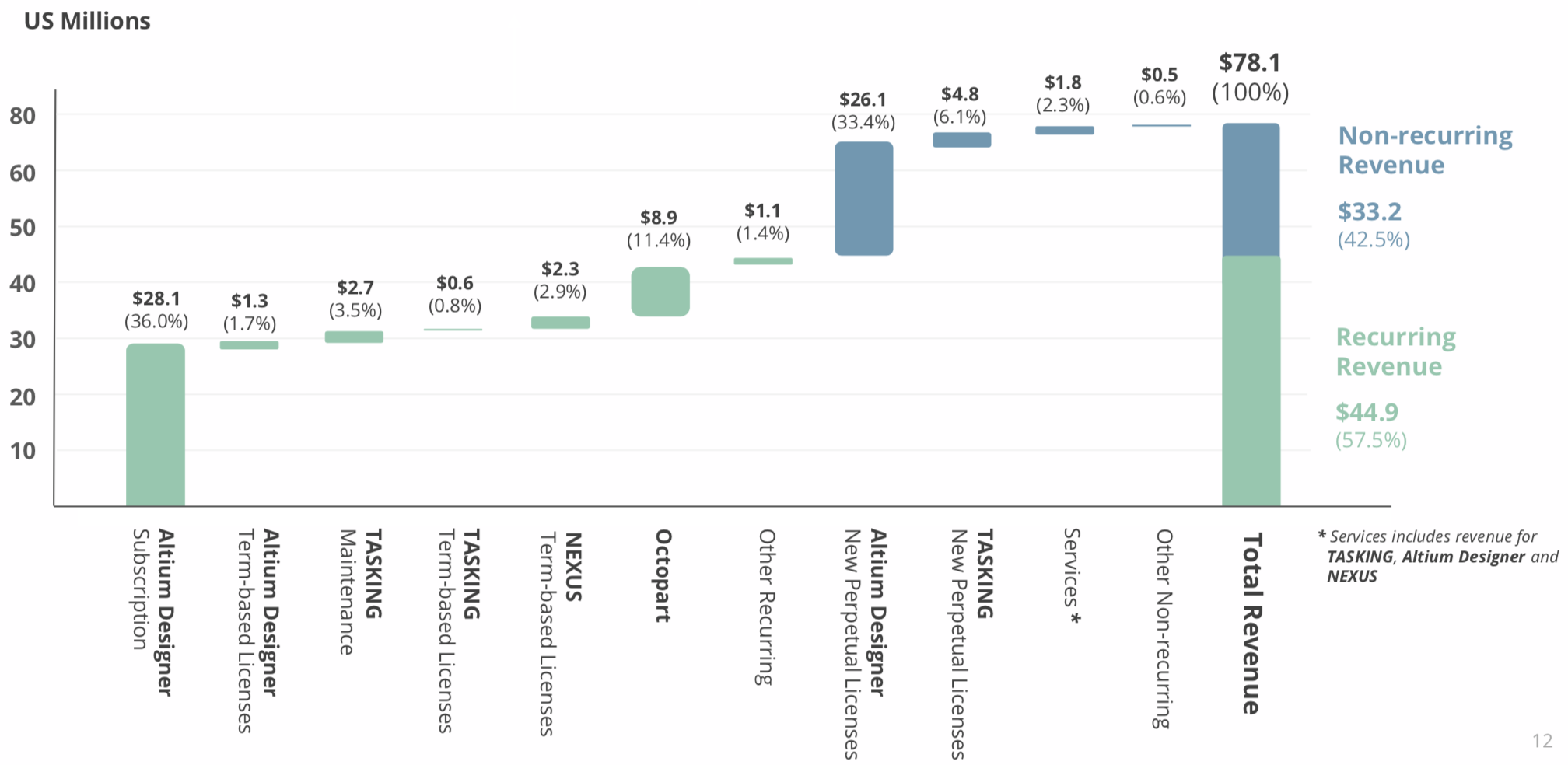 Source: Altium Half Year FY19 Investor Presentation
In Altium's 2019 half-year report, 36% of its revenue was generated from subscription services, while a further 33% was attributed to perpetual licenses for its core product, Altium Designer. Once term-based licenses are taken into account, over 70% of Altium's revenue comes from Altium Designer alone.
Outlook
Altium's goal is to achieve PCB market leadership by 2020, an objective the company set for itself back in 2012 by way of a US$200 million revenue target. With record revenue growth of 26% in FY18 to US$140 million, Altium is well on track to not only achieve this target, but comprehensively beat it.
At Altium's half year presentation earlier this year, the company announced it now has its sights set on 'market dominance' by 2025, which it defines as 40% of market share. In order to achieve this, Altium has committed to an aspirational target of 100,000 Altium Designer subscribers and US$500 million revenue by 2025.
Company CEO, Aram Mirkazemi, has said he "has absolutely no doubt we will be able to reach this goal".
If the expected competitive landscape illustrated in Altium's half-year presentation is to be believed, this target certainly appears achievable.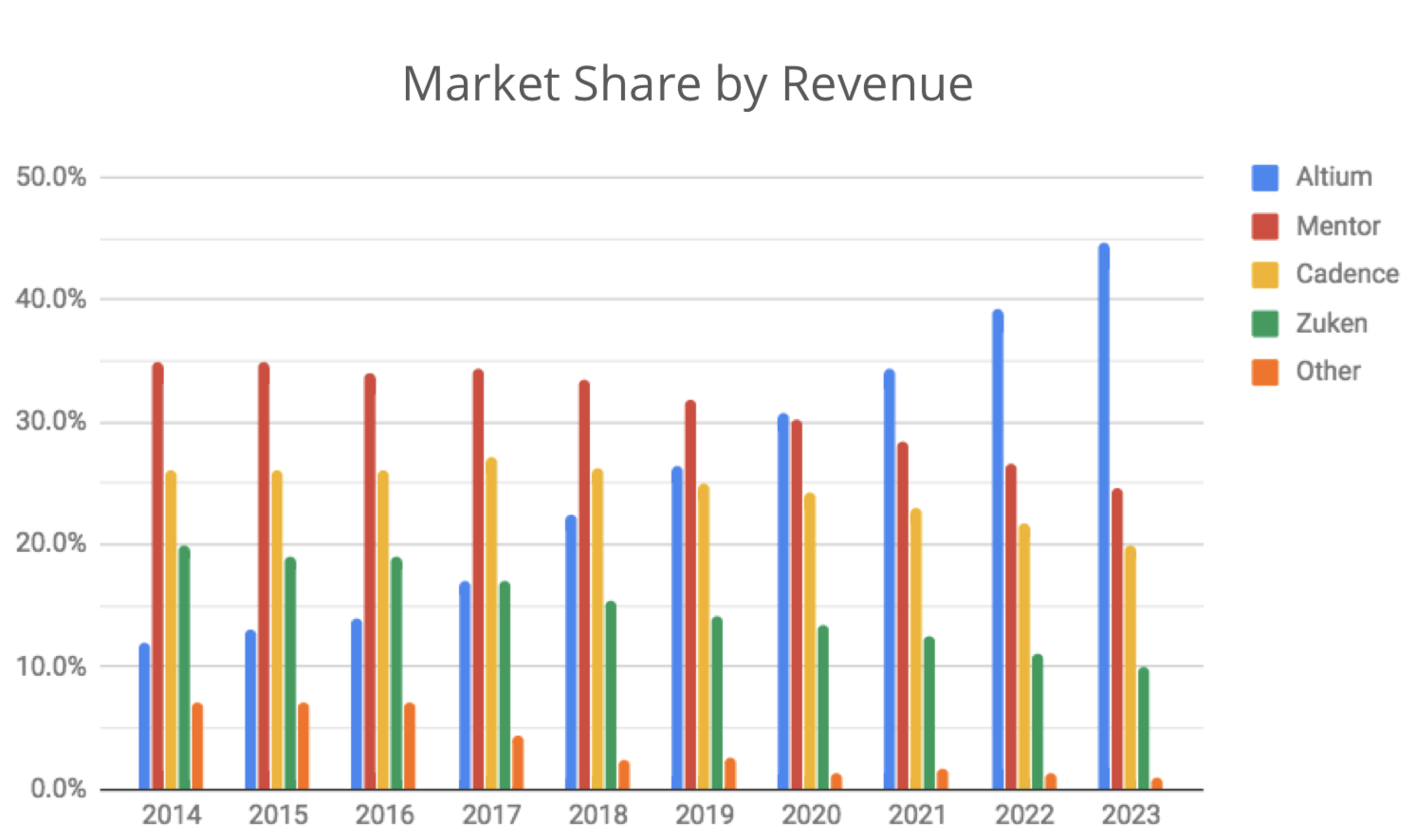 Source: Altium H1 FY19 Investor Presentation
From what I can gather, Altium has forecast itself a 'dominant' share of the industry but included only the 'high-end' market of PCB design software. That appears to be the only way to reconcile management's explicit 2025 forecasts of US$500 million in revenue and 100,000 users with 40% market share. The entire PCB design software market is worth substantially more than this US$1.25 billion slice. Especially if we consider the manufacturing or 'realisation' element.
Management
Altium is headed by CEO Aram Mirkazemi, who has ties to the company that go all the way back to 1992. As an engineer by trade with over 25 years of experience in the CAD software development and web-based technology industries, Mirkazemi has produced exceptional results for the company since he took over as CEO in January 2014.
Overall, insiders have a sizeable amount of skin in the game with a combined shareholding of roughly A$426 million, which represents almost 11% of Altium's current market cap.
As is the case in most competitive and innovative companies, Altium is extremely growth-focused which can potentially have an adverse effect on corporate culture. While the reviews on Glassdoor aren't exactly flattering, it appears that account mangers in particular have been disgruntled and were very forthcoming about expressing their opinion on the site. This problem, if in isolation, may explain the relatively negative overall metrics on Glassdoor.
Buy, Hold, Or Sell?
With sticky revenue, attractive industry tailwinds, growing profit margins and a debt free balance sheet, Altium ticks many boxes of a high quality growth share.
However, even despite trading at a 14% discount to the company's all time high of $35 in March this year, Altium appears fairly priced unless it exceeds its own expectations. At ~44x FY20's estimated earnings, Altium is one for the watchlist and I will be very interested in starting a position on the back of any substantial share price weakness.
In the meantime, I'll be keeping a close eye on the growth companies mentioned in the free report below.
3 tech stocks for a massive COVID-19 rebound
Amidst the COVID-19 confusion, some cloud-based companies are growing... FAST!
Meanwhile, industry researchers are valuing the entire cloud computing market at $US210 billion. If you ask me, it seems clear as day that this HUGE market is only going to get bigger in 2020 and beyond.
Our top investment analyst has just identified 3 growth stocks in a net cash position, with strong competitive forces... and obvious tailwinds at their back.
Claim your FREE investing report on our analyst's "3 best share ideas for the cloud revolution" when you create a free Rask Australia account.
Our report is 100% free and unlocks hundreds of hours of bonus content.
Simply click here to access the report.
---
Disclaimer and warning: The information on this website is general financial advice only. That means, the advice does not take into account your objectives, financial situation or needs. Because of that, you should consider if the advice is appropriate to you and your needs, before acting on the information. In addition, you should obtain and read the product disclosure statement (PDS) before making a decision to acquire a financial product. If you don't know what your needs are, you should consult a trusted and licensed financial adviser who can provide you with personal financial product advice. Please read our Terms of Service and Financial Services Guide before using this website.
Disclosure: At the time of publishing, Cathryn does not have a financial interest in any of the companies mentioned.