Online furniture retailer Temple & Webster Group Ltd (ASX: TPW) is moving into the red today despite the business reporting a positive start to FY22.
Currently, the share price is sliding, down 2.76% to $13.04.
All positive at the AGM
Temple & Webster hosted its Annual General Meeting (AGM) today on the back of a fantastic FY21.
The business achieved record numbers across revenue, earnings before interest, tax, depreciation and amortisation (EBITDA explained) and online penetration.
Positively, the strong momentum from FY21 has spilled over into FY22.
For the period from July 1 to October 15, the business recorded sales growth of 56%. This comes on top of the 85% revenue jump Temple & Webster had in FY21.
To put that growth into context, the company's revenue is up 188% since FY20. The share price has increased 5-fold since over a similar period.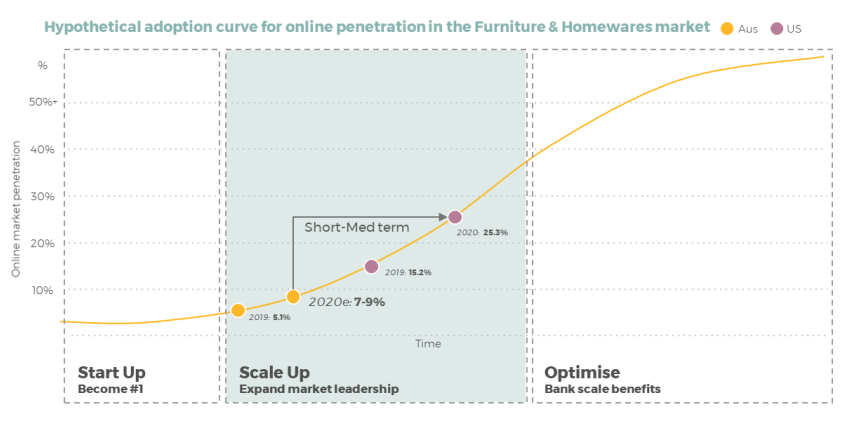 "Significant growth ahead"
Chief Executive Officer Mark Coulter reminded shareholders that the business still had a long growth runway despite economies beginning to reopen.
The pandemic has been a net benefit for the business, as households shifted purchases online when in-store restrictions prevented shopping.
"Temple & Webster is a long-term growth story and periods of above and below average growth are to be expected".
Regarding global supply constraints – recently illustrated by Audinate Group Ltd (ASX: AD8) dealing with an inability to source chips – the business remains positive.
Temple & Webster sources its private label products from over 100 factories and it drop ships from thousands of sites.
"Our inventory weeks of cover levels for our best sellers (both drop shippers and private label) are at a similar position or better than this time last year".
Management reiterated its full-year EBITDA target range of 2-4%. Positively, it anticipates the first-half will be higher than this level.
What's next for the Temple & Webster share price?
The Temple & Webster share price is up 10% in 2021 after a big jump over 2020.

Personally, I was impressed with the trading update. Growth of 56% is no easy feat, especially when you are cycling an 85% rise in the prior year.
I like the business long-term, as online spending become more common. However, I'm wary of purchasing shares when operating conditions are unrealistically positive.
I'll be waiting to see how the business performs once travel resumes and households are out and about.
Looking for new share ideas? Check out two ASX shares I'd buy and hold for the next decade.