New Zealand-based Infratil Ltd (ASX: IFT) is set to acquire a stake in a diagnostic imaging business. Infratil's shares are up around 3% today at the time of writing.
Infratil background
Infratil is a New Zealand-based infrastructure investment company that primarily invests in renewable energy, airports, data & connectivity and social infrastructure businesses in growth areas.
It's easy to think of Infratil as being similar to a publicly-listed private equity company. It has a track record of buying assets and investing in them to sell at a much more attractive price.
IFT share price
Pacific Radiology acquisition
Infratil announced this morning it had executed a conditional agreement to acquire between 50.1% and 60% of Pacific Radiology Group Limited – a comprehensive diagnostic imaging company also based in New Zealand.
It will be purchased from existing doctor shareholders for a total purchase price of NZ$350 million.
With Infratil being the majority shareholder, it will have the ability to drive the continued development and growth of the business alongside the doctor shareholders.
Pacific Radiology is the market leader and largest diagnostic imaging provider in New Zealand with over 30 clinics, 90 radiologists and 650 total employees.
It offers five different types of diagnostic scans, including ultrasounds, magnetic resonance imaging (MRI), computed technology (CT), and positron emission tomography (PET).
Revenue is generated from a variety of sources as seen below.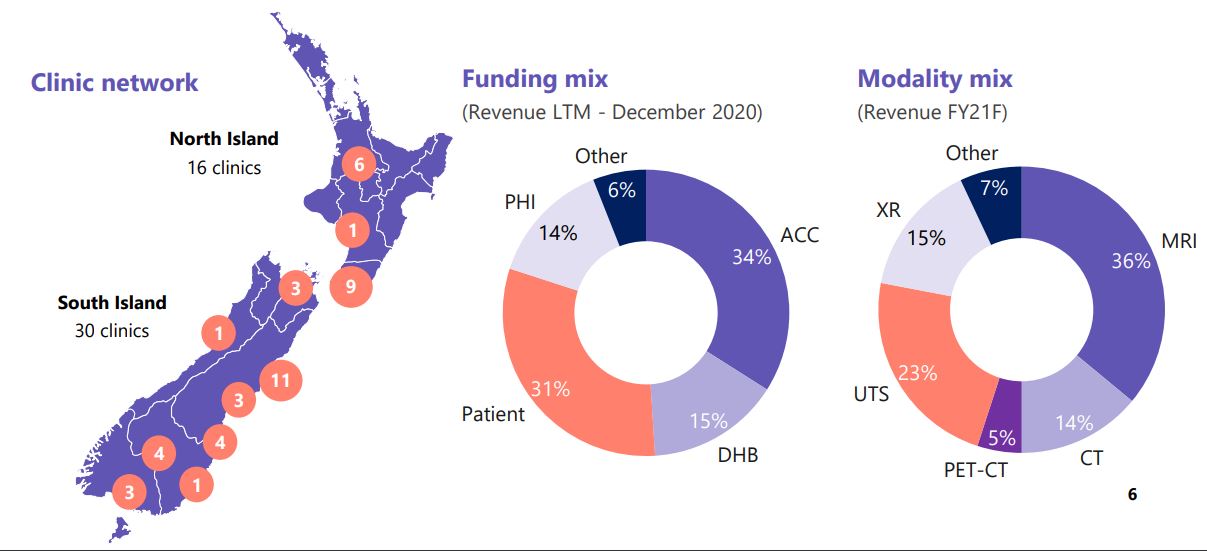 34% of revenue comes from the Accident Compensation Corporation (ACC) and 15% from the District Health Board (DHB), both of which are publicly funded, meaning these are likely to be consistent revenue streams that are fairly defensive.
Qscan synergies
Management believes that its recent acquisition will provide some synergy benefits with its previous Qscan acquisition. Qscan is another diagnostic imaging practice with over 300 machines predominately across the eastern seaboard of Australia.
Synergies will ideally be driven by combining the IT infrastructure and investment in artificial intelligence (AI), equipment/technology procurement and professional development opportunities.
Summary
I like the direction Infratil is heading with this recent acquisition as there are some nice structural tailwinds working to its advantage.
There's been a recent value-based shift towards the early diagnosis of illnesses and preventative care, which can significantly reduce the healthcare lifecycle for patients and improve patient outcomes.
For some more reading on Infratil shares, click here to read: Why I think Infratil (ASX: IFT) is one ASX share to look out for.