Markets often have a tendency to overreact to pieces of new information.
In the case of both Webjet Limited (ASX: WEB) and Flight Centre Travel Group Ltd (ASX: FLT), we saw roughly a 65% increase in the share price for both of these companies in the space of a month. Since then, they've both retraced, with Webjet nearly 20% down from its high at the end of last month.
Indeed, when the first COVID-19 vaccine announcement was released at the beginning of last month, investors lost interest in the prior beneficiaries in some tech and retail stocks and piled into some of the unloved recovery stocks in travel and leisure.
It looks like a bit of that initial enthusiasm regarding a vaccine might've been premature. Some additional bad news out of CSL Limited (ASX: CSL) this week regarding the Australian-made vaccine created more uncertainty around just how long it will take to return to a state of normalcy.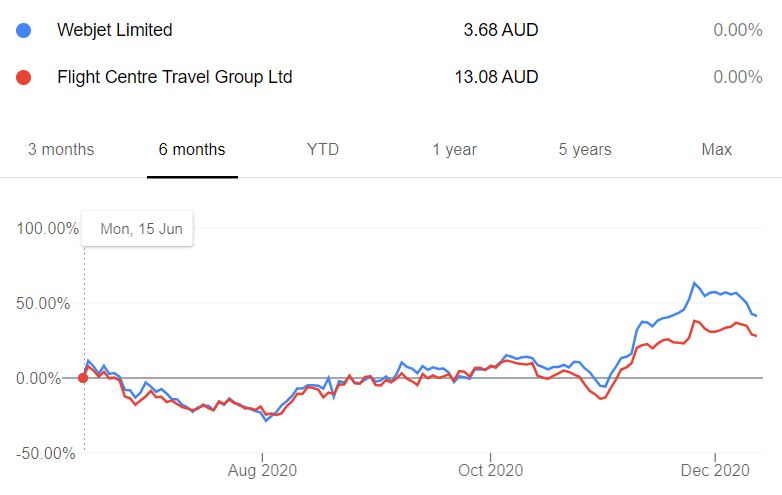 Where to from here?
If you picked up shares in either Webjet or Flight Centre and you're worried that you've made the wrong decision – I'd say don't worry.
The consensus seems to be that these companies will recover in the long-term and I think it's fairly likely that the share price will eventually go above what you may have bought it for. That said, there's still such an unknown element regarding how COVID-19 plays out and the effectiveness of these vaccines, and that makes any sort of forecasting for travel extremely subjective.
The other half of this is predicting the profitability of these companies whenever they do in fact return to normal operating capacity. I won't go into any sort of detail here, because there are quite a few differences between Webjet and Flight Centre.
However, the consensus amongst investors still seems to point towards the idea that demand will eventually recover. So provided these companies can manage their cash burn until international borders fully open, buying shares in either of these companies might be a good bottom-draw investment for a small part of a portfolio.
Is now a good time to buy shares?
If you are thinking about buying WEB or FLT shares today, ask yourself why you're thinking about doing so. Is it because the share price looks cheap compared to pre-COVID levels, and therefore there's quite a bit of upside potential?
If this is/was the rationale behind your investment decision, one thing you might not have considered is how the recent capital raisings have affected the valuations of the shares. At the end of 2019, Webjet had a market capitalisation of $1.7 billion with around 135 million shares on issue. Market capitalisation is equal to the number of shares outstanding multiplied by the current share price.
After issuing new shares this year, Webjet now has around 339 million shares on issue. At the current share price of $5.23, this is a market capitalisation of $1.77 billion.
So even though the Webber share price is 50% below where it was prior to COVID-19, the market has essentially valued the total amount of its shares at the same total value as before. If an investor buys shares today, they're essentially paying the same price as they were prior to COVID.
This also applied to Flight Centre's shares, but it doesn't seem like the dilutive effect was as strong as Webjet's.
None of this is to say that either of these companies won't do well and make a good investment. If you are holding, remember why you bought shares in the first place and consider if you could make better use of the capital elsewhere. You can always sell part of your holding, or choose to ride it out.
If you choose the bottom draw approach, hang in there and try not to click refresh on your portfolio's balance too often.