CSL Limited (ASX: CSL) shares fell 3% Wednesday morning despite the biopharmaceutical giant hosting its research & development (R&D) investor update.
Indeed, it seems CSL shares have been caught up in a broad market sell-off despite delivering another promising operational and market update.
Who is CSL?
CSL is Australia's largest (and some might say best) healthcare company, specialising in biopharmaceuticals. Founded in the late 1900's as the Commonwealth Serum Labratories , CSL was sold by the Government to Australian investors via the share market in 1994 at $2.30 per share, at which time it doubled its size through an international acquisition.
Today, CSL is a global leader in blood plasma vaccines (think: the flu) and antivenoms, providing relief for potentially life-threatening medical conditions.
What's Going On?
CSL hosts its research & development investor briefing today.
CSL spends between 10% and 11% of its yearly revenue on the research and development of new drugs and vaccines. According to today's update, CSL has nine products in Phase III trials.
Big Opportunity
Commenting on the market opportunity, CSL's Chief Commercial Officer Bill Campbell provided an overview of the market for CSL and where it fits.
In 2018, CSL earned almost half ($3.14 billion) of its revenue from its immunoglobulin products, as can be seen above. Immunoglobulins are another way of saying antibodies.
In the past 12 months, CSL has launched privigen and Hizentra. These products are approved for use in 80 countries and 57 countries, respectively, and appear to be showing good early signs.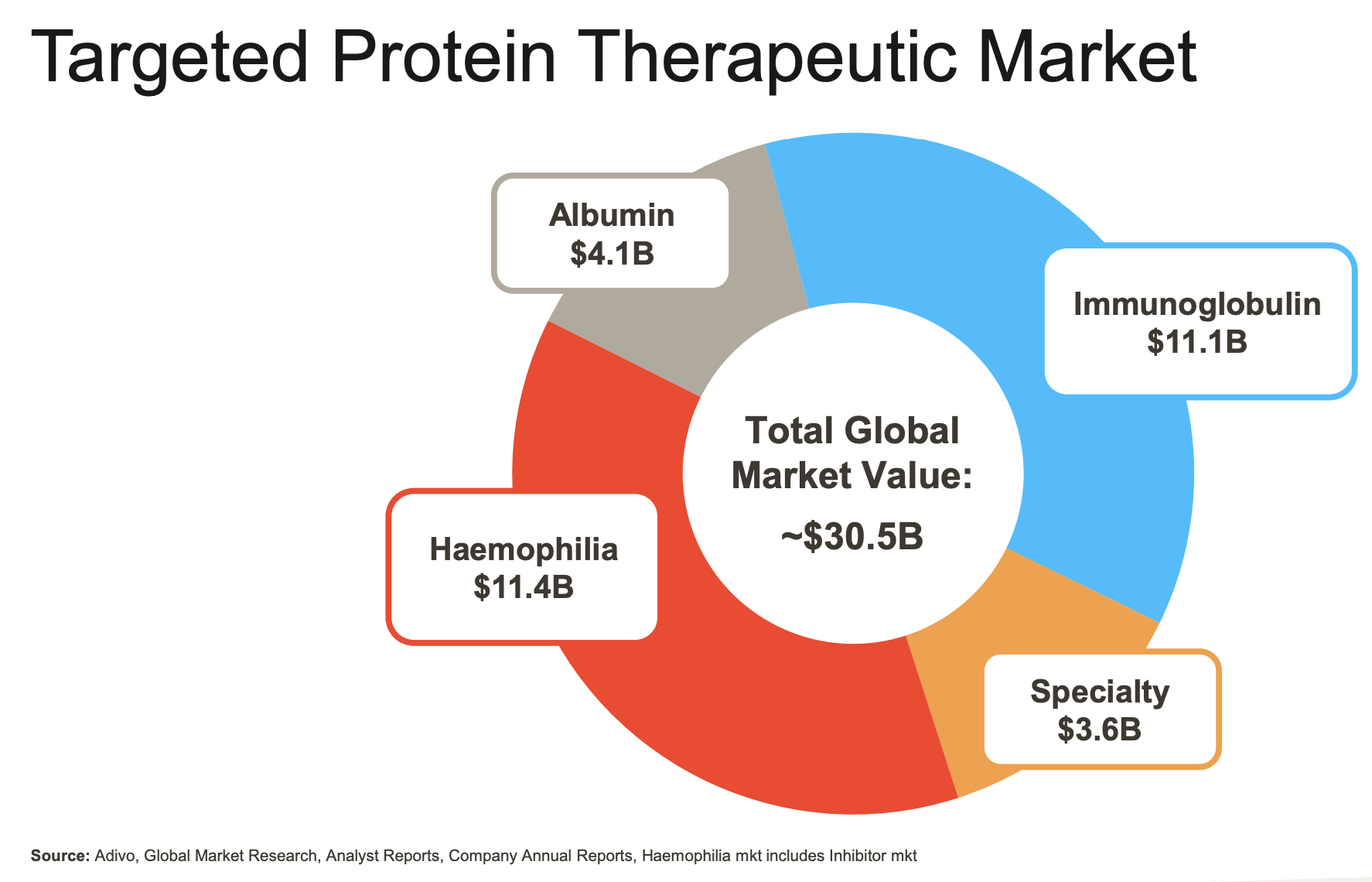 As can be seen in the chart above, CSL's target market is huge. So despite already growing at an enviable pace over decades, it seems CSL could be expected to experience further growth over the long run.
Time to Put CSL Shares on Your Watchlist?
With a proven track record, industry-leading products and more in the pipeline, CSL should be on Australian investors' watchlists.
Having said that, I don't own CSL shares because I haven't done enough work on its products to understand the opportunity, the risks and arrive at a reasonable valuation.
Fortunately for me there are plenty of other great ASX shares offering both dividends and growth…
Here are 3 stocks I own in April 2020...
Amidst the COVID-19 confusion, there are some companies still growing FAST (think: online meetings through Zoom, streaming companies like Netflix and eHealth services provided by Teledoc).
While the world grapples with COVID-19, some companies are still growing rapidly. The entire cloud computing market is valued around $US210 billion but if you ask me, it seems clear as day that this market is only going to get bigger in 2020 and beyond.
That's why our top investment analyst has just identified 3 growth stocks in a net cash position, with strong competitive forces... and obvious tailwinds at their back. He owns all three of them right now!
Claim a FREE investing report on our analyst's "3 best share ideas for the cloud revolution" when you create a free Rask Australia account.
Our report is 100% free and unlocks hundreds of hours of bonus content.
Simply click here to access the report.
---
Disclaimer and warning: The information on this website is general financial advice only. That means, the advice does not take into account your objectives, financial situation or needs. Because of that, you should consider if the advice is appropriate to you and your needs, before acting on the information. In addition, you should obtain and read the product disclosure statement (PDS) before making a decision to acquire a financial product. If you don't know what your needs are, you should consult a trusted and licensed financial adviser who can provide you with personal financial product advice. Please read our Terms of Service and Financial Services Guide before using this website.