The Australian share market, or S&P/ASX 200 (INDEXASX: XJO)(ASX: XJO) index, is expected to open slightly higher Wednesday morning, according to the Sydney Futures Exchange.
Here's what you need to know:
SFE ASX 200 futures: +3
Australian Dollar ($A) (AUDUSD): 78.26 US cents
Dow Jones: up 0.04%
Oil (WTI): $US62.36 per barrel
Gold: $US1,335 per ounce
Overnight, London-listed shares of BHP Billiton Limited (ASX: BHP) and Rio Tinto Limited (ASX: RIO) closed up 2.2% and 1.4%, respectively.
Australian Investing News
Today, Henry Morgan Ltd (ASX: HML) is making the news — despite its shares being in a trading halt since June 2017. The investment company has been subject to a number of questions from the ASX Ltd (ASX: ASX).
In response to a recent ASX request, Henry Morgan's announcement to the ASX today included the following flowchart, which appears to show the key decision makers in Henry Morgan, John Bridgeman Limited (JBL), Bartholomew Roberts Pty Ltd, JB Financial Group, K-Ching Pty Ltd and K-Ching Holdings Pty Ltd.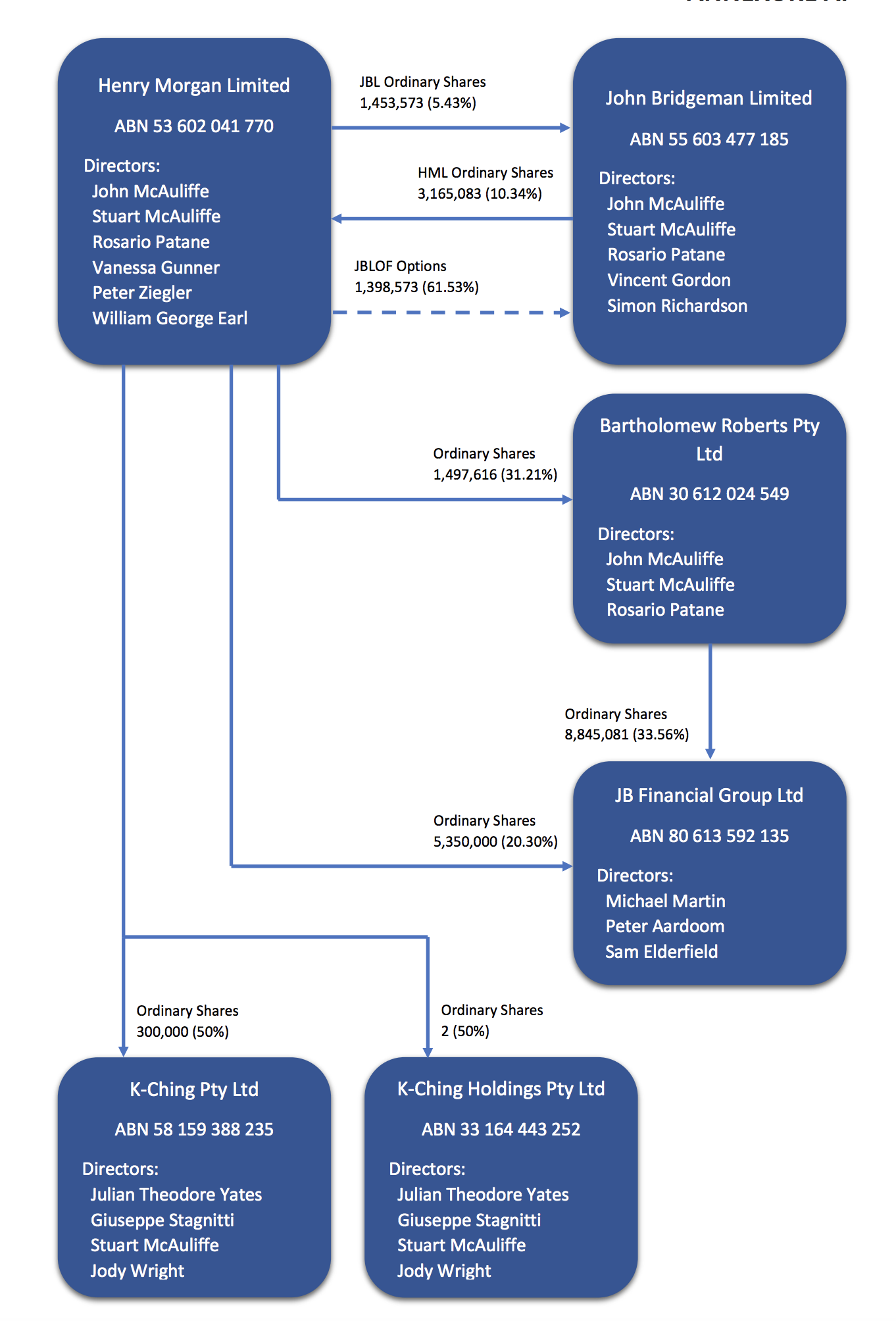 "As a minimum, the diagram should show common directors, shareholdings and loans between these entities, as well as any other relevant agreements or connections between the entities," the ASX said.
As can be seen from the announcement, it would appear that the different companies have common directors and cross-shareholdings.
The ASX also questioned the company with regards to financial forecasts.
"ASX notes that JBFG's actual total income for the period ended 30 June 2016 was $6,444,500 and according to page 32 of JBFG's 2017 Annual Report, if HPH Holdings Pty Ltd, King's Currency Exchange Pty Ltd and RSM were held by JBFG for the entire financial year (rather than being acquired part way through the year), this would have resulted in revenues of an additional $6,957,877 (i.e. total income for JBFG would have been $13,402,377)," the ASX explained.
"Adding the expected revenue for Genesis of $22.1 million announced by HML on 15 August 2017 to this figure gives total revenues of $35.5 million, still almost $20 million below HML's estimate."
In response, Henry Morgan said, "The forecast does not purport to reflect the expected actual result for JBFG for the 2016/2017 financial year. Nor is it correct to simply extrapolate the 2016/2017 reported revenues for part year results to arrive at an annualised turnover."
It added: "Doing so does not correctly factor in growth forecasts, business activity changes, potential revenue gains, forecast changes in economic conditions and any seasonality in the generation of JBFG's revenues. At this stage JBFG has not provided HML with any additional information that would lead it believe that the estimated "annualised turnover" is not reasonable."
Also making the news today, St Barbara Limited (ASX: SBM) announced that it entered into forward contracts, which provide gold price protection for 25,000 ounces of gold sales delivered between July 2018 and December 2019.
Finally, Blue Sky Alternative Investments Limited (ASX: BLA) announced the successful completion of its placement of 8.7 million shares, raising approximately $100 million. Yesterday, Blue Sky said it would conduct a capital raising and share purchase plan to provide capital for co-investment and for balance sheet support.
Join Rask's Investor Club Newsletter Today
You can join Rask's FREE investor's club newsletter today for all of the latest news and education on investing. Join today – it doesn't cost a thing. BUT, you'll need a good sense of humour and a willingness to learn.
Keep Reading
Disclaimer: This article contains general information only. It is no substitute for licensed financial advice and should not be relied upon. By using our website you agree to our Disclaimer & Terms of Use and Privacy Policy.
Rask Media
Free high-quality* financial news for everyone (*with an occasional spelling mistake). That's our mission. It's what we do. Visit raskmedia.com.au to find the latest news, insights, video and audio content.
Related posts
Investors Podcast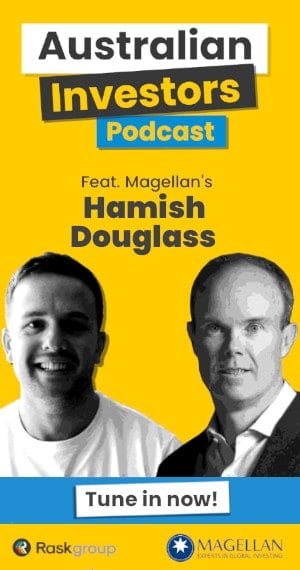 Search: