Australian mining titan, BHP Billiton Limited (ASX: BHP), this morning reported its half-year operational update to the market. Here's the meat of it:
Iron ore production – down 7%, versus the prior corresponding period

Copper – up 17%

Iron ore – flat

Metallurgical goal – down 4%

Energy coal – up 4%

An impairment charge between $US250 million and $US350 million is expected

All major projects remain on track
Despite weather events affecting its petroleum production BHP's CEO Andrew MacKenzie said the company achieved a strong half-year operational performance and captured the rise in most commodity prices.
During the half, BHP sold all of its major commodity products for higher average prices, compared to the same period a year earlier, thanks to a rebound in the prices of iron ore, copper and petroleum.
BHP revised down full-year production guidance for metallurgical coal on account of geotechnical issues. However, management remains upbeat on the overall outlook.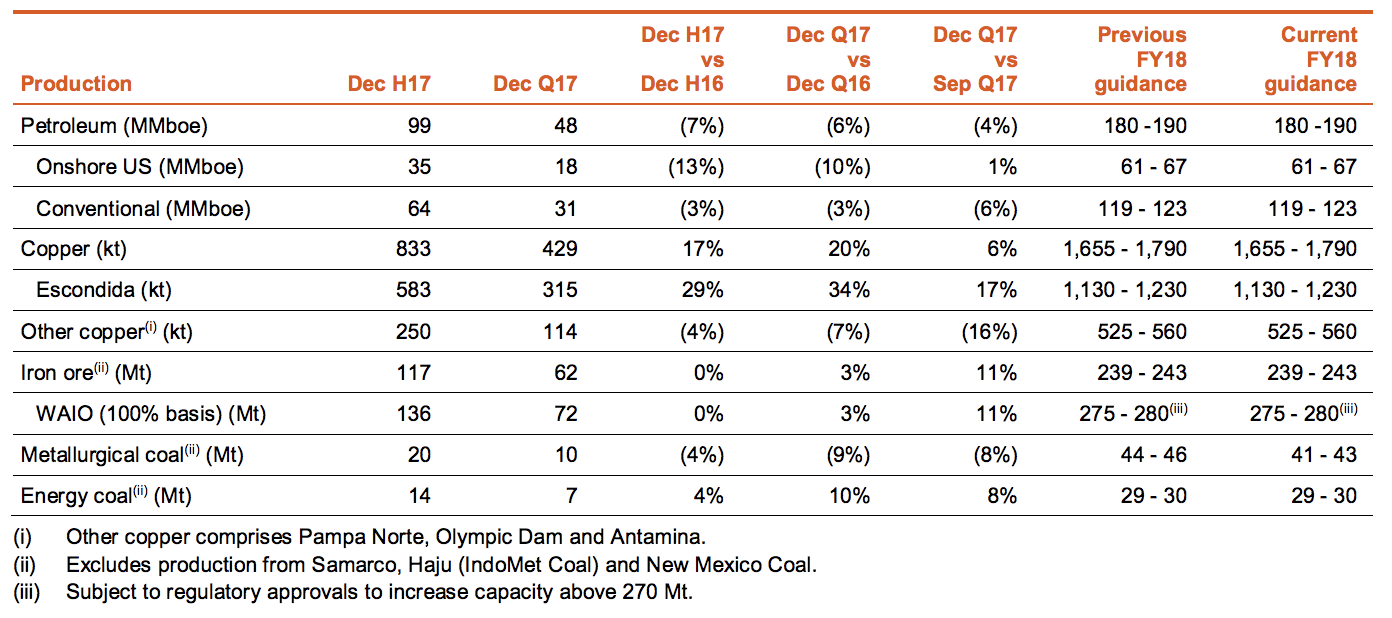 "The momentum we've built across the wider portfolio during the second quarter will flow through to an expected stronger second half operating performance," MacKenzie added. "Together with incremental production from latent capacity projects in iron ore and copper, we expect volume growth of six per cent for the full year."
While an impairment is expected to rear its head in the half-year report, BHP said its effective tax rate is expected to be below the prior full-year guidance range of 32% to 37%.
In December, US President Donald Trump announced changes to US taxes. BHP has a number of projects in the United States. The company said it is still working on the changes and the effects, but noted a potentially positive long-term impact.
"The financial impact is expected to give rise to an exceptional item in the December 2017 half year financial results. Longer term, we expect US attributable profits to be positively impacted by the lower US corporate income tax rate."
Earlier this week, rival Rio Tinto Limited (ASX: RIO) released a quarterly production update, with the production of iron ore up 3% together with a higher average sales price.
Our Most Popular Stories:
Disclaimer: This article contains general information only. It is no substitute for licensed financial advice. By using our website you agree to our Disclaimer & Terms of Use and Privacy Policy.
Rask Media
Free high-quality* financial news for everyone (*with an occasional spelling mistake). That's our mission. It's what we do. Visit raskmedia.com.au to find the latest news, insights, video and audio content.
Related posts
Search:
Investors Podcast