In this guide, I will be introducing 22 ASX share ideas worth tracking throughout 2022. Add these shares to your watchlist inside CommSec, Pearler, SelfWealth, Superhero, Stake or wherever you choose to trade.
Don't have a broker? Check out our ASX investor guide: the best ASX brokerage account.
To be sure, not all of these ASX shares for 2022 will be winners. Some will even be losers. But each offers the potential for market-beating returns.
Let's dive in!
Online jobs platform Airtasker is a company that divides market participants.
It's essentially the online version of the Yellow Pages, connecting potential customers with skilled contractors.
From an investor's lens, Airtasker is capital-light, has relatively fixed costs, and is the clear number one in Australia.
However, in its latest quarterly update, it recorded just 6.2% year-on-year growth and a cash outflow of operations of $4.08 million.
Admittedly, Airtasker is currently cycling elevated prior year comps. But the growth and outflow is a concern given it should be a cash-generating machine.
Nonetheless, it will be one to watch over 2022.

Similar to Airtasker, the flying kangaroo is another company dividing the market.
Bulls will point out that its main competitor, Virgin, is a shell of its former self.
Additionally, Qantas has stripped $650 million out of its cost base, which will materially improve its profitability given the low-margin nature of airlines.
Add in soft prior year comps and the FY22 and FY23 results will look very flattering.
However, it's still an airline. Business travel won't be the same, and even leisure is now a more arduous process with the testing and paperwork required just to step on a plane.
Qantas might be a better airline post-pandemic, but will that result in better shareholder returns?

The rise of ESG investing, particularly over the past 18 months, has led to institutions and fund managers shunning old-world energy companies.
In fact, many pension and superannuation funds are not even allowed to own coal companies on environmental grounds.
However, coal is still required (at least over the medium term) to keep the lights on. To illustrate, Indonesia today banned exports of coal over concerns it could not meet its domestic demand.
With Whitehaven trading on less than 3-times analyst profit expectations, could private investors fill the void?

It's been a difficult 18 months for Tabcorp.
Its gambling operations face increasing competition from the likes of digital disruptors such as Sportbet.
Furthermore, traditional TAB venues have been closed sporadically due to pandemic restrictions.
So what's to like?
The business is set to demerge its lotteries division in 2022, which could be the catalyst for a rerating of the Tabcorp share price.
Lotteries is the opposite of gambling. It faces no competition, benefits from the shift to digital, and is capital-light.
Subsequently, I'll be keeping a keen eye on Tabcorp over 2022.

The Bapcor share price crashed in November after announcing the unexpected departure of its long-term CEO Darryl Abotomey.
Just two weeks later, the Board fast-tracked Mr Abotomey's exit, as the relationship soured:
"…there has been a marked deterioration in the relationship between the Board and the CEO, such that Mr Abotomey's position as MD and CEO has become untenable"
Mr Abotomey was popular with shareholders. Therefore the onus will be on the Bapcor Board to bring in a new CEO that will get the share price back on track.
2022 will be a formative year for Zip.
The share price soared to $14 early in 2021, before returning back to earth to now trade at $4.16.
With Afterpay now gobbled up by Block Inc (NYSE: SQ), the company will take the mantle as the number one in the buy-now-pay-later (BNPL) sector.
But with competition ever-increasing, bad debts rising and investor scepticism over the viability of so many BNPL offerings, where does this leave Zip?
It could be a make or break year for this ASX share idea.
The big four banks had a bumper year, with an average share price increase of 20% before dividends.
CBA led the charge, increasing cash profit 19.8% to $8.6 billion.
But 2022 won't be as easy as 2021.
Most banks, including CBA, benefitted from unwinding loan provisions throughout 2021 which flattered accounting profits.
Strip out the credit impairments and profit before tax was flat year-on-year.
Without the free-kick of loan provisions, I suspect 2022 will be much tougher for CBA and its banking peers.

Embattled IPO Nuix had a shocker in 2021.
Insider trading allegations. AFP investigations into past directors. CEO and CFO resigning. And two guidance downgrades.
Subsequently, the Nuix share price lost three-quarters of its value in 2021.
With a new CEO at the helm, could this be a turnaround story?
Despite the internal turmoil, by all accounts, the underlying software remains resilient.

Rupert Murdoch's media empire and long been speculated as a potential asset break-up.
In recent times, the conglomerate model has come under scrutiny as it often trades at a discount due to the difficulty and opacity of valuing each division.
Subsequently, big names such as General Electric and Johnson & Johnson have decided to split divisions to increase focus and realise shareholder value.
Could 2022 be the year News Corp finally slices up the pie?
It owns a 61% stake in realestate.com owner REA Group Limited (ASX: REA). This is equal to $13 billion or 72% of News Corps current market cap.
Per its last full-year result, the remaining divisions – news, publishing, video and Dow Jones – produced $1.04 billion in segment EBITDA before corporate costs.
Put simply, News Corp remaining divisions are worth about 5x EBITDA (as currently valued by the market), leaving plenty of shareholder value on the table.

It was a difficult 2021 for the once-revered fund manager as ongoing underperformance compounded into its largest client pulling its mandate just days before Christmas.
Can it stop the bleeding, and convince clients to stick by the firm?
Will the market begin to reward its external investments in Barrenjoey, Guzman y Gomez and Airlie funds management?
Arguably Magellan's most important asset is its human capital. Do analysts, portfolio managers jump ship or ride out the storm?
Many questions, with many different answers.

Historically the wealth platform landscape has been dominated by Netwealth Group Ltd (ASX: NWL) and Hub24 Ltd (ASX: HUB) disrupting the old-world incumbents.
Praemium was making waves, but not on the same level as the former two.
But with its larger-than-life now ex-CEO leaving the company (for a second time) and subscale international operations divested, could it become the third horse in the platform race?

The ethical fund manager saw its share price almost triple over 2021 as the ESG wave took hold.
But at 150x profit, does it still have further to run? Or will its share price retrace?
Its younger cohort of account holders and annual superannuation contributions from members underpins a long-term growth story.
But at the end of the day, it's a fund manager, levered to market cycles.
When performance goes against them, the share price could as well (just ask Magellan).

Block, formerly Square, announced its $39 billion takeover of Afterpay Ltd (ASX: APT) last year.
As part of the deal, the company will launch a secondary listing on the ASX to enable Australian investors to get exposure to Afterpay and Block's broader payment (and crypto) activities.
The Block share price has almost halved since its high in August last year, largely due to (a lack of) profitability and reliance on bitcoin revenue.
However, it will be one of the biggest companies on the ASX when it lists and is worth watching over 2022.

Owner of property portal realestate.com.au, REA Group is considered one of the highest quality businesses on the ASX.
It has a monopoly position over property listings, and through the acquisition of Mortgage Choice, is branching out into home loan financing.
The business also owns an 18% stake in Property Guru, which owns leading property marketplaces in Singapore, Thailand, Malaysia, Vietnam and Indonesia.
REA is a business that will always look optically expensive, but I suspect it has further growth ahead to justify the lofty expectations.

With its share price falling by more than half over 2021, it comes as a surprise to see Kogan make the cut. After all, Kogan was among the worst-performing ASX 200 shares in 2021.
Despite its operational failures (inventory, warehousing, slowing growth), Kogan still expects to triple sales over the next five years to $3 billion.
Even if it reaches half of that goal, it will double revenue and thus should be a larger business going forward.

In what may be a bold call for 2022, I expect Australia's largest casino operation to go private.
The business has repeatedly been linked to private equity. Currently, it has a $12.50 per share offer from Blackstone on the table, its third attempt at securing the casino giant.
The reporting of its checkered history of wrongdoing is only exacerbated by its public company status.
Add in the Packer family needing to offload a sizable chunk of shares and private equity looks the logical suitor.

NextDC is essentially a wager on data.
Every tweet needs to be stored. Every picture and video saved. Every document is available in the cloud for collaboration.
Despite devices such as the iPhone increasing storage (14 years ago, the original iPhone had 4GB of data, now it has 128GB), more and more data is moving into the cloud.
NextDC is leveraged to this long-term trend and will continue to benefit over 2022.

In a market that is rewarding cash generative businesses with long growth runways, look no further than Uniti.
The business provides the internet infrastructure for new developments such as apartment complexes and greenfield housing.
Uniti's order book shows a steady growth of 20% per annum for the next five years, which should support its profit and share price moving forward.
Recently, management noted it is tracking at or above current market expectations.
This could lead to a meaningful uplift in the company's valuation when it announces its half-year results in February.

Airlines are typically a no-fly zone for investors. However, Alliance is the exception.
The business undertakes contract flights for business clients such as BHP and Santos in addition to wet-lease flights for the likes of Qantas.
Unlike traditional airlines, Alliance seldom takes on the risk of fuel costs or passenger numbers.
Alliance recently purchased 32 additional aircraft, which will increase flight hours three-fold over the next 18 months.
Subsequently, revenue and profit should follow, leading to a meaningful uplift in its valuation.

Online furniture retailer Temple & Webster last reported 56% year-on-year growth in its sales for FY22.
This is on top of the 85% it recorded in FY21.
If it keeps the same pace for the remainder of FY22, the business will have almost tripled sales over two years.
Admittedly, growth will likely decelerate over the near term as shoppers return to physical stores.
But overall this is a long-term growth story with strong structural tailwinds.
I take a closer look at Temple & Webster shares in the article below.

Fortescue Metals is revered for its iron one operations.
But recently the market, rightly or wrongly, is rewarding the company's potential green ambitions, much as it has done with Novonix Ltd (ASX: NVX) and Vulcan Energy Resources Ltd (ASX: VUL).
As a result, the Fortescue share price has rallied 43% over the past three months.
If you believe the business can execute on its green ambitions, Fortescue will be an ASX 20 company with a cash cow in mining and a future growth engine in renewable energy.

Deterra is the simplest business on the ASX.
It owns six royalty streams over mine sites.
But the one that matters is the royalty asset over Mining Area C (MAC) located in Pilbara and operated by BHP.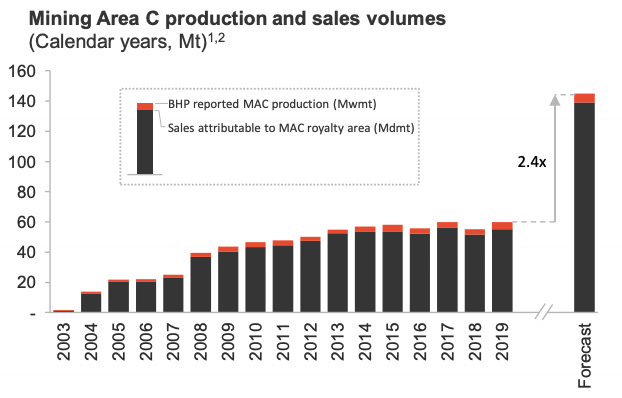 Any revenue derived at MAC, BHP will send a cheque in the mail to Deterra.
Even if the mine is unprofitable, or the iron ore price dips, Deterra gets paid.
With the mine expected to at least double production over the next two years, I'm expecting some monster dividends out of Deterra in 2022.
At the time of writing, Lachlan owns shares in Uniti Group and Temple & Webster.