The Atomos Ltd (ASX: AMS) share price has rocketed 14.80% to $1.12 today after the company provided a first-half update to the market.
Atomos designs and manufactures content creation products for amateur and professional producers.
"These products give content creators across the rapidly growing social, pro-video and entertainment markets a faster, higher quality and more affordable production system".
Guidance beat
The company marginally exceeded its guidance made in November, achieving sales of $40.9 million compared to the $40.0 million forecasted.
The result is a 24.6% increase on the corresponding half.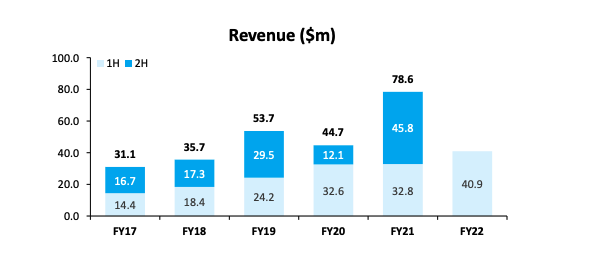 Despite global supply constraints, its core Ninja V and Ninga V+ products experienced minimal disruption.
Management did note some stock outages in other ranges throughout the half. However, this should abate over the second half.
New product launches such as Ninja V+, Shinobo 7 and AtomX CAST have buoyed sales growth and new product launches will support growth for the remainder of FY22.
Commenting on the result Atomos Chief Executive Officer Estelle McGechie said:
"I'm very pleased with the 25% growth in 1H'22 sales over the prior year period given the significant disruption to supply chains for many companies across the world. Our team has worked very hard to navigate these issues and our continued growth is a testament to that. We see our sales only further accelerating in the second half of FY22 and are able to reconfirm our full year sales guidance of $95m+."
Guidance reaffirmed
Atomos also reconfirmed its full-year guidance targets including:
Revenue of more than $95 million
EBITDA margin of 12% to 15% before $1 million in one-off investment cost in Videogram
My take
It's been a rollercoaster year for Atomos shareholders with the share price exceeding $1.70 in September before coming back to Earth in recent weeks.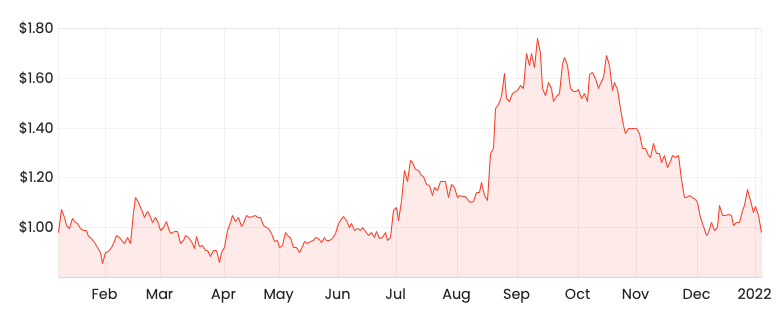 Given the business only announced results in line with prior forecasts, it suggests that the market was pricing in a guidance miss.
Hence, why the share price has shot higher today.
Overall it was a solid result, with the business reaching meaningful profitability at the EBITDA line.
To keep up to date on all the latest news regarding Atomos and the ASX, be sure to bookmark the Rask Media home page.