Telstra Corporation Ltd (ASX: TLS) reported its half-year financial results to the ASX this morning revealing a 5% fall in profit.
Telstra is Australia's $41 billion telecommunications business with 17.6 million mobile subscribers and 8.6 million fixed line services in operation. It is also part-owner of Foxtel and other businesses.
Here are the key news events from the Telstra report:
Total income of $14.5 billion, up 6% on the prior corresponding period

Statutory profit down 5% at $1.7 billion

Profit before impairments, up 10%

Interim dividends of 11 cents per share,

fully franked
Excluding Telstra's non-cash impairment of Ooyala, the telco's profit was up 10% for the period.
Telstra's CEO, Andrew Penn, said the industry is in a state of rapid and significant change, with heightened competition and rollouts of new technologies.
"Within that environment, we are pleased to have delivered a solid result in line with guidance for this half," Penn said.
"We are in one of the most dynamic periods the company has faced and need to increase our level of intensity." – Penn
"We are stepping up how we aggressively compete in the market, particularly leveraging our multi-brand strategy including Telstra, Belong, Boost and Telstra Wholesale," Penn added.
Across its key product groups, Telstra's revenue from mobile rose 0.8% to $5 billion.
And despite competition from the likes of TPG Telecom Ltd (ASX: TPM), Vodafone, Vocus Group (ASX: VOC) and SingTel's Optus, Telstra added 235,000 retail mobile customers, 21,000 using Belong mobile.
Meanwhile, Telstra's Fixed and Data & IP businesses reported an 8% and 5% fall in revenue, respectively.
Network Application Services (NAS), which encompasses Telstra's push into cloud services, managed networks and communications, reported an 8% increase in revenue. However, its operating profit margin fell by 2% to 6%, "due to the timing of major contract milestones", the company said.
In Media, revenue rose 0.8%. "We are Australia's leading aggregator of digital entertainment products across fixed and mobile and continue to differentiate our core products through content and entertainment with Foxtel and Telstra TV," Mr Penn noted.
With the ongoing rollout of the National Broadband Network, one of Telstra's core focuses is lowering costs and improving efficiency.
"The impact of the nbn, along with increased competition, highlights the importance of the up to $3 billion strategic investment program, and we are on track to deliver economic benefits from this of more than $500 million of EBITDA by FY21," Penn said.
Looking ahead, Telstra will recommence its dividend reinvestment plan (DRP). Over its full 2018 financial year, Telstra expects to report income of around $27.6 billion to $29.5 billion and EBITDA between $10.1 billion and $10.6 billion (what the heck does EBITDA mean?).
EBITDA guidance assumes restructuring costs between $200 million and $300 million.
Finally, capital expenditure is expected to be between $4.4 billion and $4.8 billion.
Join Rask's Investor Club Newsletter Today
You can join Rask's FREE investor's club newsletter today for all of the latest news and education on investing. Join today – it doesn't cost a thing. BUT, you'll need a good sense of humour and a willingness to learn.
Keep Reading
Disclaimer: This article contains general information only. It is no substitute for licensed financial advice and should not be relied upon. By using our website you agree to our Disclaimer & Terms of Use and Privacy Policy.
Rask Media
Free high-quality* financial news for everyone (*with an occasional spelling mistake). That's our mission. It's what we do. Visit raskmedia.com.au to find the latest news, insights, video and audio content.
Related posts
Investors Podcast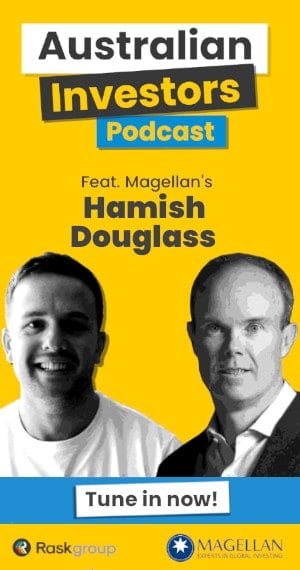 Search: