Cochlear Limited (ASX: COH) released its half year report to the ASX this morning, showing a 6% rise in revenue.
Cochlear is a near-$10 billion global biotechnology company best known for its implantable hearing aids. Cochlear operates in the Americas, Europe and the Asia Pacific region.
This morning, Cochlear released results for the six-month period ending 31 December 2017. Here's the key news:
Revenue up 6% to $640 million

Profit down 1% to $111 million

Dividend up 8% to $1.40 per share

2018 profit guidance maintained at $240 million to $250 million
The profit result includes a "one-off non-cash" charge of $5.5 million, following the recent changes to US corporate taxes.
"The positive momentum we have experienced across the developed markets over the past few years has continued into FY18 with a 12% increase in cochlear implant units delivered across these markets," Cochlear CEO, Dig Howitt said.
"Cochlear's market leadership position has strengthened with new products broadening the portfolio and driving share gains."
The Cochlear Implants business, which accounts for 62% of the company's sales, increased revenue 4% (or 6% in constant currency) although unit sales fell 2% to 15,972.
Despite the fall in unit sales, however, Cochlear said the outlook for its product is solid.
"Across the developed world, the cochlear implant market continues to experience robust growth, with improving awareness and growing uptake in the over 65 age demographic," it said.
"Cochlear's developed markets business, which represents around 80% of revenue, grew units by 12% with highlights including continued strong performances from the US and Western Europe."
Cochlear's Services business, which performs things such as processor upgrades, accounts for 25% of sales, according to Cochlear's half-year report. The Services unit reported a 12% increase in sales, primarily driven by the release of the Nucleus 7 Sound Processor, the world's first Made for iPhone Cochlear implant processor.
"The technology allows users to stream sound from an iPhone® , iPad® and iPod touch® directly to their sound processor, offering greater accessibility, connectivity and wireless solutions," Mr Howitt said.
Finally, the Acoustics business, which includes bone conduction and acoustic implants, reported revenue up 3%.
Looking ahead, Cochlear reaffirmed profit expectations for its 2018 financial year. "The balance sheet and free cash flow generation remain strong and we continue to target a dividend payout ratio of around 70% of net profit," Mr Howitt added.
Cochlear shares were trading 3.7% lower at $165.34 on Tuesday morning.
Join Rask's Investor Club Newsletter Today
You can join Rask's FREE investor's club newsletter today for all of the latest news and education on investing. Join today – it doesn't cost a thing. BUT, you'll need a good sense of humour and a willingness to learn.
Keep Reading
Disclaimer: This article contains general information only. It is no substitute for licensed financial advice and should not be relied upon. By using our website you agree to our Disclaimer & Terms of Use and Privacy Policy.
Rask Media
Free high-quality* financial news for everyone (*with an occasional spelling mistake). That's our mission. It's what we do. Visit raskmedia.com.au to find the latest news, insights, video and audio content.
Related posts
Investors Podcast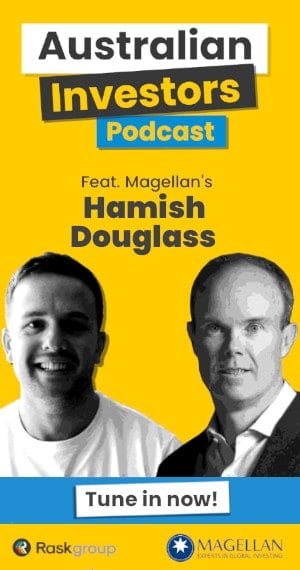 Search: