Magellan Financial Group Ltd (ASX: MFG) will be a focal point on the ASX following the release of its half-year (HY) financial report and the announcement that it will acquire both Airlie Funds Management and Frontier Partners.
For the six months to 31 December 2017, Magellan, a global investment management business from Sydney, reported a 27.5% increase in revenue to $196 million but a profit of $53 million, down 39%.
During the half, Magellan Financial Group completed a $1.57 billion launch of the Magellan Global Trust (ASX: MGG). It's a trust that investors use to gain exposure to global shares.
"It is important to note that this year we have some significant one-off expenses associated with the MGG offering," Magellan Chairman Brett Cairns said. "If these one-off costs are excluded, our earnings for the period would be 63.4 per share, an increase of 25% over the same period last year."
Magellan's board declared a dividend of 44.5 cents per share to reflect the 'underlying' performance, Mr Cairns said. "Given the one-off nature of these costs, the Board has decided to exclude them in determining the interim dividend."
Funds under management ("FUM") averaged $53.6 billion during the half, up 25% over the same period last year. FUM is a key measure for investment companies like Magellan because they typically charge fees based on the total amount of money they manage, and some will collect an extra fee for strong performance.
Acquisitions Ahoy
Also this morning, Magellan announced the acquisitions of Frontier Partners and Airlie Funds Management.
Frontier Partners has handled Magellan's sales efforts in North America since 2011. "The partnership with Frontier and Bill Forsyth has been a real success story for Magellan, representing A$12.8 billion of funds under management," Magellan CEO, Hamish Douglass said.
"The acquisition represents a natural evolution of our relationship with Frontier and Bill Forsyth. I am delighted that, as part of this acquisition, Bill has agreed to become Executive Chairman of Magellan's business in North America and lead our further expansion in that region."
Airlie Funds Management is an Australian shares funds management business, with $6 billion in FUM. It was founded by John Sevior and David Cooper in 2012. Airlie and Magellan will launch a new fund that will be listed on the ASX.
"The acquisition brings together two of Australia's leading funds management businesses," Mr Douglass said. "We have known the Airlie team for many years and consider both John Sevior and Matt Williams to be among the most respected portfolio managers in Australian equities."
"We have found a long-term partner in Magellan and see strong alignment in our respective cultures and philosophies," Airlie's Co-Founder, John Sevior, added.
"Our clients will benefit from the operational and business support that Airlie will access through this partnership and, whilst we remain ever-focused on our clients, the Airlie Industrial Share Fund provides the opportunity to add diversity to our business and career development for our staff."
The deals will cost Magellan $US15 million in cash and another 4.5 million in Magellan shares, worth around $121 million based on Monday's closing price.
Want To Join An Investor Club Newsletter?
You can join Rask's FREE investor's club newsletter today for all of the latest analysis and education on investing. Join today – it doesn't cost a thing.
Keep Reading
Disclaimer: This article contains general information only. It is no substitute for licenced financial advice and should not be relied upon. By using our website you agree to our Disclaimer & Terms of Use and Privacy Policy.
Rask Media
Free high-quality* financial news for everyone (*with an occasional spelling mistake). That's our mission. It's what we do. Visit raskmedia.com.au to find the latest news, insights, video and audio content.
Related posts
Investors Podcast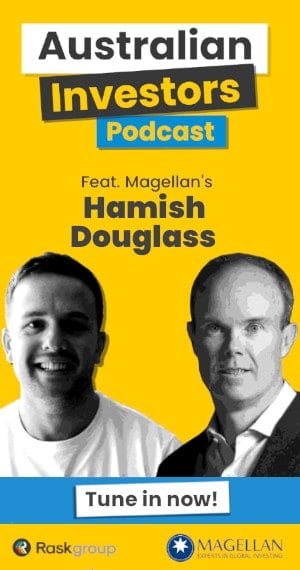 Search: