The Afterpay Ltd (ASX: APT) share price has declined over the last month but its latest update shows promising signs. Can the Afterpay share price spread its wings again?
Afterpay was the first buy-now-pay-later (BNPL) service provider and competes with Zip Co Ltd (ASX: Z1P), Sezzle Inc (ASX: SZL) and Splitit Ltd (ASX: SPT).
APT share price

Afterpay customers and merchants grow
The BNPL pioneer appears to continue to benefit from its first-mover advantage.
It recorded a massive 75% jump in the number of global active customers and a 77% boost in active merchants compared to the prior corresponding period, Q3 FY20 (PCP).
Afterpay also looks like its executing on its land and expand strategy across North America, which is now the largest contributor to underlying sales.
The rapid growth in the US is depicted below.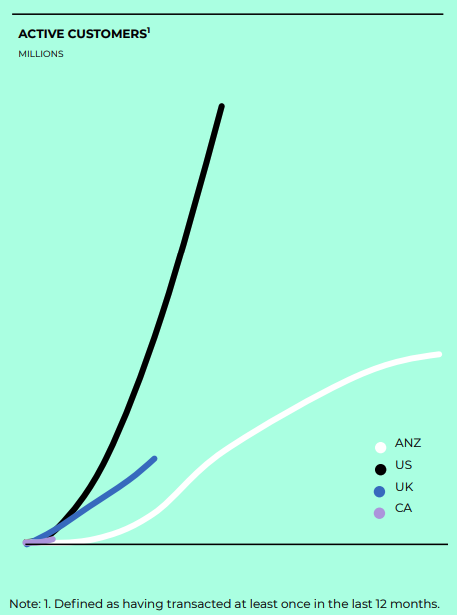 The continual rise in active customers and merchants has translated into a significant jump in sales. Total sales went up by 104% relative to the PCP.
Afterpay keeps empowering merchants
I think it's important to monitor the value of Afterpay's offering to merchants. If Afterpay can keep growing the number of customer lead referrals to merchants, then merchants will become more dependant on the BNPL player.
This essentially increases the switching cost for the merchant, making it a potential competitive advantage for Afterpay.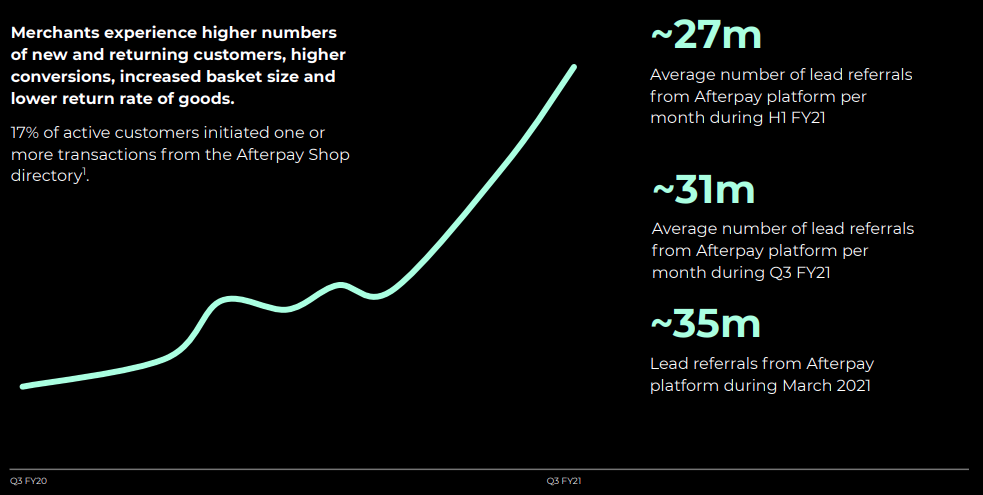 As you can see, Afterpay's platform could become a critical customer channel for merchants.
Signs of optionality
I think optionality remains key to Afterpay's long term growth. The below results from Afterpay's survey of a sample of 620 customers in 2020 shows the potential value of the alternative uses of the Afterpay platform.
It seems customers appreciate the value of Afterpay as a tool to better manage their personal spending.
My takeaway
Given existing customers are making more purchases, it appears Afterpay is becoming more than just a BNPL service.
There are small indicators of the Afterpay platform becoming a budgeting tool and customer referral channel for merchants.
Whilst continual growth is always appealing, investors should also consider the costs being incurred to achieve this growth.
Another important risk to factor in is the potential BNPL regulation covered by my colleague, Patrick Melville.
If you are interested in other ASX growth shares, I suggest getting a Rask account and accessing our full stock reports. Click this link to join for free.