It looks like the Openpay Group Ltd (ASX: OPY) share price has turned a corner as it jumped 6% yesterday. Let's zoom into Openpay's main revenue-generating industries.
OPY share price

In accordance with the Rask Investment Philosophy, it's important to find companies that operate in growing industries. In Openpay's case, the business earns 80% of its merchant fees from the automotive and healthcare sectors. So, let's take a deeper dive into these sectors.
Automotive & Healthcare
The automotive industry that Openpay services include tyre retailing, motor vehicle parts retailing and motor vehicle engine, and parts repair and maintenance.
According to 2019 market research reports prepared by IBIS World Australia, these segments have generated the following total sales and annual growth rates between FY15 to FY19.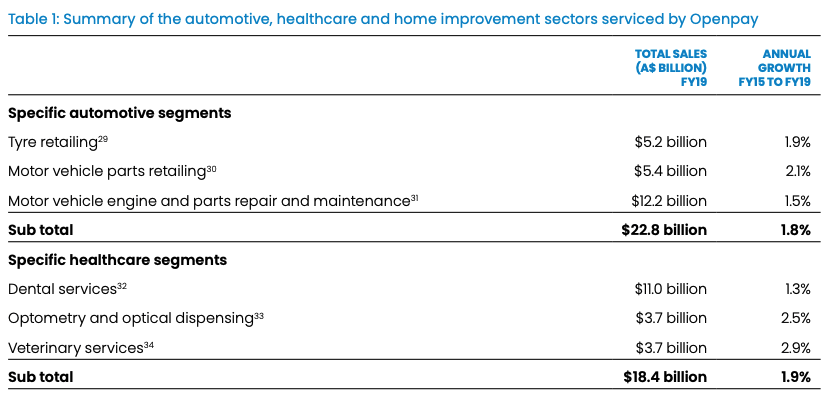 As for the healthcare sectors, Openpay services dental services, optometry and optical dispensing, and veterinary services.
Good industries to grab market share
One key benefit of Openpay's focus on the automotive and health industries is it's easier to acquire customers than say retail.
For example, in March 2020, the company struck a multi-year partnership with leading Automotive technology provider, Pentana Solutions. Pentana's software solution was embedded in around 2,500 car franchise dealerships across Australia, or 60% of the domestic market.
As a result, Openpay was able to secure a significant number of car dealer merchants through one partnership rather than needing to compete with other buy-now-pay-later (BNPL) players for new retailers.
With respect to the healthcare sector, the company was able to apply the same approach by securing partnership agreements with healthcare practice management software providers.
Summary thoughts
According to Openpay, it is often the sole or one of only two BNPL players in the automotive and healthcare industry. If Openpay continues to grow its dominance in these sectors, it has the potential to build a strong first-mover advantage.
More importantly, these sectors have experienced annual growth. I think these sectors will continue to grow because the aforementioned services play an integral role in everyday life.
In Openpay's FY20 annual report, automotive dealers advised payment flexibility improved customer retention for the car service industry.
In saying this, the biggest question for BNPLs is the ability to form a sustainable competitive advantage as outlined in Patrick Melville's recent article.
I'd also recommend signing up for a free Rask account to get access to our share reports.