The Facebook Inc (NASDAQ: FB) stock price has been a stellar performer for investors but what comes next? As part of the FAANG stock series Aoris take a look at the era Facebook left behind and what's next for the adverting giant.
The era Facebook has left behind
Facebook owns social media and does so in every country in the Western world. It's used by 1.6 billion people who use it on a daily basis, spending an average of 35 minutes per day. Like online search, the business of social media makes money through online advertising, a market that Facebook co-dominates with Google/Alphabet (NASDAQ: GOOGL).
As Mark Zuckerberg famously said during last year's testimony to a Congressional inquiry into Russian interference of US elections, 'Senator, we sell ads'. Facebook had a share of the online advertising market of about 22% in 2018, generating revenue of US$34 billion, a 21% increase on 2017.
In ascending to this position of social media dominance, Facebook fended off early competition from the likes of MySpace, Friends Reunited and Orkut (in Brazil), and more recently from Snapchat (NYSE: SNAP) and Twitter (NYSE: TWTR).
Facebook acquired two emerging competitors, WhatsApp and Instagram, stared down regulators around the world, and rapidly and successfully evolved its business model from desktop to mobile. In April of this year, Google threw in the towel and shut down Google+, leaving Facebook the undisputed king of social media.
The era Facebook has entered
As discussed earlier, the market for online advertising is rapidly becoming more competitive, with Amazon (NASDAQ: AMZN) taking share from both Facebook and Google and leveraging some powerful advantages in terms of targeting. In US online retail advertising, Facebook has already ceded its #2 position to Amazon.
Facebook's social media platforms are maturing. In the US, time spent per user per day is lower today than a year ago on both Facebook and Instagram, with the Facebook platform also seeing declining user engagement in the UK, Germany and France.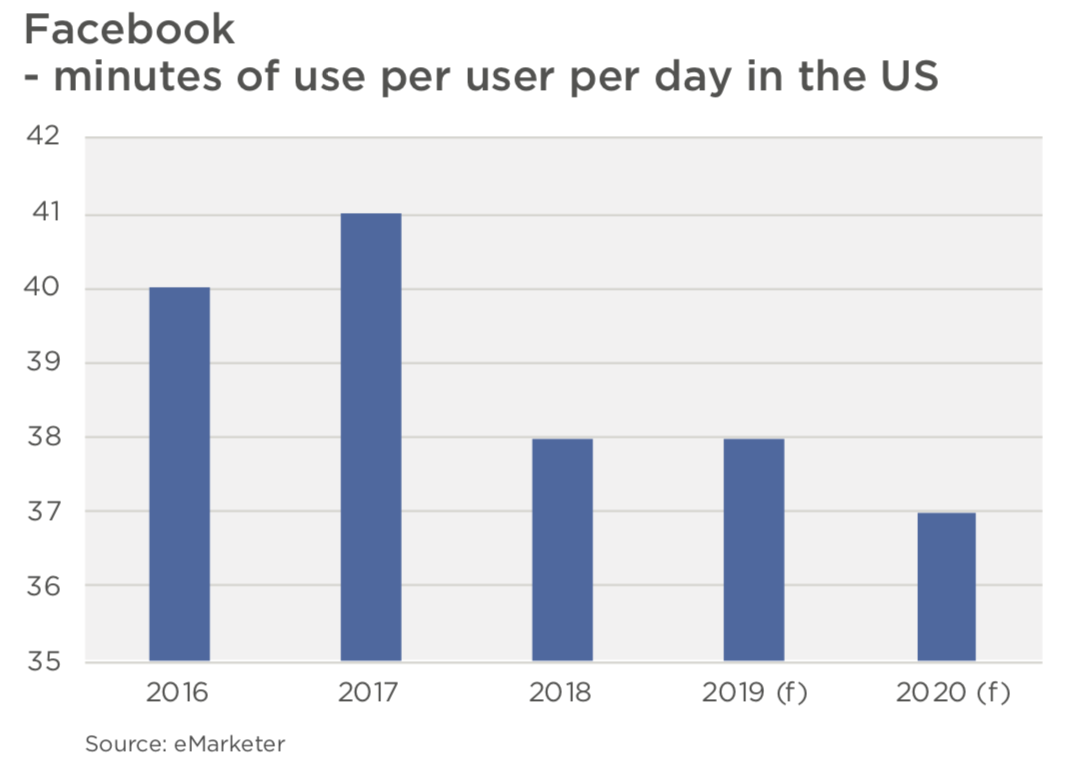 In response to increasing competition and maturing of its core market, Facebook is looking to e-commerce as a new source of growth in direct competition with Amazon. It has begun testing an initiative to allow Instagram users to buy what they see without leaving the platform, though management concedes a significant investment will be required in infrastructure such as payments, buyer protection, inventory management and fulfilment. It has also entered the increasingly crowded field of online streaming video through Facebook Watch.
Further afield, it recently announced ambitious plans to create a new cryptocurrency, Libra.
Facebook has for several years been converting each minute of time on its platform into more advertising dollars, and it has been doing this in two ways. The first is simply to charge more for each ad impression. There are limits to how far the 'price lever' can be pulled, however, given Amazon's ascendency as an online advertising competitor and the many traditional media alternatives that advertisers have.
The second is to increase the number of ads each user sees per minute in their Facebook Newsfeed and on Instagram. This is dangerous territory. Aggressive commercialisation has already radically changed the Facebook-user experience and created serious culture tension inside the company, resulting in senior departures including the co-founders of both Instagram and WhatsApp.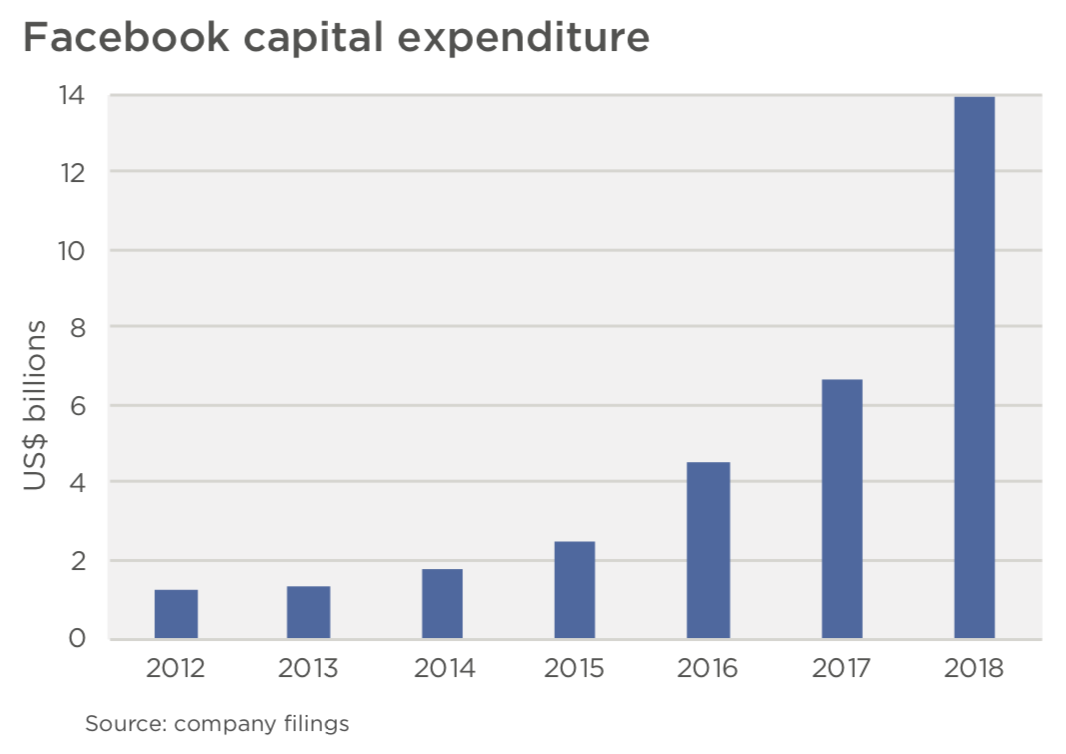 Like Alphabet, Facebook is investing heavily to support and defend its core franchise and grow into new markets. Capital expenditure has increased 10-fold in just five years, with US$13.9 billion spent in 2018, equal to two-thirds of its net profit.
This article was written by Stephen Arnold, CFA, founder and Chief Investment Officer of Aoris Investment Management. Click here to download Stephen's free Owner's Manual for investing better.