Westpac Banking Corp (ASX: WBC) has reported its half year result to 31 March 2019, is the share price a buy?
Westpac Banking Corporation, more commonly known as Westpac, is one of Australia's 'Big Four' banks and a financial-services provider headquartered in Sydney. It is one of Australia's largest lenders to homeowners, investors, individuals (via credit cards and personal loans) and business. Its name is a portmanteau of "Western" and "Pacific".
Here's What Was In The Westpac HY19 Result
Westpac reported that its statutory net profit fell 24% to $3.17 billion. The bank also said that cash earnings declined went down 22% to $3.3 billion.
Both of the above profit measurements suffered a big drop because the bank experienced $753 million of after tax costs relating to restructuring and customer remediation from Royal Commission issues.
The bank is now well placed in terms of its Common Equity Tier 1 (CET1) capital ratio at 10.6% in the reporting period, at September 2018 and September 2017.
As with the Australia and New Zealand Banking Group (ASX: ANZ) and National Australia Bank Ltd (ASX: NAB) results, Westpac also reported that Australian mortgage arrears of more than 90+ days grew and has been growing for quite a while, as the below picture shows.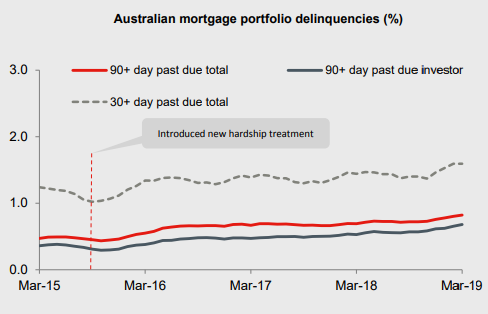 Westpac said that it is in possession of 482 properties out of a portfolio of about 1.6 million loans, but this may be worth watching.
The bank's reported return on equity (ROE) was down to 10.4%, although excluding the remediation the ROE was 12.8%.
Westpac Dividend
The Westpac Board decided to keep the dividend flat at 94 cents per share, which means that its dividend payout ratio is 98% of cash earnings, even with the remediation. It would be better to be lower, but this is hopefully only a temporary reduction of earnings.
Westpac Management Comments
Brian Hartzer, CEO of Westpac, said, : "This is a disappointing result reflecting weaker business conditions and the bank dealing decisively with outstanding issues, including remediation and resetting our wealth strategy.
"House prices are likely to remain soft and home building is set to reduce through 2019 and 2020. We expect system housing credit growth to slow to 3% in the current bank year and fall further next year to 2.5%."
Is Westpac A Buy?
This was a pretty painful period for Westpac's profit with how much money it had to pay back for wrongly charging fees when it shouldn't have. Who knows where the earnings will go over the next couple of years?
Competition remains fierce in lending and Australian house prices keep falling, so I don't think now is the best time to buy shares of the ASX banks like Westpac. But, the fact that it kept its dividend at the same level was pleasing.
At the pre-open share price it has fully franked dividend yield of 6.8%. But, I believe there are more reliable ASX shares out there for growth and income, such as the ideas revealed FOR FREE in the report below.
Here are 3 stocks I own in April 2020...
Amidst the COVID-19 confusion, there are some companies still growing FAST (think: online meetings through Zoom, streaming companies like Netflix and eHealth services provided by Teledoc).
While the world grapples with COVID-19, some companies are still growing rapidly. The entire cloud computing market is valued around $US210 billion but if you ask me, it seems clear as day that this market is only going to get bigger in 2020 and beyond.
That's why our top investment analyst has just identified 3 growth stocks in a net cash position, with strong competitive forces... and obvious tailwinds at their back. He owns all three of them right now!
Claim a FREE investing report on our analyst's "3 best share ideas for the cloud revolution" when you create a free Rask Australia account.
Our report is 100% free and unlocks hundreds of hours of bonus content.
Simply click here to access the report.
---
Disclaimer and warning: The information on this website is general financial advice only. That means, the advice does not take into account your objectives, financial situation or needs. Because of that, you should consider if the advice is appropriate to you and your needs, before acting on the information. In addition, you should obtain and read the product disclosure statement (PDS) before making a decision to acquire a financial product. If you don't know what your needs are, you should consult a trusted and licensed financial adviser who can provide you with personal financial product advice. Please read our Terms of Service and Financial Services Guide before using this website.
At the time of publishing, Jaz does not have a financial interest in any of the companies mentioned.