Afterpay Touch Group Ltd (ASX: APT) shares rose 14% on Thursday after the 'buy now, pay later' company released a business update to investors.
Afterpay Touch Group is a company that has vaulted to prominence as consumers go in search of easy credit and payment facilities to buy everyday products like clothing.
In an announcement to the ASX today, Afterpay Touch Group provided a business update for the three-month period ended 30 June 2018, the final quarter of its 2018 financial year.
In its ASX filing Afterpay Touch Group revealed $2.18 billion of sales processed through its platform, which allows everyday consumers to buy products with 4 equal payments. Basically, the payment and product swap is the opposite of layby.
Sales rose 171% in the final quarter, compared to a year earlier.
In the US, where the company is expanding, Afterpay Touch achieved, "over $11m of underlying sales in the first full month, June 2018" the company wrote.
In addition, Afterpay's improved customer identification processes have been implemented, it said. In addition, the company is being "pro-active" with regulators like ASIC, which is currently doing a sweep of the Buy Now, Pay Later industry.
In FY18, Afterpay expects to report revenue and other income, which in part came from fees charged to consumers, of $142 million. EBITDA is forecast between $33 million and $34 million. Most of the fees Afterpay earns today are charged to merchants.
Summary
Investors appear unperturbed about concerns that Afterpay could be caught up in Australian credit licensing laws and have sent the company's share price more than 10% higher, according to Google Finance.
As Fairfax reported in late 2017, consumer groups had grown increasingly concerned about these types of payment services because they avoid credit licensing laws, which are designed to protect consumers, since they do not charge 'interest'.
Free Investing Report
Warren Buffett was a millionaire by his late 20's but 'only' worth $300m at his 50th birthday. Now he is a $US84 billion investor. That means he made 99% of his wealth after turning 50! How does a 50-year-old do that when the world seems to be falling apart? Download the free Aussie investing ebook, "What Buffett's Investing Checklist Can Teach Aussie Investors" when you join The Rask Group Investor Club Newsletter. You'll get insights into the 4 steps Buffett uses to pick his investments.
Rask Media
Free high-quality* financial news for everyone (*with an occasional spelling mistake). That's our mission. It's what we do. Visit raskmedia.com.au to find the latest news, insights, video and audio content.
Related posts
Investors Podcast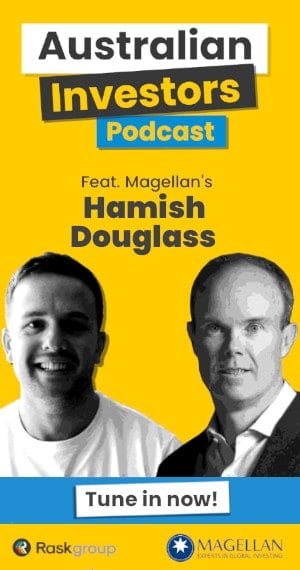 Search: