Wesfarmers Ltd (ASX: WES) shares haven't budged today despite the retail heavyweight announcing that it will sell its Queensland coal mine, Curragh, to Coronado Coal Group for $700 million.
Wesfarmers is the $50 billion owner of Coles, Bunnings Warehouse, Kmart, Target and more. It also has an Industrial and Resources business, which includes coal mining.
Wesfarmers Share V. ASX 200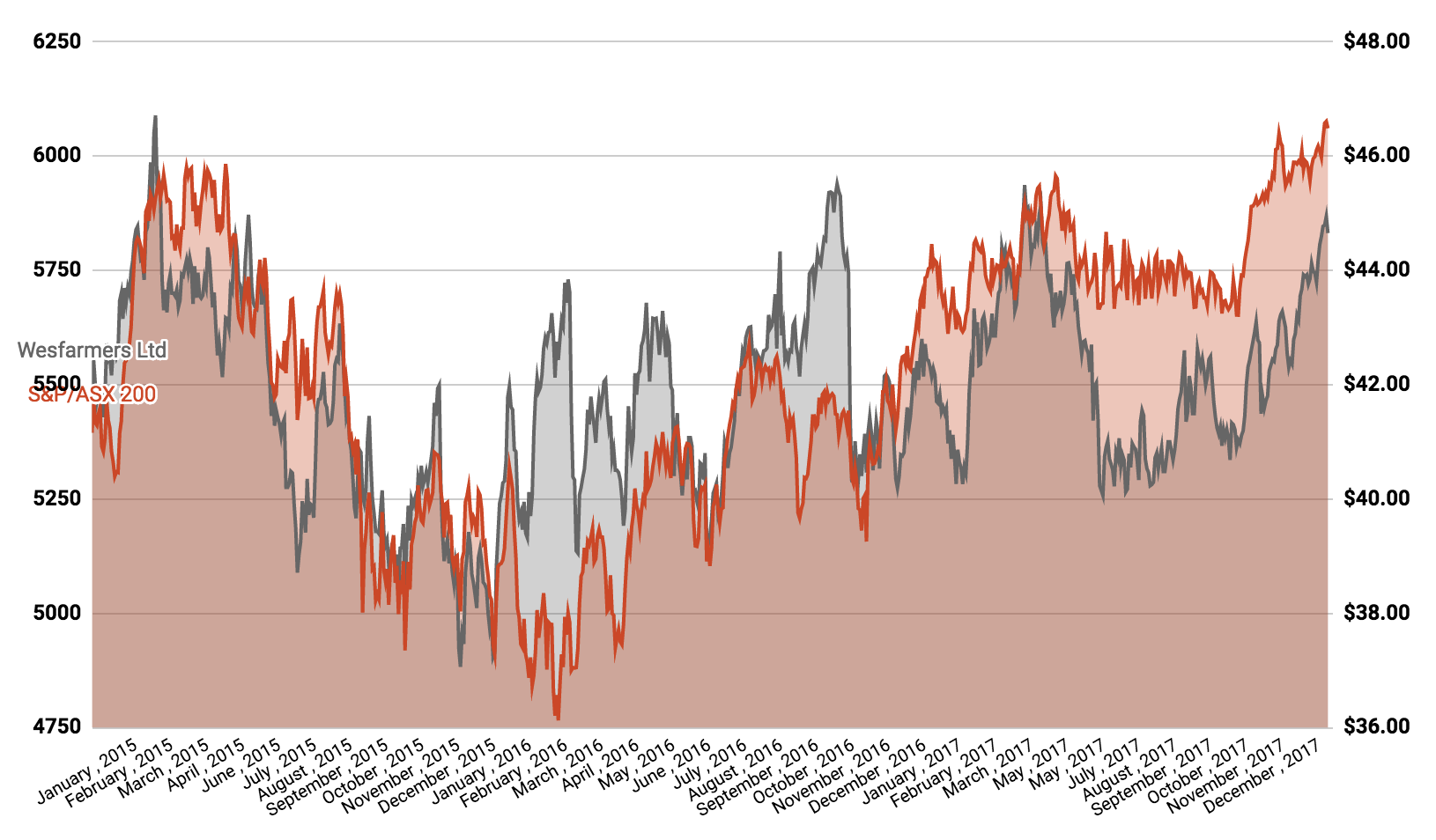 In an announcement to the ASX this morning, Wesfarmers announced the sale of the Curragh mine to Coronado. The deal includes an agreement which enables Wesfarmers to benefit from future rises in metallurgical coal prices. For the next two years, it will receive 25% of Curragh's export coal revenue for prices above $US 145 per tonne.
On successful completion, Wesfarmers expects the deal to generate a $100 million post-tax profit. The deal will be subject to approval from the Foreign Investment Review Board (FIRB).
"We believe this agreement with Coronado is in the best interests of our shareholders, while giving the employees and customers of Curragh the opportunity to work with a leading coal producer with ambitions to expand in Australia," Wesfarmers CEO Rob Scott said. "
Wesfarmers bought Curragh coal mine for $200 million in 2000. Despite its success with the mine recently, Wesfarmers said its decision to sell out is part of a broader strategic review of the company.
"I thank the Resources team for their outstanding work to ensure Curragh remained a world-class coal producer under Wesfarmers' ownership, positioning it to benefit from the peaks in coal prices over that time while remaining resilient through the cycle," Mr Scott added.
A potential sale of Wesfarmers' 40% stake in the Bengalla coal mine is ongoing.
At the time of writing, Wesfarmers shares were trading 0.4% lower at $44.45.
Keep reading:
Rask Media
Free high-quality* financial news for everyone (*with an occasional spelling mistake). That's our mission. It's what we do. Visit raskmedia.com.au to find the latest news, insights, video and audio content.
Related posts
Search:
Investors Podcast