The Redbubble Ltd (ASX: RBL) share price is in free fall this morning after announcing revenue, gross profit and EBITDA had all reversed over the first-half ending 31 December 2021.
Subsequently, the Redbubble share price has plunged 24.1% at the time of writing to $2.27.
Market panics as growth and margins fall
Key details from the first-half trading update include:
Gross Transaction Value (GTV) of $381 million, a 14% decline year-on-year (YoY)
Marketplace Revenue (GTV minus artists costs) of $288 million, an 18% decline YoY
Gross profit of $108 million, down 25% YoY
Gross profit after paid acquisition (GPAPA) of $63 million, down 36% YoY
EBITDA of $8.0 million, an 84% decline
Cash on hand of $143 million, up 10%
Redbubble called out higher shipping costs, weighing on its gross profit.
Additionally, higher competition through the holiday season impacted organic demand, leading to an uptick in marketing spending and depressing the GPAPA and EBITDA results.
On a positive note, demand for North American apparel was up 7% in the half.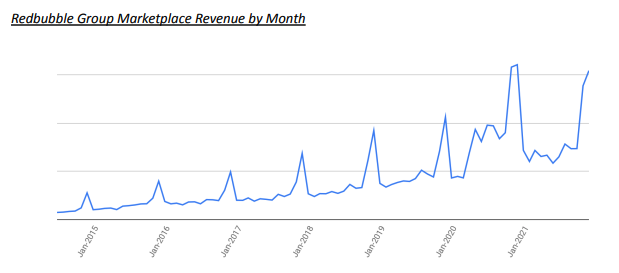 Repeat customer purchases increased to 45% of sales, up from 40% a year ago. Revenue from mobile apps also increased from 12.6% to 14.3%.
Over a two-year horizon, the business has grown marketplace revenue by 60%.
Update on FY22 outlook
Management noted that underlying marketplace revenue for FY22 is expected to be below that achieved in FY21.
Additionally, its EBITDA margin will be negative low-single digits.
In FY21, Redbubble achieved marketplace revenue of $553 million. Therefore, today's guidance implies an EBITDA loss of up to $22.1 million.
Prior to this, underlying FY22 revenue was expected to be slightly above FY21, and the EBITDA margin was expected to be in the positive mid-single-digit range.
"Redbubble remains confident of its strategic direction focused on four key themes: artist activation and engagement; user acquisition and transaction optimisation; customer understanding, loyalty and brand building; and physical product range and 3rd party fulfillment network"

"We remain committed to our medium-term aspirations to grow GTV to more than $1.5 billion, to grow Artist Revenue to $250 million, and to produce Marketplace Revenue of $1.25 billion per annum"
My take
Redbubble reiterated its strategic direction. But the business failed to provide positive news on the four key themes.
There was nothing on artist activation and engagement. Little on customer loyalty or brand. Third-party fulfilment costs increased. So did paid acquisition.
As a result, the market shot first and asked questions later, punishing the Redbubble share price.
Management will deliver fully audited results in February.
Plenty will need to be done between now and then to demonstrate to investors it wasn't just a temporary COVID-19 beneficiary.
If you enjoyed this update, consider signing up for a free Rask account and accessing our full stock reports.