The wealth platform disruptor Hub24 Ltd (ASX: HUB) share price has soared over 48% in 2021.
More recently, the Hub share price has been making waves after its unexpected bid to acquire self-managed super fund (SMSF) administration provider Class Ltd (ASX: CL1).
If you're new to Hub24, this guide will bring you up to speed with all the latest movements.
HUB share price

Out with the old, in with the new
Traditionally, the wealth industry has been dominated by legacy providers such as AMP Ltd (ASX: AMP), IOOF Holdings Limited (ASX: IFL) and the big four banks.
However, the Future of Financial Advice reforms in 2012 and Royal Commission in 2017 led to several changes.
The big banks divested wealth divisions and independent advisor numbers grew.
Subsequently, the demand for independent platforms increased given there was little incentive to be aligned to one product provider.
New cloud platforms such as Hub24 and Netwealth Group Ltd (ASX: NWL) offered better functionality and a buffet of investment options.
As a result, net inflows have soared into cloud platforms while legacy providers bleed outflows.
In under five years, Hub has gone from a market share of 0.62% to 3.90%.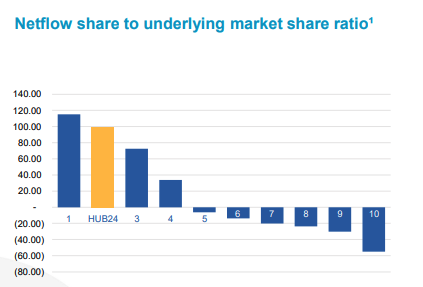 Eggs in multiple baskets
Hub24 has eggs in several baskets including:
Platform
Portfolio Administration and Reporting Services (PARS)
Technology Solutions
Platform is its bread and butter. It's one of the highest quality businesses on the ASX with sticky customers, scale benefits and a long growth runway.
Hub provides over 3,000 advisors with a cloud platform to manage client investments. The key driver is funds under administration (FUA), which Hub clips the ticket on.
The current FUA is $45.4 billion and is expected to grow to $63 to $70 billion by FY23.
Hub ranks number 1 for the best overall platform by Investment Trends and number 1 for satisfaction by Wealth Insights.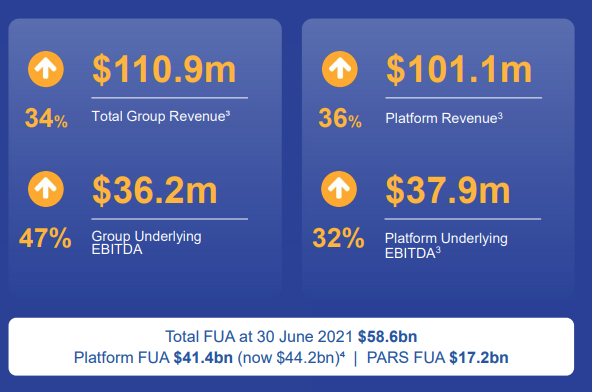 Creating a diversified wealth company
In addition to its core Platform operations, Hub has made several bolt-on acquisitions.
Two of those is Ord Minnett and Xplore PARS books. PARS is similar to Platform with added administration and reporting functions.
Hub earns a fixed fee per account (~$600), therefore the number of accounts instead of FUA is the crucial driver of growth. PARS currently has $17.8 billion in FUA and over 7,500 accounts.
Technology solutions are a small component of Hub, which provides data and solutions to the finance industry.
The business also recently launched a bid for Class.

If approved, the combined entity would be able to cross-sell products and gain access to over 3x as many professionals.
The battle of organic vs inorganic
Just when it was embedding its previous purchase, Hub announces another acquisition.
With each acquisition comes risk. It's not easy to take separate businesses and mush them into one. As a result, Hub has higher total expenses than Netwealth despite lower revenue.
Furthermore, given the quality of Platform, almost anything Hub buys would be inferior. Questions remain if acquisitions are the best strategy rather than simply growing Platform revenue organically like Netwealth.
The other big risk is margins. If Hub continues to earn abnormal profits, competitors may slash costs to stay relevant. I don't think this is an immediate risk, but worth tracking.
My take
Overall, Hub is a business with a lot going on.
I remain unconvinced of the acquisition strategy, but readily admit management should be given the benefit of doubt given its ability to grow Platform into a market leading product.
Hub remains on my watchlist for now as I wait to see how the acquisitions play out.
If you're interested in learning more about wealth platforms, I'd suggest reading the 2-minute guide to Netwealth.