After reading the company name Alliance Aviation Services Ltd (ASX: AQZ) you most likely want to close this tab on your browser.
Why would I be interested in adding an airline to my watchlist? 
Bear with me. I think by the end you will see why this isn't your typical passenger carrier.
AQZ share price

Aircraft-as-a-Service?
Put simply, Alliance Aviation is a plane charter business.
Its main business is contracted flights to assist businesses such as BHP Group Ltd (ASX: BHP) move fly in fly out (FIFO) workers.
This revenue is predictable, spread across a wide mining base and is about 69% of revenue.
It's not as lucrative as Software-as-a-Service, but Aircraft-as-a-Service has a nice ring to it.
It also has other strings to its bow, including wet-lease flights where it operates flights on behalf of carriers such as Qantas Airways Limited (ASX: QAN).
In fact, Qantas owns roughly 19% of Alliance Aviation.
Other activities include public transport, aviation services and ad-hoc charter flights.
Not your average airline
Firstly, Alliance doesn't rely on traditional ticket sales. The company usually charges a fixed rate per flight. It doesn't matter if a flight has 1 or 100 people on it, Alliance gets paid the same.
One of the biggest costs for airlines is fuel. Fortunately for Alliance, this cost is passed onto customers, therefore derisking the profitability of each flight.
That's great but why would a customer choose Alliance?
Safety and reliability.
Alliance holds Basic Aviation Risk Standard (BARS) Gold Status in addition to the IOSA certification.
Reliability is at the core of the business. In fact, on-time performance of 95% for charter flights is built into the management remuneration framework.
The business achieved 93% on-time performance in FY21. Its response?
"This was below our usual standard and is a key focus for improvement".
For context, the industry average on-time performance hovered from 75-85% pre-pandemic.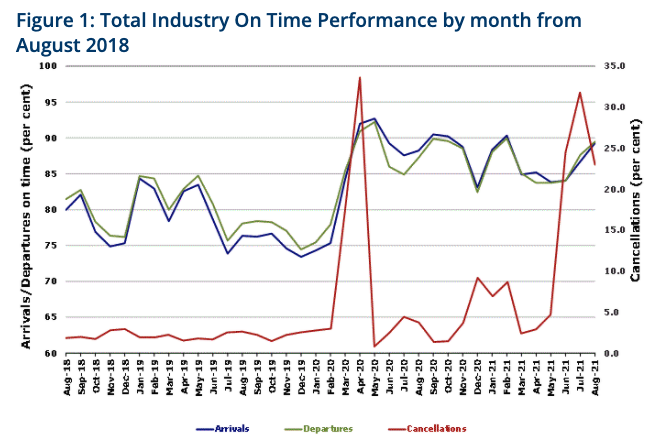 Savvy operators
When the pandemic hit in March, air travel came to a standstill.
Instead of fiddling their thumbs and waiting it out, Alliance got to work. It bought 32 new E190 aircrafts on the cheap when the remainder of the world wouldn't touch planes with a ten-foot pole.
"Alliance, since inception in 2002, has a track record of purchasing aircraft at opportunistic times and at significantly reduced value to their market value".
The new aircraft will be deployed throughout FY22 and are expected to generate an additional 80,000 flying hours per year.
For context, total flight hours in FY21 was 37,913.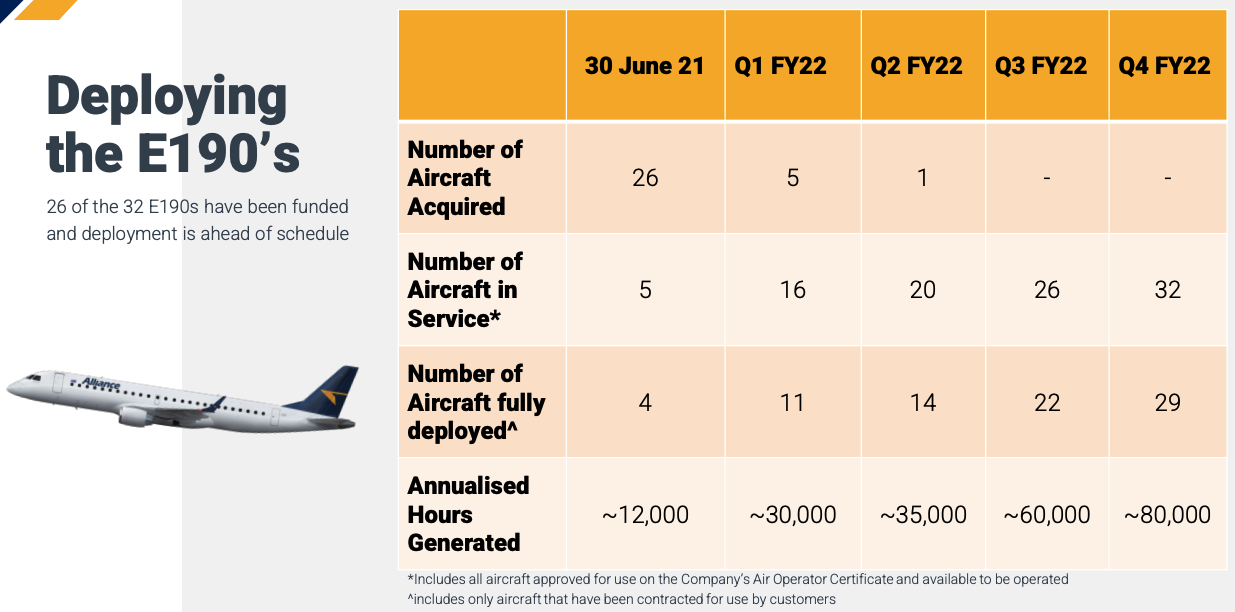 What I like
The effective tripling of its flying hours should translate into meaningful revenue and profit growth. I think this is somewhat unappreciated by the market given its price-to-earnings multiple of about 19.
It's a profitable business, capitalising on the opportunity to take market share and consolidate its industry position.
Stemming from the increase in flight hours, some operating leverage should appear. Although I wouldn't bake that into assumptions.
Furthermore, when the business raised capital in 2020 to support the purchase of the E190s, all directors participated in the raising.
Management and the board own upwards of 6% of the business. Notably, Managing Director Scott McMillan has been in charge since the business began back in 2002.
What to take note of
At the end of the day, Alliance is still an airline. It has decent fixed costs of maintaining a broadening fleet and isn't immune to economic downturns.
Its balance sheet has a net debt position of about $120 million. However, it's worth noting the business holds about $406 million in property and equipment (planes and parts).
Around 25% of its business is from BHP. This risk is mostly mitigated by the fact it's spread across multiple mine sites. Nonetheless, BHP has some level of pricing power given its percentage of Alliance's revenue.
Finally, talk of interest rates rising has been gaining more traction lately. In fact, the Reserve Bank of New Zealand raised rates for the first time in seven years this month.
Given Alliance Aviation holds roughly $156 million in debt currently, a rise in rates would likely impact its finance expense.
My take
With a return on equity of over 30%, Alliance is certainly the exception in an industry renowned for capital destruction.
The company remains on my watchlist for now. Despite liking the business, I'm conscious that the big step up in flight hours will be no walk in the park.
However, on any market pullback, I'd look to open a position in Alliance Aviation.
If you're interested in other ASX share ideas, check last week's edition of Watchlist Wednesday. It's a small-cap ASX tech stock with a potentially big growth runway.