Software-as-a-Service (SaaS). Communications workflow platform. Recurring revenue.
Blue-chip client base including IBM and Amazon Web Services.
Guessed the company yet? 
No, it's not a unicorn listed on the Nasdaq.
It's Whispir Ltd (ASX: WSP), a $250 million small-cap listed on the Australian Exchange.
A bit louder, I can't hear your Whispir
You may not have heard of Whispir, but you've likely been on the receiving end of its messages.
Whispir is a cloud communications tool that provides a central platform for businesses to reach out to audiences via SMS, WhatsApp, email, social media and other mediums.
The company has several use cases including crisis management, marketing and internal business communication.
Examples include:
What I like
Whispir is led by founder and CEO Jeromy Wells who owns about 10% of the business.
The company has over 800 customers, operates in 60 countries and boasts strong customer retention. For every $100 a customer spends with Whispir, it spends on average $115 the next year.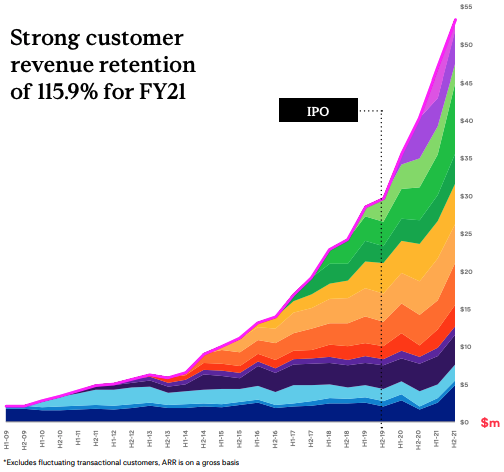 It's also growing at a decent rate, with revenue up 22% to $47.7 million in FY21.
However, what excites me the most is what Whispir is currently working on – how do governments and businesses better communicate and engage with audiences?
Research by Duke University suggests that on average we receive between 65 to 80 notifications a day. We are bombarded with messages, many of which fly right over our heads (literally).
"We don't care about sending messages, we actually need people to read them" – Brad Dunn on clients pain point
The business hired Brad Dunn as Chief Product Officer in 2019 and more recently Astrophysicist and Mathematician Fiona Milne as Head of Artificial Intelligence (AI) to solve this problem.
Whispir hopes to use machine learning and AI to spearhead this, and truly differentiate itself from competitors.
WSP share price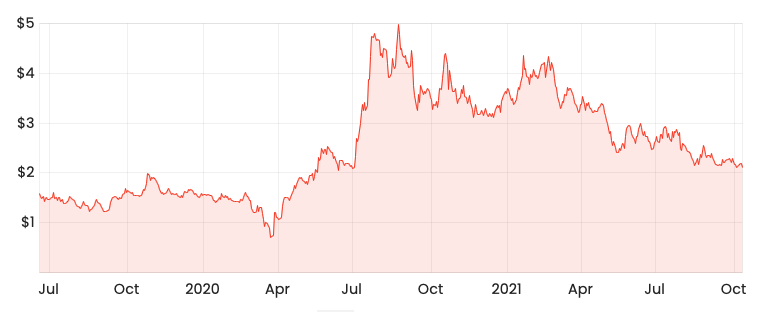 What I'm wary of
Whispir is currently loss-making meaning it has greater cash outflows than cash inflows.
Subsequently, the business raised $43 million in March to help fund its research and development and expand into the United States.
Expanding abroad is difficult for the best Australian companies. Also, the market doesn't like ongoing losses. At some stage, it wants to see profitability on the horizon. Hence why the share price has drifted downwards since the $3.75 raising.
The business relies heavily on existing customers adding more use cases. To illustrate, customers with one use case spend on average $943 per month whereas customers with four or more use cases spend $31,106 a month.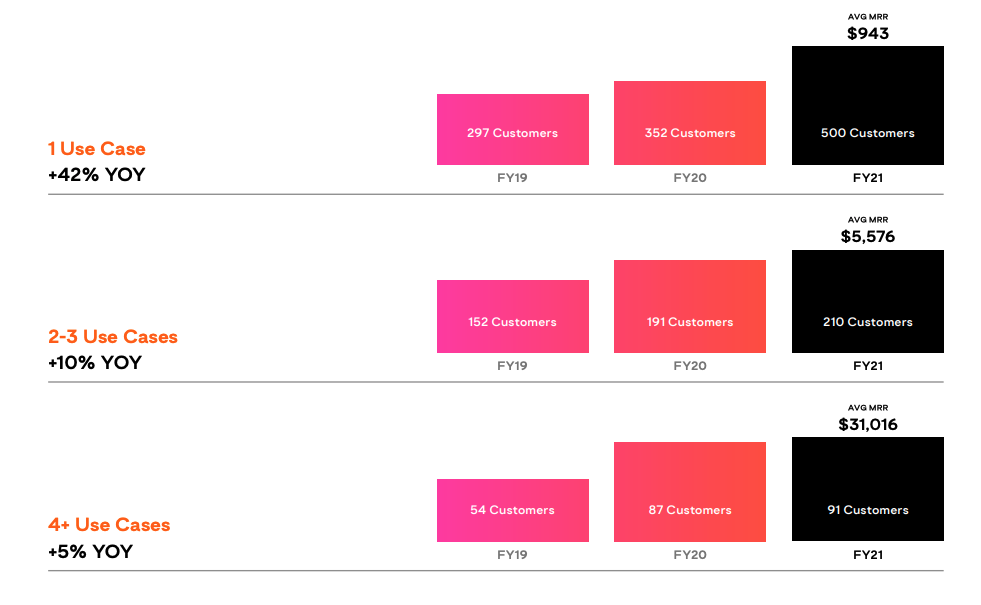 While the business operates a platform where clients can drag and drop workflows, more complex notifications require significant time and support.
Its quality of recurring revenue is also not as high. Whispir charges a platform fee in addition to transactions for each message sent. If IBM only has five critical events for the year, but then only have two the next year, recurring revenue will fall.
When messages are sent, Whispir also needs to pay a provider such as Telstra (ASX: TLS). That's why its gross margin is around 60% and not upwards of 80% like Xero Limited (ASX: XRO) or WiseTech Global Ltd (ASX: WTC).
Final thoughts
Whispir is currently trading on around 5x sales, which is reasonably modest for a SaaS company.
However, given the business has pushed out profitability to chase growth, the market will want to see more runs on the board before being convinced of the business.
I'll be tracking its growth in the United States going forward and seeing if the business gains traction with its AI features.
For now, Whispir remains on my watchlist.