The Australian wealth platform Netwealth Group Ltd (ASX: NWL) share price has rocketed this morning after the business upgraded its FY22 net inflow target.
The Netwealth share price is currently up 8.47% to $15.50.
What did Netwealth report?
Netwealth provided its FY22 first quarter update this morning. Key highlights include:
Funds Under Administration (FUA) of $52.0 billion, up $4.8 billion from the June quarter
Funds Under Management (FUM) of $12.6 billion, up $0.9 billion from the June quarter
Managed Account balance of $10.7 billion, increasing $0.8 billion from the June quarter
Number of accounts increased 4,985 to 102,304
Most notably, the business increased its FY22 net inflow guidance to $12.5 billion as a result of the strong Q1 result.
Previously the business had guided for $10 billion in net inflows.
How do I interpret the result?
From a high-level perspective, the two key determinants of FUA for Netwealth is market movement and net inflows.
Net inflows is a simple calculation of all inflows onto the platform minus any outflows. The business has a large amount of control over this.
Market movement relates to increases or decreases in the underlying investments such as shares and exchange-traded funds. Netwealth has very little influence over this.
For Q1, Netwealth achieved net inflows of $4.0 billion and $0.8 billion in market movement.
Of the $4.0 billion, $0.9 billion was a result of two clients with the remainder well diversified.
Overall, the key highlights and net inflows are a real highlight for the quarter. Netwealth is executing brilliantly.
How is Netwealth performing against its peers?
In the latest Planner for Life market update, Netwealth recorded the best 12-month rolling net inflows against its peers.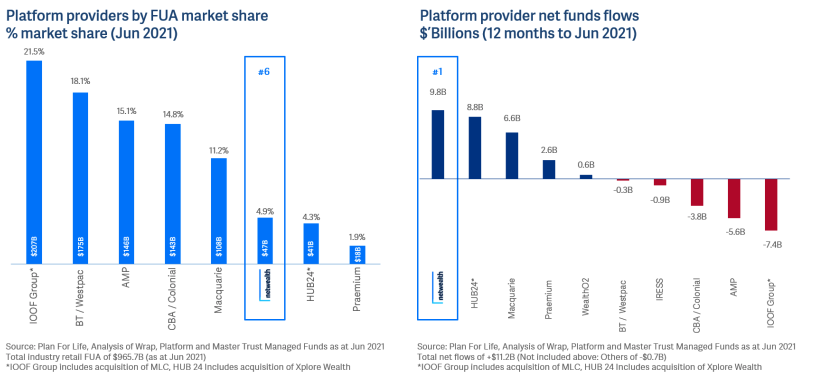 The business also increased its market share 100 basis points to 4.9% over the past 12 months. It's now the 6th largest and fastest growing wealth platform.
What next for Netwealth share price?
With the Netwealth share price up 10% today, the upgraded numbers clearly caught the market off guard (in a good way).

Analysts will likely increase price targets for the business with the revised estimates.
I'm not sure what the share price will do over the near term. But if Netwealth and its management can keep delivering great results, I expect the share price to keep rising over the long-term.
If you're interested in learning more about Netwealth, check out the 2-minute thesis on the business.