REA Group Limited (ASX: REA) and Domain Holdings Australia Ltd (ASX: DHG) absolutely dominate the Aussie property listing space. But how come one is much bigger than the other?
Let's take a look into why it's a David and Goliath battle.
REA share price

DHG share price

As you can see, both companies have experienced the same trend over the last two years but REA Group is much bigger. Why though?
The first-mover advantage
REA Group's first-mover advantage has made it the most popular website and marketplace to find real estate online.
A key benefit of being first to market is the opportunity to create a growing network effect. If a business builds the first marketplace and users value it, more people will come.
It's like what Kevin Costner thinks in the film, Field of Dreams, "If you build it, they will come".
Once REA group built its reputation as the go-to place for real estate, it was easier to attract more customers and business partners.
Some famous examples include Paypal Holdings Inc (NASDAQ: PYPL) and Airbnb (NASDAQ: ABNB). If you look closer to home, Seek Limited (ASX: SEK) and Carsales.Com Ltd (ASX: CAR) still dominate their respective markets.
REA Group has been around since 1995 and still smashes its peers in terms of web traffic. Just have a look at the below competitive position map based on web traffic and organic keywords.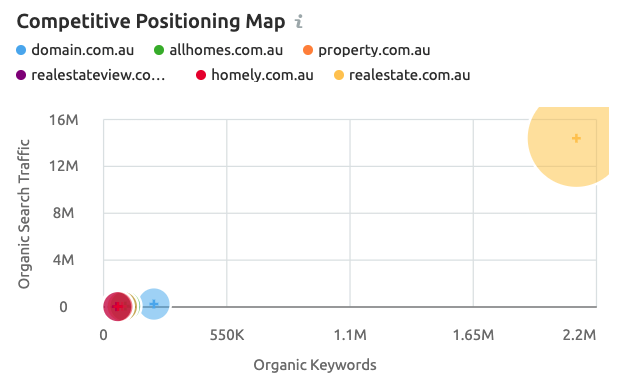 REA Group gets 14.4 million visitors per month, which pales in comparison with the next best competitor. Domain only gets around 252,000 in web traffic per month.
Not only this but REA Group's web traffic keeps on growing as shown below.

Gross margins and revenue segment
If you briefly scan the key revenue segments for each company, you will notice REA Group's operating segments are 100% digital.
Whilst Domain has still kept its newspaper and magazine publishing arm, which generated around 10% of its FY20 revenue.
As a result, REA Group has much higher gross margins, ranging between 70% to 78% compared to Domain's gross margins of 56% to 60% over the last four financial year ends.
Higher gross margins mean more money flows down to the bottom line, generating more free cash flow.
REA Group has been able to consistently dominate its peers because of its ability to reinvest capital into the business, especially its digital product offering.
If you do a quick search of both the realestate.com and domain apps, real estate.com wins out on both ratings and the number of reviews.
Will David win?
It's hard to see David beating Goliath in this one.
In saying this, Domain doesn't necessarily need to beat Goliath as long as it generates value for shareholders.
In such a large total addressable market, there is still a long runway of growth for both businesses.
This comparison illustrates the potential benefits a business gains from taking pole position. However, investors should bear in mind that this is not always the case.
Investors should also consider other aspects of the business when making an investment decision.
If you're on the hunt for ASX share ideas, I suggest getting a Rask account and accessing our full stock reports. Click this link to join for free.