ASX retailers have taken a bit of a hit recently, with shares in some of the larger players such as Redbubble Ltd (ASX: RBL) and Temple & Webster Group Ltd (ASX: TPW) down 16% and 17% respectively over the last two weeks.
Is this a buying opportunity or is there more pain to come?
RBL share price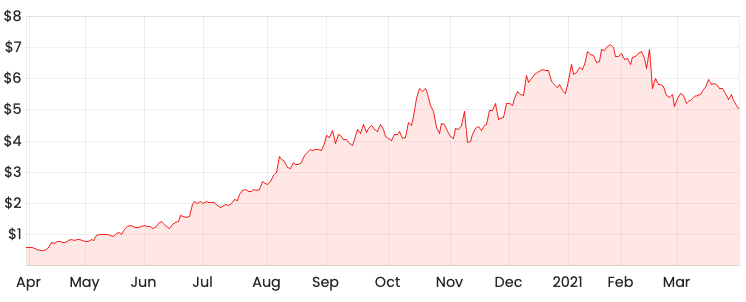 What's been happening with RBL recently?
Over the last few months, valuations of many ASX retailers have trended downwards as COVID-19 beneficiary growth stocks have been replaced by value stocks that have underperformed over the last twelve months.
More recently though, it seems valuations have dipped even further in these last couple of weeks.
I think a likely explanation for this would be the end of the $90 billion JobKeeper wage subsidy that has supported businesses since the onset of COVID-19.
In the same way that retailers have probably been beneficiaries of these government subsidies, it might be possible that some companies may experience a slowdown in sales as consumers have less disposable income.
March unemployment data will be released on 15 April, which could reveal the effects of JobKeeper ending on unemployment numbers. Up until then, it seems likely these stocks may continue to be volatile.
Time to buy?
If you're a long-term investor of Redbubble, the unemployment numbers for this month are probably not likely to have too much bearing on the long-term success of the company.
Redbubble doesn't just have exposure to Australia, so whether or not this recent reaction from the market is rational or not I'm not completely sure.
I think the good news is that retail valuations are actually fairly modest compared to some of the other tech companies that trade on much higher multiples.
Investors knew that government subsidies were going to run out eventually, so I think this might've been mostly priced in by now and the valuations seem to reflect this.
For the six months to 31 December 2020, Redbubble achieved an increase of marketplace revenue of 96% and a 1,028% surge in earnings before interest, tax, depreciation and amortisation (EBITDA).
It's probably not realistic to assume it'll be able to achieve these same high levels of growth rates for years on end, but I think Redbubble's innovative business model could warrant some continual growth in the long-run.
You can read more about Redbubble's H1 FY21 results here.
For more share ideas, click here to read: 2 high quality ASX retail shares to watch in April.