The Afterpay Ltd (ASX: APT) share price just opened more than 10% lower this morning as the market reacts to the company's half-year report and $1.5 billion convertible notes offering.
For an in-depth take on Afterpay's results and convertible notes raising, check out Jaz's article: Afterpay share price in a trading halt, HY21 report revealed.
Afterpay's investor presentation is always jam-packed with interesting metrics and tidbits, so I thought I'd pull out a few that caught my attention.
Afterpay customers become more valuable over time
Afterpay is seeing high average purchase frequency across its customer base, including ~29 times per year for the earliest customer cohorts. 
For example, the chart below says that ANZ customers who joined Afterpay four or more years ago are, on average, making around 29 transactions through Afterpay each year.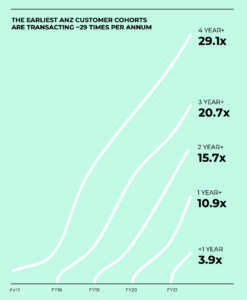 I've highlighted this metric before but I think it's worth mentioning again as it demonstrates a powerful trend of increasing average revenue per customer over time, which bodes well for customer lifetime value. These metrics are explained in the video below.
More than just a payment tool
Afterpay has a powerful network effect where it adds value on both the merchant and consumer side. Consumers can use Afterpay as a cash flow management tool, while merchants enjoy larger basket sizes and increased transaction frequency.
But another benefit to merchants is Afterpay's ability to generate customer leads. The shop directory sitting inside Afterpay's app generated an average of 27 million leads referrals to merchants during HY21. This number rose to 45 million in the peak shopping month of December 2020, and compares favourably compared to the 14.5 million average referrals in 4Q20.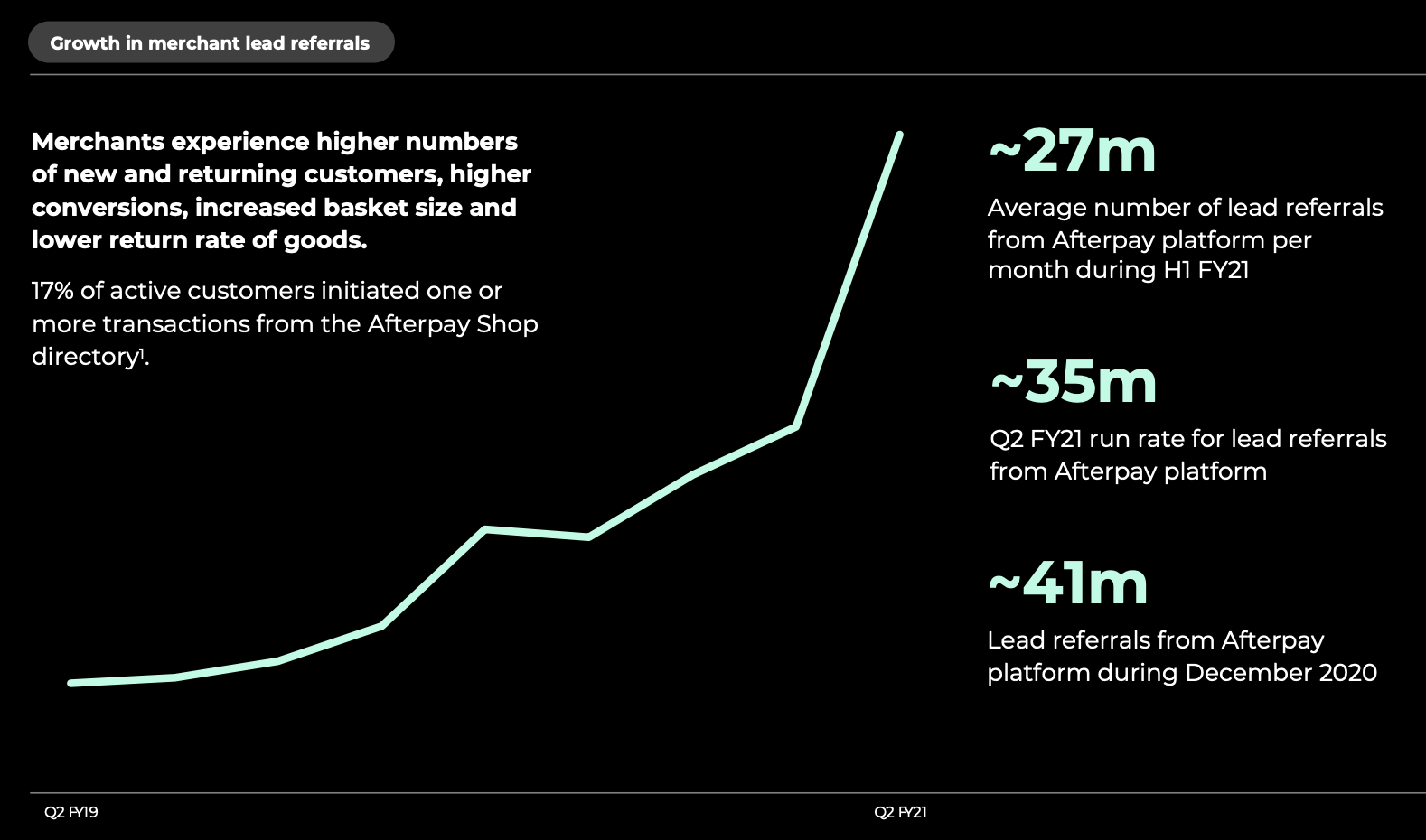 What's more, 17% of active customers have initiated one or more of their transactions from the Afterpay shop directory this month. This means that not only is Afterpay a popular option at check out, but it is also a place where customers start their shopping journeys.
This ability to generate referrals is a key point of difference for Afterpay compared to its competitors and demonstrates the company's influence and reach, which it could monetise in time.
Stripe integration
Afterpay announced a partnership with US-based payments giant Stripe to offer its BNPL product to Stripe merchants through a seamless integration.
The partnership will allow Stripe's 1 million+ strong merchant base to start accepting Afterpay in minutes, without application, onboarding or an underwriting process to get started.
This integration is already live in the US, UK, Australia and New Zealand, and will be available to merchants in Canada soon.
Stripe would likely be clipping the ticket on these transactions, but this partnership gives Afterpay instant access to a major, engaged and global merchant base that could significantly expand its reach going forward.
Is the Afterpay share price a buy?
While Afterpay is certainly enjoying explosive growth, it's worth noting that the company is yet to demonstrate a profitable business model.
The underlying economics appear lucrative, whereby Afterpay generates a ~2% net transaction margin and recycles its capital ~15 times per year, and the company is understandably reinvesting significantly to drive future growth.
But at the current heights, it seems there's plenty of optimism already priced into the Afterpay share price.
To learn more about Afterpay and the BNPL industry at large, grab a copy of our free 7,500-word BNPL report.