Many of the large tech names on the ASX have taken a beating this week and have had their valuations dragged down as some investors rotate into other sectors with more perceived growth potential.
Here a few tech names with the same fundamentals that are worth considering for your own portfolio.
TechnologyOne
Shares in enterprise software company TechnologyOne Ltd (ASX: TNE) are looking quite appealing at current levels relative to where they were a few months ago in my opinion.
TechnologyOne has a suite of software products with many local and federal governments as clients. Its revenues are extremely sticky and the company boasts a customer retention rate of 99%.
While its valuation has been hit hard recently, I don't think this is indicative of deteriorating fundamentals or anything of that nature.
COVID-19 might be a headwind for its UK expansion, but I have faith in this well-managed company to achieve its goal of doubling the size of the business once every five years.
For more reading on TechnologyOne, click here to read: Why I think TechnologyOne could be in the buy zone.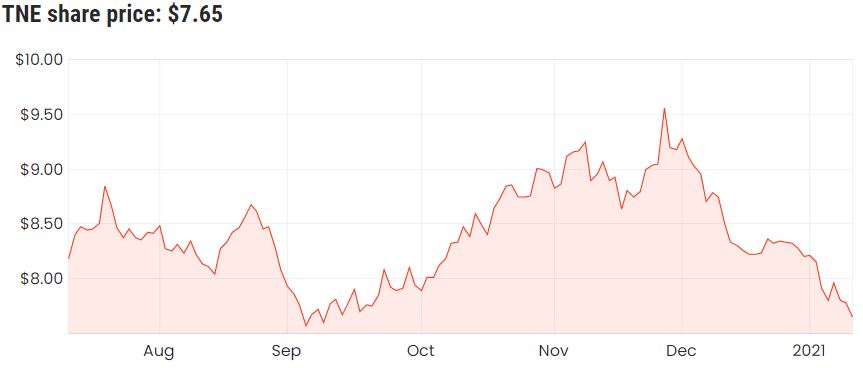 NextDC
While data centre operator NextDC Limited (ASX: NXT) is more of an infrastructure play, it often gets thrown in the tech basket and its valuation is often correlated with the other big tech names.
Regardless of the success of a vaccine-led recovery in 2021, I cannot see how we're going to stop using data that will require physical data centre's storage capabilities.
NextDC is already in the process of building new data centres across various Australian cities and I think it'll be perfectly positioned to take advantage of the rising demand for data storage.
This one does carry a fairly lofty valuation, so I think it'll be interesting to see how this year plays out. If it drops further, I would consider adding more to my current allocation.
Jumbo Interactive
The share price of lottery operator Jumbo Interactive Ltd (ASX: JIN) has also taken a hit recently.
Jumbo is a leading retailer of official government and charitable lotteries with operations in Australia, the UK, Fiji, and other countries. It operates under an agreement with Government Licensed Operator Tabcorp Holdings Limited (ASX: TAH) which allows Jumbo to be a re-seller of a variety of lottery games that are offered by Tabcorp.
It additionally operates through its new software-as-a-service (SaaS) platform called Powered by Jumbo (PBJ) – which allows other lottery ticket retailers to use its own software model for their own lotteries.
It's very much early days for this part of the business, but it's worth noting that the company is trying to tap into a huge addressable market of over $300 billion in the US.
For this reason, I think Jumbo is an exciting name to watch in 2021. For more information on Jumbo, click here to read: Are Jumbo Interactive shares about to pop?