The S&P/ASX 200 (ASX: XJO) has had an impressive run this month, with the financial and energy sectors contributing to much of the recent strength in the index.
Yesterday, the index fell 1.70% due to increasing worldwide cases of COVID-19 and further political tension in the US.
Regardless of the outcome of the upcoming US election, it seems likely that this will cause some volatility across global financial markets. As a result, there may be some opportunities in the coming weeks to pick up some great companies at a discount to what they usually trade at.
The ASX technology sector seems to mirror US sentiment more than other sectors, so for this reason I have picked three ASX tech shares that might face a bit more volatility than others.
NextDC
I recently wrote an article on NextDC Ltd (ASX: NXT) which explains why I have such strong conviction in this company.
NextDC is a data centre operator with multiple centres across Melbourne, Sydney, Brisbane, Perth and Canberra. Organisations that store critical applications and data "in the cloud" can use NextDC's facilities to physically store this information.
Although it's labelled as a tech business, NextDC is more of an infrastructure play with big capital expenditures required to construct new data centres.
Whatever sector you want to label it, a potential sell-off of US tech stocks will most likely have a similar effect on NextDC's share price, as you can see from the below graph from the most recent downturn in the NASDAQ.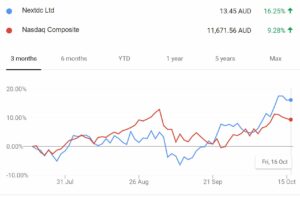 Xero
Xero Limited (ASX: XRO) is another company that moves quite steadily in line with the NASDAQ. It's had a strong run within the last month and I wouldn't be surprised to see a pull-back at some stage.
On a more fundamental level, this is a company I'd be wanting to accumulate more of regardless of the state of the US markets.
Xero is a provider of cloud-based accounting software that already has a large presence in Australia, with operations currently growing in the UK and the US. I know Xero shares are expensive, but I also think there's a huge additional runway for growth as it's only tapped into 20% of its addressable market in overseas regions.
It has all the attractive features of a SaaS business and has made a smart acquisition recently that expands the current offering.
Altium
The Altium Limited (ASX: ALU) share price seems to be volatile regardless of the state of the US economy.
COVID-19 has had a large impact on its operations this year, but it's also in the process of changing its customers from a perpetual licence model to a recurring SaaS model.
These changes will take time, so for this reason, I'm happy to accept that the Altium share price might stay relatively flat, in-line with earnings in the short-term.
Altium has set an ambitious 5-year revenue target of US$500 million. If management is able to execute, I think investors should be able to do quite well out of this one in the long term.
I'd be wanting to pick up Altium shares at around the $33 mark, as shares currently trade around $38.
Here's my detailed write-up of Altium which explains why I think this ASX tech share will do well in the long-term.