Unlike many other ASX shares that experienced quick recoveries from their March lows, the valuations on all of the big four ASX banks have contributed significantly to the underperformance of the S&P/ASX 200 (ASX: XJO).
Given these ASX bank shares are still trading at a discount relative to pre-COVID levels, does this represent a good buying opportunity?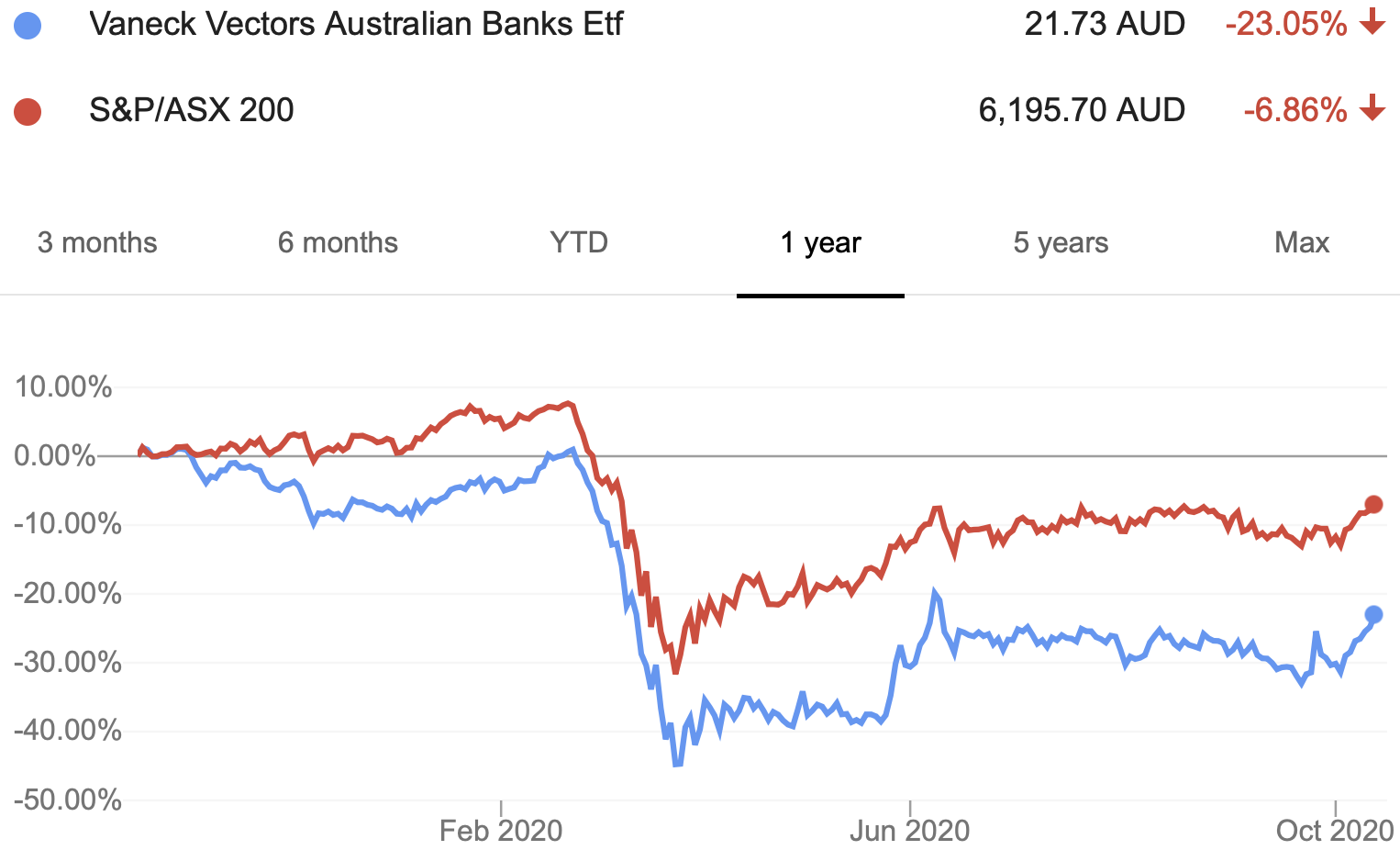 Three concerns I hold for ASX bank shares
I recently wrote an article on why I think Commonwealth Bank of Australia (ASX: CBA) shares are a hold despite being the best performer out of the big four ASX banks since March.
1. Record-low interest rates
One of my main concerns was in relation to the fact that banks tend to underperform in low-interest-rate environments. But to be clear, this headwind doesn't just affect CBA – all of the big four ASX banks will struggle to grow their margins when interest rates are increasingly low.
This is because banks currently pay such little amounts of interest on their deposits, so a further decrease in interest rates does little to reduce the amount of interest they pay on these deposits. However, because banks will collect less interest on their interest-bearing assets such as loans, this will inevitably compress their margins and make them less profitable.
2. BNPL disruption
Another thing I'll also point out is that there has been a recent shift from consumers using credit cards and loans from commercial banks to using buy now, pay later (BNPL) services to finance their spending.
To remain competitive, banks could potentially lower their interest rates on loans which further reduces profitability, and/or have holdings in BNPL companies to gain exposure to this market. We have already seen the latter, with Westpac Banking Corp (ASX: WBC) currently holding 55.2 million shares in Zip Co Ltd (ASX: Z1P).
3. Squeeze on dividends
The big four banks have historically been some of the most reliable dividend-paying shares on the ASX. Earlier this year, pressure from the Australian Prudential Regulation Authority (APRA) forced Westpac and Australia and New Zealand Banking Group Ltd (ASX: ANZ) to freeze the distribution of dividends to preserve capital. Given that APRA is still enforcing a lower payout ratio of 50%, it remains to be seen how long it will take for the effects of COVID-19 to fully play out.
Banks that primarily serve small to medium-sized businesses are facing an even bigger headwind. These are the businesses that are more likely to default on their obligations due to their size and often less resilient balance sheets.
Capital adequacy regulation requires banks to hold certain forms of capital based on a risk-weighted adjustment of their assets. As the economic climate deteriorates, banks will have to hold more capital, further restricting what could be paid out to shareholders in the form of dividends.
Final thoughts
Compared to companies in other sectors, ASX bank shares have had a challenging run and face an even tougher macroeconomic environment into the foreseeable future. There have been royal commissions, negative media coverage, and ongoing effects from COVID-19 that are yet to be fully realised.
Don't forget that prior to COVID, the Reserve Bank of Australia was already taking measures to stimulate economic activity in response to the stagnant growth in consumer spending. The pandemic has now presented an additional reason as to why interest rates will likely remain low for at least the short to medium term.
The big four ASX banks do have government support and stringent capital adequacy ratios that make them well equipped to withstand economic downturns. Based on this, it's very likely that banks will make a recovery in the long term.
Having said that, I think there are some other ASX dividend shares that aren't operating in such a tough environment. Why make it harder for yourself?
If you're looking for dividends, I like Washington H. Soul Pattinson and Co. Ltd (ASX: SOL) at the moment.