Here are the headlines from the S&P/ASX 200 (INDEXASX: XJO)(ASX: XJO) and Australian finance circles on Thursday morning, as Google's $US5 billion fine makes headlines across the globe.
But first, here are the data points:
Australian Dollar ($A) (AUDUSD): 73.99 US cents
Dow Jones (DJI): up 0.3%
Oil (WTI): $US68.98 per barrel
Gold: $US1,227 per ounce
Australian Investing News
Making finance news, overnight, European officials handed Alphabet Inc (NASDAQ: GOOGL), the owner of Google, a $US5 billion ($6.8 billion) fine because it believes the software and advertising company broke competition laws.
The regulator said Google's Android mobile software shouldn't come pre-installed with Google Search and Chrome browser because it creates an uneven playing field for rival search and browser apps. Google creates Android software but it's open source, free and is often modified by the likes of Samsung and other non-Apple device makers.
However, European officials say that Google's influence over smartphone makers may be improper. Google will appeal the decision but it has 90 days to correct the 'error', regardless of its intent to challenge the decision. In a blog post, Google CEO Sundar Pichai said that, if anything, the fact that Android is free, many other apps come pre-installed on Andriod, and many more can be added or removed has stimulated competition — not reduced it.
Closer to home, ASX-listed construction business CIMIC Group (ASX: CIM) reported its 2018 half-year financial results yesterday evening showing a 12% increase in net profit and 10% rise in revenue.
"CIMIC's strong performance continued during the period, with substantial growth in all key indicators," CIMIC CEO Marcelino Fernández Verdes said. "We continue to invest in attracting, retaining and developing talented people to further build a performance-based culture that delivers value for clients and shareholders."
Uranium business Paladin Energy Ltd (ASX: PDN) released its most recent quarterly report showing a 47% drop in uranium production versus the prior quarter. Paladin reported sales of 1.15 million pounds of the energy source, at an average price of $US20.58 per pound.
Adelaide-based miner OZ Minerals Limited (ASX: OZL) updated the market on its second quarter operating performance showing year-to-date production of copper and gold of 54,597 tonnes and 58,994 ounces, respectively. "This was a business-as-usual quarter for operations and projects across the company, with good progress made on delivering to our plans and growth strategy," OZ Minerals CEO and Managing Director Andrew Cole said.
In 1945, Warren Buffett took $1,200 he made in business and bought 40 acres of farm in Nebraska. He was 14. Buffett was a millionaire by his late 20's but 'only' worth $300m at his 50th birthday. Now he is a $US84 billion investor.
That means he made 99% of his wealth after turning 50! How does a 50-year-old do that when the world seems to be falling apart? Download the free Aussie investing ebook, "What Buffett's Investing Checklist Can Teach Aussie Investors" when you join the free Rask Group Investor Club Newsletter. You'll get insights into the 4 steps Buffett uses to pick his investments.
Rask Media
Free high-quality* financial news for everyone (*with an occasional spelling mistake). That's our mission. It's what we do. Visit raskmedia.com.au to find the latest news, insights, video and audio content.
Related posts
Investors Podcast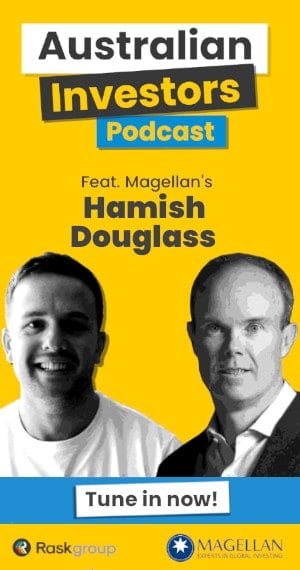 Search: