Dear investor,
Is it just me? Or is property defying interest rate gravity right now?
According to Property Update, Australian property prices are up 7.1% this year.
So much for those commentators in the AFR who were calling for 20%+ declines…
Turning to shares, the same can't be said for our wonderful ASX shares.
The S&P/ASX 200 (INDEXASX: XJO) is down 2.1% (not including dividends) so far this year.
So what's going on? Why is property riding high?
Or, more importantly, what should you be doing about it?
This Wednesday, at 12 noon (Eastern time), I'll be joined by Chris Bates, founder of Blusk and Australia's #1 mortgage broker, as voted by The Adviser. I'll put Chris to the test LIVE, with your questions.
My plan for Wednesday's live show is for Chris and I to get to the bottom of:
Why property has gone up, despite rate rises – can it continue?
The most likely move for interest rates over the next year – is it time to lock in your mortgage rate?
Where can we shop to get a better rate on our mortgages right now
Why, when and how to blend shares and property together
How to use a line of credit to buy dividend-paying shares/ETFs
(Full disclosure: Chris is my mortgage broker, and has been for years… I just lucked out picking the fella who would later become #1!)
My view on property versus shares
In finance, we love forcing people into false choices. Growth or value. Retiree or accumulator. Trader or investor. Property or shares.
The reality: you can do all of them, if you want to.
For example, I'm a stocks/business guy. But I think property is a great vehicle for wealth creation, if it's done wisely.
Especially if you're earlier in your journey (say, under 50), the leverage on offer with property is unique and powerful.
For example, if I had ambitions to retire early I would be using property as my primary wealth creation engine, alongside some ETFs and shares.
Providing I knew how to identify high quality properties, I would use a 'less is more' strategy and pursue long-term properties in blue chip neighbourhoods.
While I say this, I also believe shares will provide better income and growth over the ultra-long run. So, while I would use property to provide leverage and exposure to an attractive asset class, I would seek to 'deleverage' that portfolio before I planned to retire, parking the capital in shares, which are cash flow positive, liquid and offer franking credits. I especially like ETFs that pay franking credits.
In short, leverage (sensibly) into property, exit into shares for the long run.
Just as the little girl in the TV ad for tacos says, 'why not have both?'
Wednesday at 12 noon on YouTube, join Australia's #1 mortgage broker and me, as we dive into the shares v property debate. CLICK HERE TO WATCH IT.
All you have to do is arrive at this YouTube link at 12 noon on Wednesday (or watch it back on replay).
As always, we'll be going live for Rask LIVE, brought to you by Selfwealth.
The stream will kick off shortly after 12 pm, Australian eastern time.
See you soon!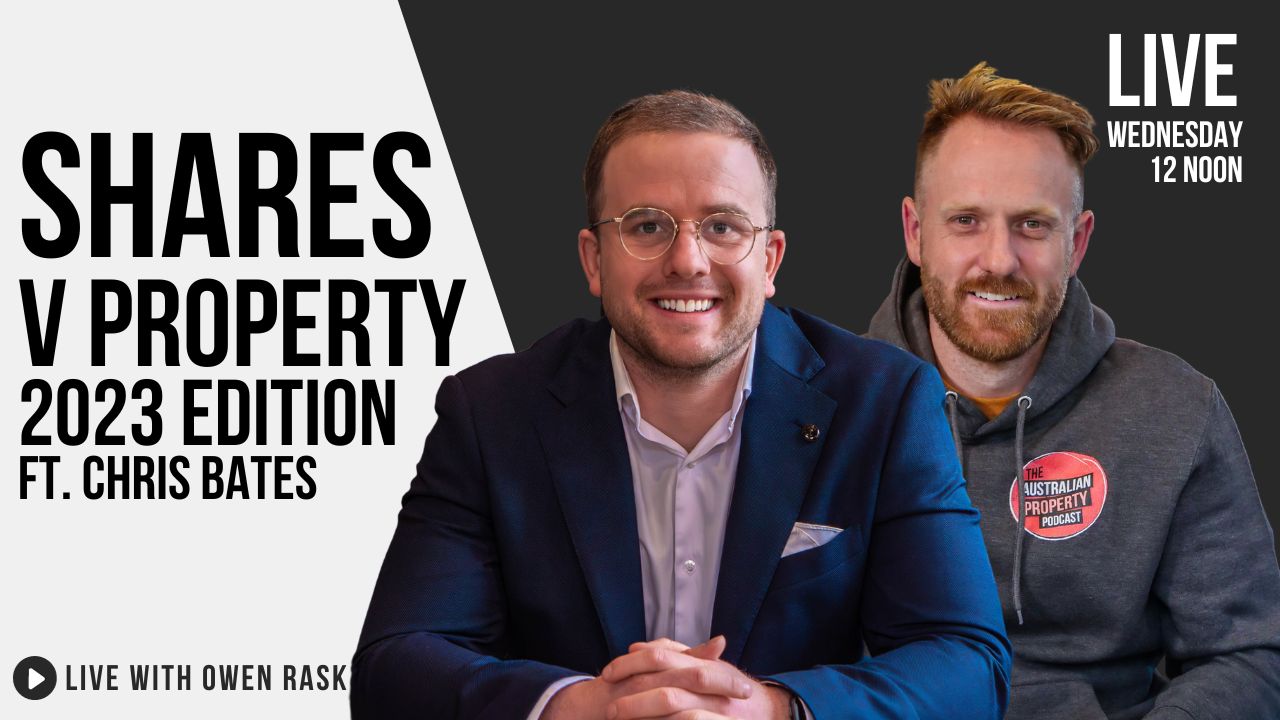 Subscribe to YouTube (for alerts)
Join the session (12 noon Wednesday)
Chief Investment Officer, Rask Invest
Founder of Rask