NEW: Rask Roadtrip courses now available on Rask Education. Enrol now to go into the draw and win a free book!
Dear Rask Road-trippers,
Kate here, co-host of The Australian Finance Podcast and the person ready to help you invest your money and time, better. This piece was originally shared with our Rask Education students – be sure to sign up for a money & investing course to catch the next edition directly in your inbox.
I've spent a lot of time over the past few months talking about better understanding yourself as an investor.
I realised that so much of understanding your investor type comes after you've figured out the basics.
That's why I'm excited to share a brand new (and totally free) resource with you today, designed to help get your financial foundations sorted…
***
When you build a house, you need to lay the foundations before you can start walls and roof.
(Unfortunately, the foundations have to go in before getting to the fun stuff, like choosing your furniture or picking out new houseplants.)
This is the same approach you need to take with your finances.
We need to establish our roots first, to guide us during challenging times.
The thing is, laying the investing and money foundations isn't exactly the most fun or glamorous thing to do. In fact, it can be long, hard and a bit boring. Who wants to take half an hour to figure out their personality type? Or stare into a bank statement trying to understand where all the cash is going?
While it might not be as much fun as investing in a new ETF or company, this doesn't make it any less important.
The important thing is that you've got a strong foundation before you start to try to save the world or help other people.

~Richard Branson
​​Before we start investing and working towards our financial future, we need to get out of debt, build an emergency fund, improve our financial confidence and work out what our goals are.
It's easy to feel overwhelmed, but please keep reading…
I think it's important to work through these steps first, before diving straight into the world of investing. And we're here to help!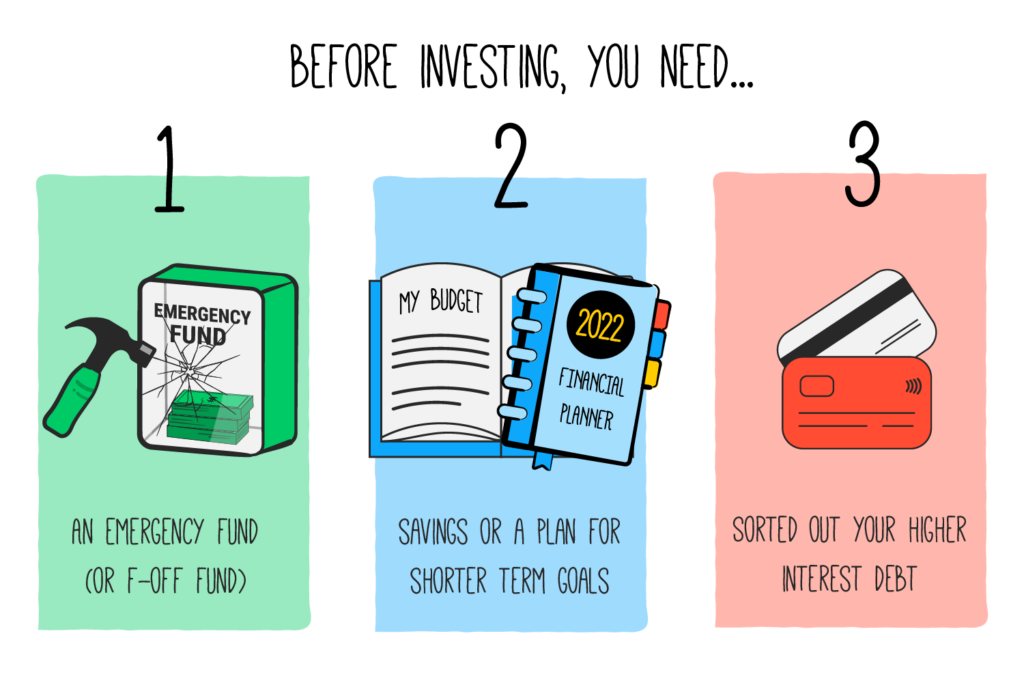 Action Step: This weekend, take some time to reflect on the beginning of your money journey. Did you take enough time to sort your foundations out, or do they need some more love and attention this month?
Again, please… keep on reading…
🚙 Introducing the Rask Roadtrip: 6 courses. Heaps of downloads. Yours 100% free.
Given how important these foundational steps are, Owen and I created the Rask Roadtrip over the past six months with our awesome team — and the ever-wonderful @tashinvests.
Did you know we just enrolled our 16,000th student into Rask courses? And yet we believe the biggest courses are yet to come…
Chances are, you would probably be familiar with our courses and our passion for helping Aussies gain their financial footing through our work on the podcasts. Rask Roadtrip is an extension of that work — just better.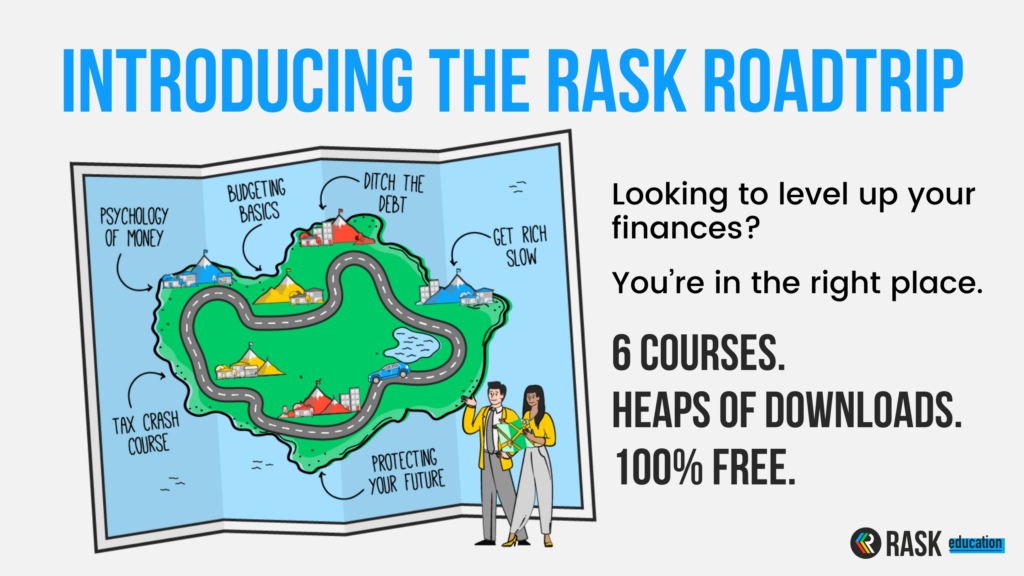 The Rask Roadtrip will take you on a journey to building your financial foundations through six short courses, complete with free downloads (PDFs, spreadsheets, documents, etc.), 4K videos and real-life examples.
If you follow our Rask Roadtrip in order, you'll cover:
Don't leave your finances to fate. Jump into it and get started today (for free)!
We'd love if you could use these courses to build your foundations and spark a conversation with your family and friends about money.
If you want to share the courses, it could be as simple as sending them to this link and saying
"You mentioned you wanted to sort out your finances this year – here's a great resource worth checking out (plus, it's free). 16,000 students are enrolled. I'll do it if you do it. And then we can chat about it, to help each other out."
Talking about money within your sporting or social group has hugely positive ripple effects you don't always see until years down the track. However, one conversation can spark big changes in someone's financial future ✨
Please note: every Rask Roadtrip course is designed to be taken in one sitting (E.g. under 1 hour) and link together, forming one big money and investing strategy.
🎁 Your chance to win
Since we're super-excited about launching these courses and want to spread the word, we're giving out five free copies of our favourite book, The Psychology of Money, by the one and only Morgan Housel.
To throw your hat in the ring, all you need to do is enrol in at least one of our Roadtrip Courses (maybe start with the first one) by the end of August. We'll contact the five winners via email at the end of August!
To confirm how you can enter right now:
1. Enrol in a Rask Roadtrip course (e.g. our "Psychology of Money course")
2. That's it – there is no step 2!
Cheers to our financial futures,
Kate