With restrictions largely gone and borders reopening, investors have begun running the ruler over ASX travel shares.
The most popular ones include Webjet Limited (ASX: WEB), Qantas Airways Limited (ASX: QAN) and Flight Centre Travel Group Ltd (ASX: FLT).
All are trading below their respective pre-pandemic share prices.
Assuming travel now returns to normal – a big assumption in itself – shouldn't these companies be now worth their pre-pandemic share prices?
The answer is no. Here's why.
The illusion of ASX travel share prices
A share price chart represents what one share in a company can be purchased for.
But it doesn't tell you how much the total company is worth.
If a company issues more shares – like Qantas, Flight Centre and Webjet did to survive the pandemic – your original shares are worth not as much.
Why?
Because by raising cash from investors, the company is increasing the number of shares and therefore diluting your ownership.
To illustrate the impact, let's use a pizza example.
You have a pizza worth $24, split into 4 slices.
Assuming each slice is cut equally, someone would be willing to pay $6 for one slice.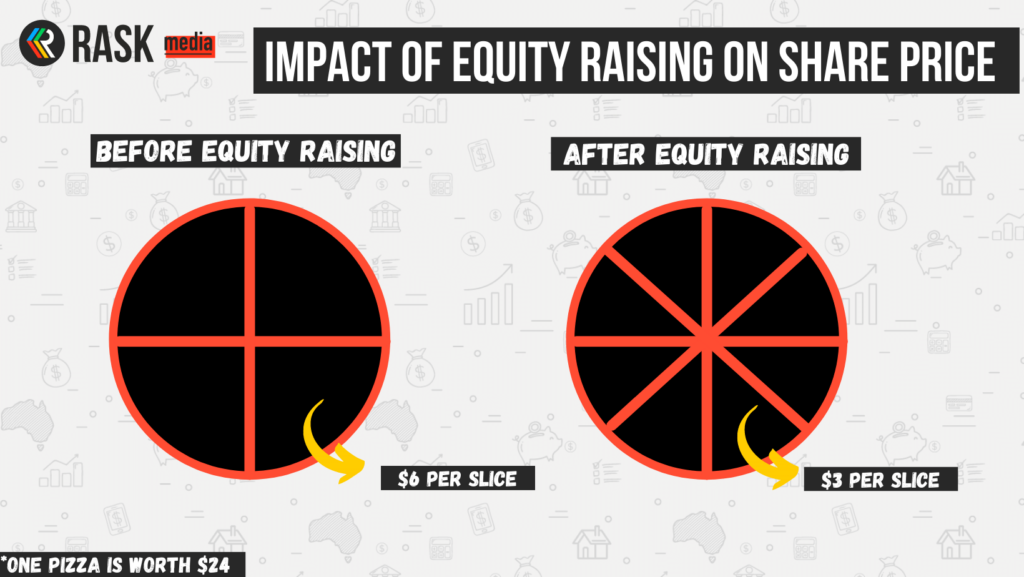 But let's say you go cut that same pizza into 8 slices.
It's still the same pizza worth $24. But each slice is now worth just $3.
Why's that? 
Because you're getting less pizza per slice.
It's the same for companies.
The business has issued more shares, therefore one share is worth less than what it used to be – assuming the business is the same.
It should be noted it's a little more complicated than this because the company now has more cash within the business.
But the overarching lesson is that for many ASX travel shares, their current share price does not equal their pre-pandemic levels.
Never assume
It's not all bad news for ASX travel shares.
The assumption that these will be the same businesses post-pandemic is unlikely.
Some will be worse. And some will be better.
For example, Qantas has reduced its cost base by $840 million, which could lead to higher future profits.
Webjet will benefit from the ongoing shift to online and will hope to take more market share in the years ahead.
The key lesson for investors is to not anchor your thinking to pre-pandemic share prices and business performance.
Judge the company on its merits, and be sure to account for any dilution in your valuation.
For now, I'll be avoiding ASX travel shares until there is more clarity on their business performance.