The online furniture retailer Temple & Webster Group Ltd (ASX: TPW) share price has risen four-fold since the depths of the pandemic.
However, its share price is largely unmoved over the past year, as the market grapples with what the business will look like in a post-pandemic world.
Will we go back to in-store shopping? Who would ever order a bed online? Surely you need to see it before you buy it?
Whichever side of the fence (or couch) you sit on, here's why the business is worthy of a spot on your watchlist.
TPW share price

A convict success story
Founded in 2011 by Chief Executive Officer (CEO) Mark Coulter, Chief Experience Officer (CXO) Adam McWhinney, Non-executive director Conrad Yiu, and ex-CEO Brian Shanahan.
All were former colleagues and senior executives at eBay and Newscorp, before founding Temple & Webster.
The name is derived from two former convicts, William Temple and John Webster who were some of the first fine furniture designs in Australia in the 1820's.
The two were celebrated for their teamwork, craftsmanship and attention to detail.
Will the shift to online persist?
KPMG's Australian Retail Outlook 2021 report showcased the enormous boost COVID-19 provided for online retail.
In 2015, just 6.5% of total sales were made online.
By 2020, this had increased to 9.8% 2020.
But in six months (March-October) after the pandemic hit, online penetration soared to 12.9%.
"In many respects, the pandemic has rapidly accelerated five years of disruption into a few months" – KPMG
Temple & Webster has been a direct beneficiary of the pandemic, with revenue rocketing 85% in FY21 and EBITDA up 141%.
Source: TPW Full Year 2021 Results Investor Presentation
It may come as a surprise, but Australia actually lags behind the rest of the world when it comes to e-commerce.
In the United States, online penetration is at 25% for homewares, led by the likes of online furniture giant Wayfair.
However, the big question on everyone's mind is will we go back to retail stores?
While it's impossible to say for sure, research conducted last month by McKinsey suggests online penetration is here to stay.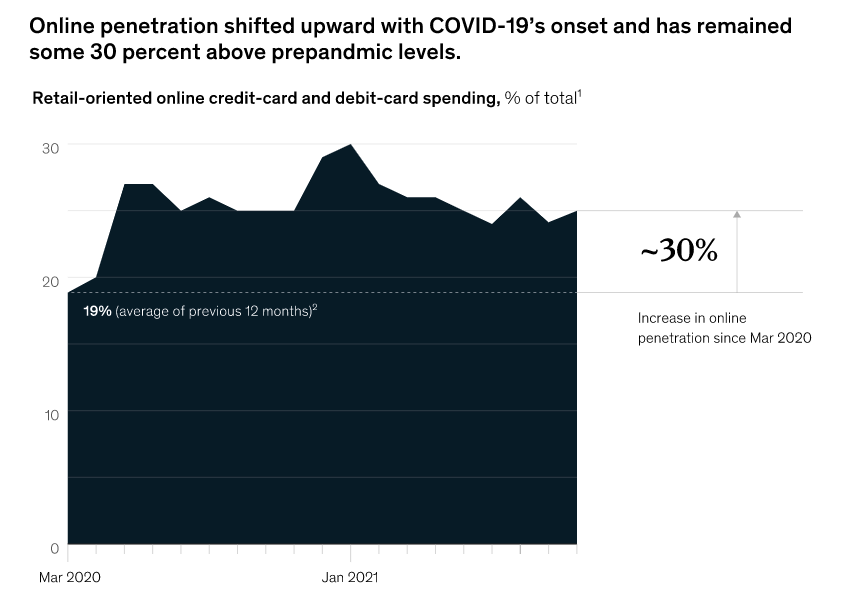 Even when restrictions have eased in the US and borders have reopened, online penetration has persisted above pre-pandemic levels.
Temple & Webster has seen a similar persistence in online growth, recording a 56% jump in sales over the first part of FY22.
"While there will always be a place for great bricks-and-mortar experiences, it's clear that consumers have now become accustomed to the convenience (and safety) of e-commerce. Even beyond COVID, customers may now be considering whether it's worth their time to head to their local shopping centre or if it's best to simply shop online" – KPMG
David buys Goliath
It's not often the smaller competitor acquires the bigger. But that's the case with Wayfair and Temple & Webster.
In 2015, Wayfair sold its Australian operations to Temple & Webster for an insignificant $6 million.
The sale of its Australian operations is akin to Amazon selling its Australian business to Kogan.
"As we continue to rapidly scale our business in North America and Europe, we are strategically focusing our resources on those two very large markets," – Wayfair Co-Founder Niraj Shah
In summary, Temple & Webster is less likely to face fierce competition from its bigger international competitor.
The same can't be said for other e-commerce brands like Kogan.com Ltd (ASX: KGN).
First-mover advantage
Even if you assume digital is here to stay, why would Temple & Webster be the winner?
It's not a big moat (yet), but Temple & Webster benefits from its first-mover advantage.
The business is an online native, compared to incumbent furniture retailers such as Nick Scali Limited (ASX: NCK) or Freedom Furniture.
As a result, it's lasered in the customer experience and building an online presence.
Instagram followers:
TPW: 473,000, NCK: 62,000, Freedom: 460,000
Facebook likes:
TPW: 383,134, NCK: 196,827, Freedom: 302,780
Trustpilot rating:
TPW: 4.4/5, NCK: 3.7/5.0, Freedom: 2.1/5.0
Instagram, Facebook and Trustpilot are not the be-all and end-all of success. But it demonstrates Temple & Webster is making strong strides to capture market share.
Moreover, the business now has iOS and Android apps with over 4,000 reviews and an app rating of 4.8 out of 5.
Neither Nick Scali nor Freedom have released mobile apps.
Temple & Webster also recently launched an augmented reality feature that allows customers to see furniture in each room.
It's pretty nifty and worth trying out either as an investor or customer.
If we zoom out and see the forest from the trees, Temple & Webster is the leader in online.
It may be displaced, but at the moment its first-mover advantage remains intact.
What to look out for
Management has flagged over the medium term a 2% to 4% EBITDA margin as the business reinvests into building its brand, technology and logistics processes.
Back in 2016, the business also splashed out on marketing to reach ambitious sales targets. However, losses ballooned and customer acquisition costs soared.
It's unlikely the same mistakes will be made again under Mr Coulter (who was appointed CEO after the 2016 mishap), however is something to keep front of mind.
Temple & Webster is somewhat vulnerable to key person risk. If any of the founders were to move on, the investment case would come under question.
Additionally, travel will resume to a more normal level at some point. How will this affect discretionary household spending?
The company will eventually cycle some very high comps, which could make short-term growth look weak.
Arguably, the biggest risk is execution.
If online is set to become a bigger part of the customer's wallet, can the business scale while keeping its customer-centric attitude?
My take
Essentially, Temple & Webster is an investment in online adoption.
The business has executed strongly so far and looks to have a generational tailwind behind it.
I still need to do more work on valuation, therefore Temple & Webster remains on my watchlist.
But it's definitely one I think in three or five years time could look cheap at today's prices.
If you're looking to learn how to do your own ASX company valuations, take our free share valuation course, which takes you through six common share valuation techniques, step by step.
Or try our Beginner Shares Course if you're just starting out. Both are free.