The Appen Ltd (ASX: APX) share price is well into the red today after Macquarie Group Ltd (ASX: MQG) downgraded its Appen price target from $11.80 to $9.50.
Subsequently, the Appen share price has plummeted 14.43% to $9.96.
It's been quite the fall from grace for the artificial intelligence labour-hire company, with its share price now 75% below its highs in 2020.
APX share price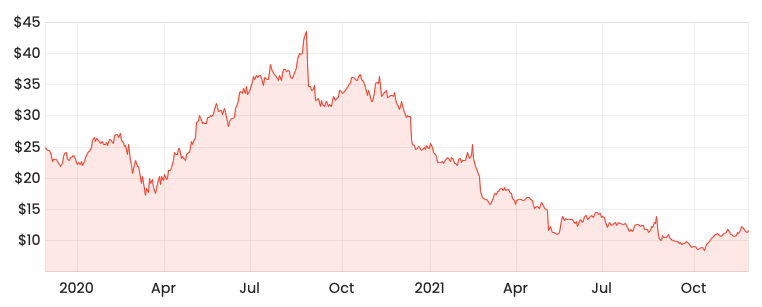 Macquarie sinks Appen
Macquarie believes Appen could potentially downgrade its guidance in the coming weeks.
This comes after the business reiterated FY22 guidance of $81-$88 million in EBITDA in August:
"…we're maintaining our guidance range, but expect to be at the lower end of the range due to the ad-related project impacts"
Historically, Appen has provided an earnings update for the remainder of the year before Christmas.
In 2018 and 2019, it upgraded its guidance in mid-November. And in 2020 it downgraded its guidance in December.
Appen's revenue is somewhat unpredictable, given a majority of it is project-related. Therefore its results can fluctuate half-on-half and year-on-year.
However, more recently the company has faced delays in customer spending and reallocation of resources towards new projects Appen is not involved with (yet).
Macquarie also noted after discussions with industry participants, big-tech companies are looking to directly crowdsource annotation services.
This negatively impacts Appen, whose revenue is largely from the likes of Microsoft, Google and Facebook.
What next for the Appen share price?
It's difficult to get excited by Appen at the moment.
The company is in a downgrade cycle and the market isn't kind to businesses that continually revise guidance.
Last year's downgrade came somewhat out of the blue and management noted it was a temporary setback at the time.
In fact, revenue was anticipated to return to industry growth rates of 30%.
Unfortunately, for Appen shareholders, it looks like further pain is still on the horizon.
On a positive note, Appen's bigger competitor, Lionbridge was recently acquired for a higher earnings multiple than Appen is currently trading on.
However, that is no guarantee Appen will be purchased for a similar price, or even act as a base for its share price.
For now, I'm avoiding Appen shares.