Online retailer Kogan.com Ltd (ASX: KGN) announced at its FY21 annual general meeting today that it expects to triple sales over the next five years.
The market has been unfazed so far by this ambition, with the Kogan share price down 0.79% to $8.80.
Bigger and better
Founder Ruslan Kogan said after 15 years of operation, Kogan is just getting started.
The $3 billion in gross sales ambition translates into annual growth of 25% until 2026.
Growth will come from a variety of verticals. The business plans to offer credit cards, superannuation and home loans in the future in addition to expanding its retail, mobile and energy range.
Since listing publicly in 2016, Kogan has increased sales five-fold from $200 million to $1 billion.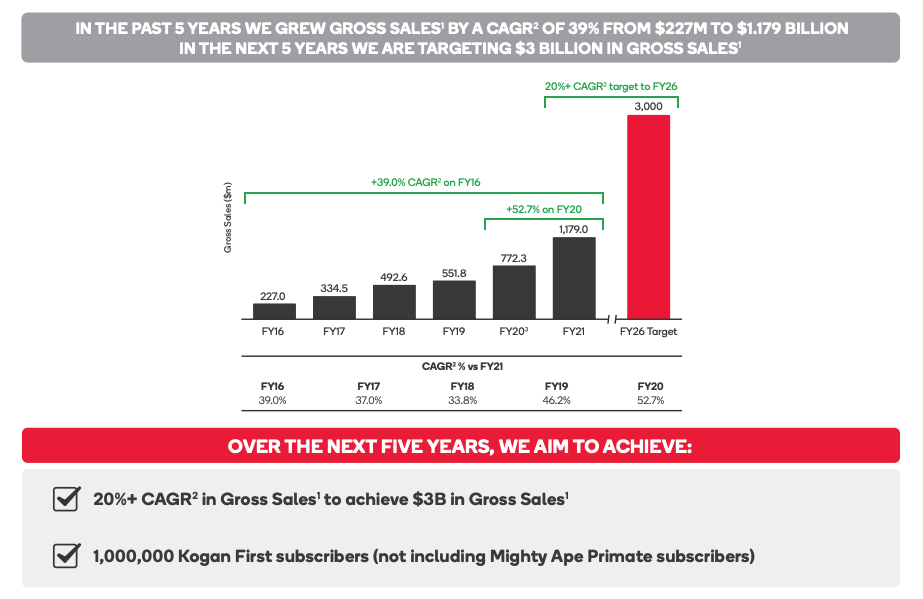 Furthermore, the business is aiming for one million Kogan First subscribers, its members-only exclusive service similar to that of Amazon Prime.
If the start to FY22 is anything to go buy, Kogan has a fair bit of work to do.
Sales are just up just 4% for the core Kogan.com business over the first five months of the year.
Slow start to FY22
The company provided a trading update for the year to date (July-November). Notable results include:
Total revenue up 19% to $432.7 million, including Mighty Ape
Gross profit down 1% to $69.2 million
Adjusted EBITDA of $12.4 million, down 61%
As mentioned, the core Kogan.com segment increased sales by just 4%.
Similarly, active customers were up just 4.8% compared to June 2021.
Kogan has suffered from unforced errors earlier in the year by ordering too much inventory. Additionally, freight costs have hampered gross margins despite revenue growth.
Positively, Kogan First members have nearly doubled over the past four months, up 100,000 to 220,000.
Is now the time to buy Kogan shares?
Kogan is a divisive business.
Bulls will point to long structural tailwinds and a motivated founder chief executive.
Bears dislike the soft start to FY22, management's stuff-up with inventory earlier in the year and the ever-present competition from the likes of Amazon.com Inc. (NASDAQ: AMZN) and JB Hi-Fi Limited (ASX: JBH).
Tripling sales is no small feat. Even if Kogan falls short of that target, there is little doubt it will be a bigger business than it is today.
The problem is, there is such a large variety of outcomes. With uncertainty comes opportunity, but I personally put Kogan in the too hard basket.
If you're looking to learn how to do your own ASX company valuations, take our free share valuation course, which takes you through 6 common share valuation techniques, step by step.
Or try our Beginner Shares Course if you're just starting out. Both are free.