The EML Payments Ltd (ASX: EML) share price has popped 23% in trading today after the business received positive correspondence from the Central Bank of Ireland (CBI).
It's been a difficult six months for EML, with its share price down over 50% from its highs after becoming the target of an investigation into its Irish subsidiary PFS Card Services Ireland Limited (PCSIL).
PCSIL represents EML's European operations (excluding the UK), which accounts for 27% of its revenue.
EML share price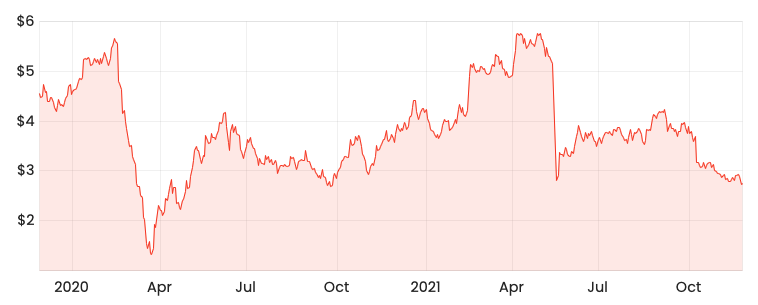 CBI provides clarity for EML
In response to submissions made by EML in October, the CBI has advised of the following: 
The CBI will permit PCSIL to sign new customers and launch new programs whilst staying within the material growth restrictions
Broad-based reductions in limit controls on programs will not be imposed
The CBI intends a material growth limitation over PCSIL's total payment volumes will be imposed for 12 months
In plain English
The announcement doesn't read easily, so here are the advised recommendations in plain English.
Point 1
The first point is a big win for EML. Since the investigation began in May, the business has been unable to launch new programs in Europe.
To counter this, the company has removed existing high volume but low yielding programs to remain within growth restrictions.
Now it can recommence new programs (within the temporary growth limits), which should translate into higher volumes and revenue.
Point 2
Regarding point two, instead of the CBI simply prescribing restrictions, EML and the regulator will work together to agree on appropriate limits under EML's risk management and controls framework.
This is another positive, as it shows confidence in EML by the CBI that the two can find a mutually beneficial solution.
Point 3
Point three will limit growth over the near term. But EML will potentially be able to remove the CBI's growth limit if it can satisfy a third party it has implemented its remediation plan.
EML noted its remediation plans are on track and has previously stated it expects to be completed by March 2022.
Again, overall another positive. Near-term hit for long-term gain is a great outcome and provides light at the end of the tunnel for EML.
Regarding the limits in points two and three, EML has until the end of November to make its submission.
My take
Last week, the EML share price jumped 4% after its annual general meeting update.
While management was light on details, the sentiment seemed to be that the CBI investigation was reaching a conclusion.
A week later, investors now have confirmation.
Even after the 23% rise today, I think EML shares offer good value for a longer-term investor.
If you enjoyed this comparison, consider signing up for a free Rask account and accessing our full stocks reports.