Buy-now-pay-later leader Zip Co Ltd (ASX: Z1P) share price has moved slightly backwards this morning after the business provided a first-quarter trading update.
Currently, the Zip share price is down 1.46% to $6.75.
Stellar annual results, moderate quarterly growth
Key highlights from the first quarter of FY22 include:
Revenue of $136.8 million, up 89% year-on-year (yoy)
Transaction volume of $1.9 billion, up 101% yoy
Number of transactions jumped 14.7 million, up 177% yoy
Number of customers increased to 8 million, up 82% yoy
Merchants on the platform increased to 55.2k, up 71% yoy
In addition to the stellar annual results, quarterly growth remains solid, however at a more subdued rate relative to the annual comparisons.
Revenue is up 8%, transaction volume 7%, customers 10% and merchants 8%.
Essentially, the rate of growth looks to be slowing for the business however it is cycling some very high 2020 numbers.
Z1P share price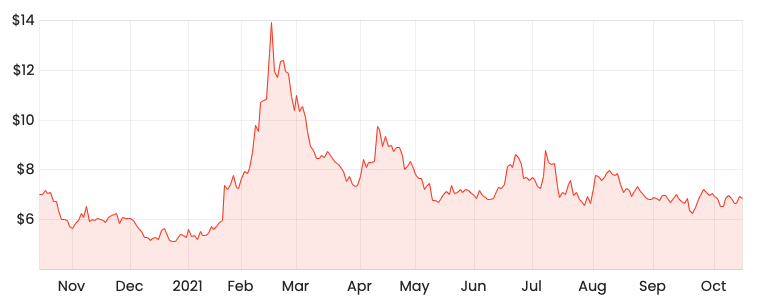 Zip has completed its global rebrand, bringing six countries under one unified name.
For context, Zip's primary markets are the United States and Australia, with smaller operations across the United Kingdom, New Zealand, Mexico and Canada.
App store momentum remains strong with 1.5 million new downloads in the US and 412,000 in Australia.
The US has now surpassed the more mature Australian market for transaction volume. The gap will likely continue to widen as the US is growing at a faster pace.
Zip's margin (the percentage it takes of a total transaction) has dipped slightly, from 7.2% last quarter to 7.0%.
Global ambitions
Despite already operating in six countries, Zip's plan is to be a "truly global BNPL payments company".
As a result, the business recently announced a strategic investment in ZestMoney, the largest BNPL in India.
Its acquisition of Spotii provides exposure to the Middle East and is progressing toward integrating with the broader Zip business.
Cheaper funding locked in
Zip has issued a $650 million oversubscribed senior note offering with a AAA rating.
The notes provide Zip with debt to back its loan activities and help grow the company. Notably, the interest Zip will pay on the notes is 1.32% + the Bank Bill Swap Rate (BBSW).
This is a significant improvement from the original notes issued in 2019, which has a 2.90% + BBSW.
In summary, Zip now has cheaper funding for its business which should improve its margins.
My take
A solid result from Zip. The business is trending positively despite its share price largely unmoved over the past year.
Looking for new share ideas? Check out two ASX shares I'd buy and hold for the next decade.