Following the success of the cost-cutting T22 strategy, Telstra Corporation Ltd (ASX: TLS) today announced its new strategy – T25, which will position the company for growth.
At the annual investor day, Telstra outlined its plans for the next four years. Notable T25 ambitions include:
5G network coverage to be extended to 95% of the population
Customer experience net promoter score (NPS) uplift of 25 points across all segments
Telstra's reward program Telstra Plus to target 6 million members by FY25, up from 3.5 million
Mid-single digit underlying earnings before interest, tax, depreciation and amortisation (EBITDA) growth
High-teens underlying earnings per share growth
Return on capital employed of 8% from FY23
Further $500 million cost reductions between FY23 to FY25
Employee engagement in the 90th percentile
Chief Executive Andrew Penn said:
"if T22 was a strategy of necessity, T25 is a strategy for growth".
Focus on customer
The business is narrowing in on the customer experience to retain and engage members.
Support will be Australian based, either over the telephone or with an in-store local expert. Moreover, the business aims to reduce its interactions with customers by streamlining processes.
The goal is that for more than 90% of customers, they will only need to engage Telstra once. No call-backs or multiple visits.
Good customer service starts with great employee satisfaction. Subsequently, Telstra will aim for employee engagement in the 90th percentile.
The business will also focus on rewarding customers through its loyalty program Telstra Plus. Moreover, Telstra will also expand into energy, with the goal of becoming a top-five retailer by 2025.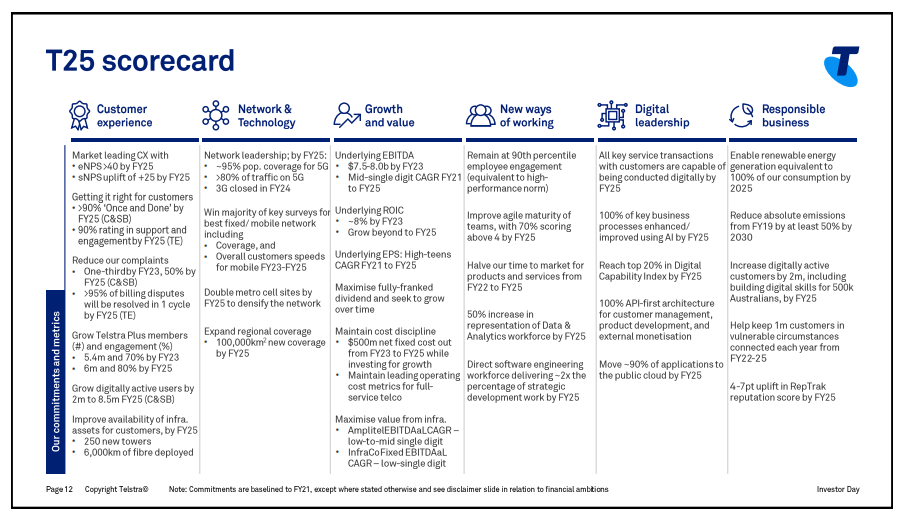 Enhanced value proposition
Telstra has always been known for its market-leading network coverage.
This will be further reinforced by investment in 5G covering 95% of the population.
The business will more than double metro cells to meet capacity and speed demand. Additionally, it will expand its regional coverage with 100,000 square kilometres of new 4G and 5G coverage.
Monetise and optimise
Under T25, Telstra aims to strip out a further $500 million in cost reductions on top of the $2.7 billion already committed in T22.
Moreover, the business will spinoff the previously announced infrastructure assets, offering the potential for a big buyback or a special dividend for shareholders.
Telstra is targeting a return on invested capital of 8% by 2023, mid-single digit EBITDA growth and high-teens earning per share growth.
Positively for shareholders, the company is confident it will be able to retain and grow its current 16 cents per share fully franked dividend.
Final thoughts
Overall, this was a great update by Telstra. After years of a declining share price, patient shareholders should be rewarded with future growth.