The share price of Pro Medicus Limited (ASX: PME) and Xero Limited (ASX: XRO) survived the pandemic and then thrived. How did these two ASX shares flourish in such trying times?
Customer stickiness and a fortress balance sheet played key roles for these two companies.
Pro Medicus share price

Pro Medicus develops and supplies healthcare imaging software and services to hospitals, diagnostic imaging groups and other health-related entities.
The client contracts are generally multi-year deals and once the software is installed, it becomes an extremely sticky product.
Prior to the pandemic, Pro Medicus had already secured a lot of the biggest hospitals across the US. Whilst it's important to have a financially sound customer base, I think it's even more important to have a mission-critical product.
Pro Medicus' product is important regardless of the state of the economy because hospitals still need to use the software to perform its functions.
Its strong and debt-free balance sheet supported by $38 million in cash in December 2019 ensured the business could withstand the economic headwinds.
Xero share price

Xero is the dominant business and accounting software provider in Australia and New Zealand and is rapidly expanding across the UK and US.
This company is another one that offers a mission-critical product. Will businesses still need to use accounting software in a recession?
It's a resounding yes from me!
I think changing the business/accounting software would fall to the bottom list of priorities for businesses in an economic crisis.
Churn levels increased slightly in the first few months of this year, before falling to below pre-COVID 19 levels, illustrating the stickiness and value of Xero's products.
Whilst Xero's balance sheet consists of debt, it is heavily supported by significant free cash flow as shown below.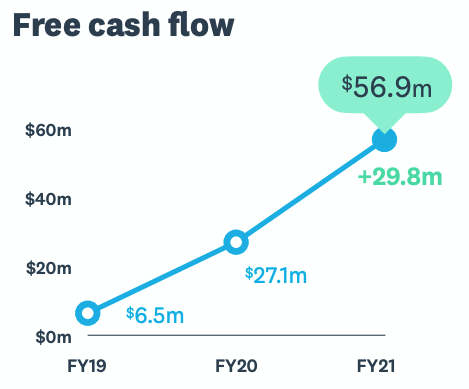 Further, Xero's current assets significantly exceed its current liabilities.
As you can see, the combination of a sticky customer base and a formidable balance sheet is essential to weathering adverse economic events.
This is what I look for as part of the Rask Investment Philosophy.
If you're on the hunt for ASX small-cap shares that could become the next Pro Medicus or Xero, check out the Rask Rockets Beyond program. You might want to hurry – the mission is opening to new members this Thursday night!