The share prices of Nuix Ltd (ASX: NXL) and Redbubble Ltd (ASX: RBL) have gone up and down. The great thing about volatility is that it presents opportunities to invest in great businesses at cheaper prices.
As part of the Rask Investment Philosophy, I don't view volatility as risk. Share prices ebb and flow all the time, I'd rather focus on the business fundamentals.
Here are two businesses I think have sound fundamentals.
Nuix
NXL share price

As you can see, the Nuix share price is currently around 50% of its peak in late January. I believe the significant drop is mainly attributed to the excessive hype surrounding its IPO in December 2020.
I think a lot of investors had high expectations for strong growth given the high historical growth rates.
Mr Market punished Nuix for falling short of expectations in HY21.
Nevertheless, Nuix has a strong client base with reputable names, which is still growing. On top of this, Nuix is riding a long industry tailwind as data becomes increasingly integral to how businesses operate.
The Price-to-Sales (P/S) for Nuix has fallen to around 9.54x based on FY20 sales revenue. This is still much higher than its overseas competitor, OpenText (NASDAQ GS: OTEX), which is around 4.26x but generates 17 times Nuix's revenue.
At such a high multiple, a lot needs to go right, so I would prefer to wait for any further price falls.
Redbubble
RBL share price

Redbubble is categorised as an ASX retail share but there's more to this than meets the eye.
The business is a three-sided marketplace and should be compared to other marketplace businesses like Airbnb Inc (NASDAQ: ABNB), which has a two-sided network effect. This is illustrated below.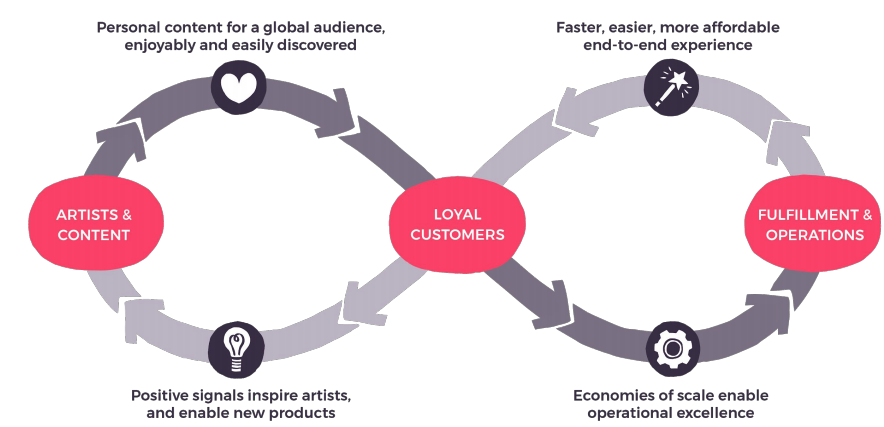 What I like about this business model is the knock-on effect from reinvesting capital in any of the three key cogs. For example, if Redbubble invests capital to attract more artists and content, this will attract more customers.
A network effect is a powerful competitive advantage, and it appears Redbubble is creating a bigger closed network of independent artists.
The key attraction for independent artists is it reduces friction by not having to worry about manufacturing and distribution of their work.
Redbubble is difficult to value as it appears to be the only public print-on-demand marketplace. It's currently trading at a P/S multiple of 3.60x based on FY20 revenue.
The most relevant competitor would be Etsy, Inc. (NASDAQ: ETSY), which currently trades at a P/S multiple of 14.91x based on FY20 revenue. However, investors should bear in mind that Etsy is a two-sided marketplace without the fulfilment and operations focused on artists/small business owners and customers. So, we are kind of comparing apples with oranges here.
In saying this, it provides a rough guide of where Redbubble's valuation sits compared to Etsy, which generates 4.14x more revenue than Redbubble.
If you are interested in other ASX growth shares, I suggest getting a free Rask account and accessing our full stock reports. Click this link to join for free and access our analyst reports.