The share price of fast-fashion jewellery retailer Lovisa Holdings Ltd (ASX: LOV) has rocketed after releasing its first-half result.
At midday, the Lovisa share price had maintained its positive momentum, storming 17.45% higher to $12.92.
Management weathers COVID-19 store closures 
With the ongoing impact of store closures in Victoria and Europe, revenue decreased 9.8% to $146.9 million for the half. Like-for-like sales were down 4.5%, however, showed improvement in Q2.
The company opened 25 net new stores, resulting in a total store network of 460.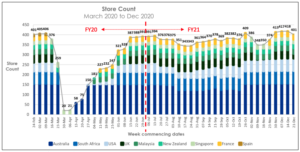 Gross profit for the half was $113.4 million, an 11.7% decrease, primarily due to lower sales. Lovisa's gross margin remained relatively steady at 77.2%, with increased freight costs and currency headwinds contributing to a 1.6% decrease.
Cash flow from operations before interest and tax grew 13% to $52 million. Impressively, the company recorded operating cash conversion of 131%, resulting from tight inventory management and deferred rent payments. Lovisa continues to liaise with landlords regarding rent abatements in relation to COVID-19 trading disruptions.
Net profit after tax was $19.6 million, a decrease of 26.7% on the prior corresponding half.
The board reinstated the payment of dividends after no final dividend was declared in FY20. A 50% franked interim dividend of $0.20 will be paid to shareholders, a 33% increase to last year's $0.15 dividend.
Underlying operations remain strong 
The Australian and New Zealand stores continued to be a standout, with positive comparable sales in the first half. Additionally, South Africa recovered well to post positive Q2 comparable sales.
Sales in Asian markets were slow, mainly due to low tourism and lower mall foot traffic. Meanwhile, Europe and the United States continued new store growth, with lockdowns interrupting the positive momentum.
Customers increasingly moved online as a means to purchase jewelry, with Lovisa recording a colossal 335% increase in e-commerce sales, albeit off a low base.
Full-year outlook 
The first seven weeks of store trading for the second-half have seen comparable sales increase 12% over this period, despite currently having 42 stores in the United Kingdom and 23 stores in France closed temporarily due to continued government lockdowns.
Given the current uncertainty around the pandemic and varying degrees of lockdowns in various regions, management did not provide any further guidance for the second half.
Summary thoughts 
The Lovisa share price bounce illustrates the impressive job management has done leading the vast global store network, given the uncertainty around lockdowns in multiple jurisdictions.
With impressive gross margins for a retailer, I think this share warrants further research. I'll be adding it to my watchlist.
If you are interested in other ASX growth share ideas, I suggest getting a Rask account and accessing our full stock reports. Click this link to join for free!