Australia and New Zealand Banking Group Ltd (ASX: ANZ) has just posted positive results for the first quarter of FY21. Will this push the ANZ share price to pre-COVID heights?
ANZ is a leading Australian and New Zealand banking institution, with a presence throughout the oceanic region. ANZ predominantly focuses on providing residential and business loans to Aussies and Kiwis. It competes with other big banks like Commonwealth Bank of Australia (ASX: CBA) and National Australia Bank Ltd. (ASX: NAB).
Steady results
ANZ recorded $1.62 billion in net profit after tax, a big jump of 54% on the average of the last two quarters of 2020 (2H20). The company notes this was due to an increase in revenue of 4% relative to 2H20, as all its major businesses performed well with market share gains in the Australian home loan market and record volumes in target segments in New Zealand.
It is also encouraging to see that the net interest margin increased by 5 basis points (0.05%) to 1.62% compared with 2H20. This improvement was a result of lower funding costs and higher institutional asset margins.
So the income side of the business appears to be improving, how about the credit quality of the actual loans?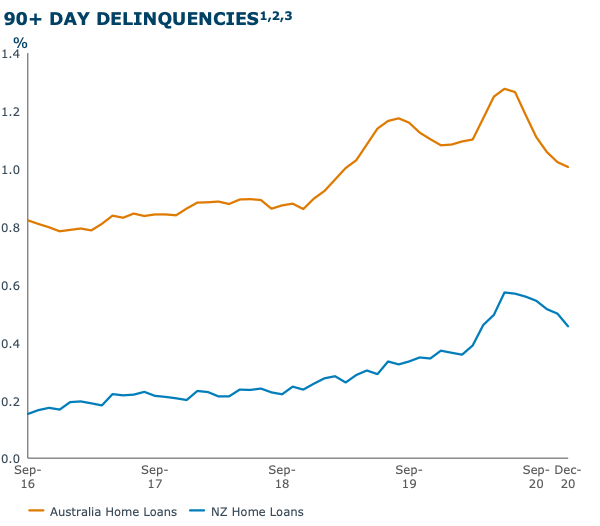 The combination of government assistance and bank support packages for customers is having a positive impact on the quality of home loans. ANZ notes in Australia, 84% of deferred home loans have rolled off with 98% returning to repayment. In New Zealand, 92% of loan deferrals have been extinguished with 86% returning to repayments.
Management outlook
ANZ CEO, Shayne Elliott appears focused on galvanising the business through controlling costs and its capital position, commenting:
"We have been focussed on costs for many years and we were again able to reduce how much we spent on running the bank while investing in initiatives that will deliver long-term benefits to shareholders. We again strengthened our capital position resulting in a further increase in net tangible assets per share."
"ANZ is well-positioned heading into the remainder of 2021 with good momentum in our core activities. The work done to simplify and de-risk the business over the past five years set us up well and we have the capital, liquidity and operational capacity to continue to support our customers and the broader economy through what remains a volatile period," he added.
My thoughts
It appears management is taking prudent steps to ensure ANZ remains resilient in a challenging environment. Whilst ANZ continues to improve its bottom line, it is difficult to see how it will significantly grow its margins given the current interest rate levels.
ANZ will likely rely on ramping up the volume of loans to generate growth. So, keep an eye on management's ability to gain further market share. And another eye on competitors executing the same strategy like Bank of Queensland (ASX: BOQ), and Bendigo and Adelaide Bank Ltd (ASX: BEN).
If you are looking for other ASX share ideas, I suggest getting a free Rask account and accessing our full stock reports. Click this link to join for free and access our analyst reports.