The Aristocrat Leisure Limited (ASX: ALL) share price has made a slow and steady recovery since its March lows but still trades at an 18% discount to pre-covid levels.
Here are a few ways I analyse this company and why I'm liking it at the moment.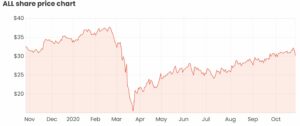 Introduction to Aristocrat Leisure
Aristocrat Leisure is a leading gaming provider and publisher with operations in Australia, New Zealand, the Americas and other countries. The company offers services across two main segments: land-based and online.
Land-based products are approved in over 300 jurisdictions and 80 countries. Revenue from these machines can either be generated from an outright sale to an operator or through a revenue share agreement where Aristocrat earns a percentage of the revenue collected through the individual machine.
Its digital segment is made up of brands such as Big Fish Games and Plarium which are responsible for the development and distribution of online games that can be accessed through mobile devices.
COVID-19 impacts
The group's half-year results didn't do much to excite investors in May this year. Despite seeing a 7% increase in revenue to $2.25 billion, a high fixed cost base resulted in a 7.7% decrease in EBITDA compared to the corresponding period. Land-based sales suffered the most for obvious reasons, but this was more than offset by a 19% increase in revenue generated from Aristocrat's digital service line.
Outstanding debt as of March was $3.1 billion, consisting of a term loan and a revolving credit facility with maturities in 2024. The company's cash balance was $871.1 million.
Although there was a significant impact on the group's performance, management has used this as an opportunity to aggressively invest in both Design and Development (D&D) and User Acquisition to continually diversify its service offering across land-based and digital segments.
The company combines a growth by acquisition strategy with organic growth through increasing average revenue per user. The recent acquisitions of Big Fish and Plarium have been extremely successful so far, generating an additional US$239.5 million in FY19. Plarium's RAID: Shadow Legends has been the outstanding performer and is now a top-three mobile game in its genre.
Macroeconomic environment
Regardless of whether venues are shut or open, it remains likely that consumers will continue to gamble, be it online or in casinos. For this reason, I think Aristocrat is well-positioned to take advantage of the gradual unwinding of restrictions due to its broad hybrid offering across the world.
One risk I might point out would be that gambling expenditure could decrease as disposable income falls from ongoing effects of COVID-19. Although if this were to happen, it would most likely be temporary, and the company's balance sheet would be strong enough to withstand any temporary change in consumer habits.
Aristocrat has faced some legal issues recently. Last year, the company was ordered to pay $47 million to settle two class-action lawsuits brought by US customers who lost over US$300,000 playing Aristocrat's online casino games in a US state where online gambling was prohibited.
This sort of potential headwind is something the company will continue to face in the future. The group's diversification strategy aims to broaden its service offering across as many jurisdictions as possible, mitigating the risk that the prohibition of gambling will prevent its operations in certain areas.
Final thoughts on Aristocrat Leisure shares
Aristocrat shares are a buy with a long-term investment horizon for me. Similar to some of the ASX travel shares, this company is probably not going to experience that V-shaped recovery in earnings that we've seen in some other sectors.
Although many restrictions have already been eased, it might take time for consumer behaviour to return to normal levels. In the meantime, the digital arm of the business represents a further growth runway that will hopefully offset further potential underperformance of the land-based segment.