Smartgroup Corporation Ltd (ASX: SIQ) is an ASX share that has really gone under the radar due to the effects of COVID-19 on its operations.
Smartgroup shares currently trade at $5.62 at the time of writing – roughly a 23% discount to its February highs. Does this represent a good buying opportunity?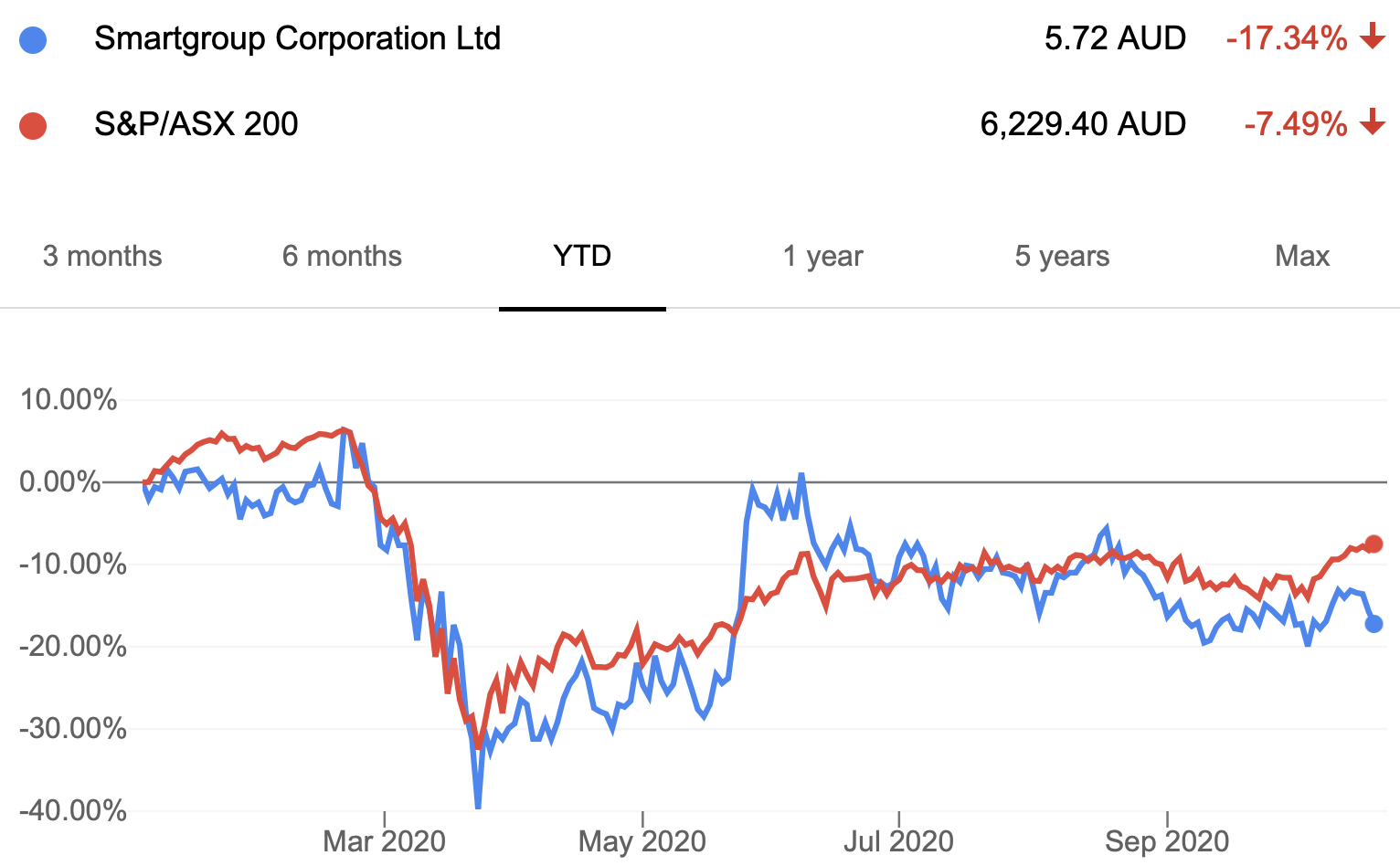 What does Smartgroup do?
Smartgroup offers a variety of services, including outsourced salary packaging, novated leasing and payroll services.
One of its main segments is novated leasing, which allows employees to lease their car through their employer and pay down lease payments with pre-tax dollars. This results in a lower taxable income and therefore, a lower amount of tax payable to the ATO.
Smartgroup generates revenues by administering these packages on behalf of employers who are offering these services.
Groups such as charitable institutions and other not-for-profit organisations are recognised by the ATO as eligible for fringe benefits tax (FBT) exemptions. As a result, the majority of Smartgroup's clients are these sorts of institutions, but it also serves government bodies, hospitals and a small private sector segment.
I like this customer concentration, as governments on multi-year contracts are a sticky form of revenue. However, it's important to note that the rules around salary packaging are ultimately dependent on the ATO. Therefore, changes in these rules could pose a significant threat to the future operations of novated leasing and salary packaging.
Why the Smartgroup share price hasn't recovered 
As a result of COVID-19 lockdowns, Australian private new vehicle sales declined 12%, which meant more people chose to refinance their current leases rather than enter into new lease agreements with newly purchased cars.
The group saw net profit after tax and amortisation (NPATA) of $32.1 million in the most recent half, down 21% from the prior corresponding period, mainly as a result of the leasing business.
On a more positive note, Smartgroup's salary packaging segment has been far more resilient with the renewal or extension of contracts due in 2020, with more than 90% of renewals successfully executed.
The balance sheet is strong, with a cash balance of $86.5 million and net debt of $12 million.
Is this a recovery play?
Similar to some of the ASX travel shares, I think this one is going to play out over the long-term. However, your decision to invest will depend on how long you think it will take for new vehicle sales to return to pre-COVID levels.
Having said this, in my view, the rest of the business looks sound and has a great track record of growing its earnings over the last several years.
Additionally, I think there are some bigger tailwinds that are going to help offset the effects of the pandemic on Smartgroup's leasing segment.
Currently, we're seeing the continued rollout of the National Disability Insurance Scheme (NDIS) and hopefully, more funding into aged care. Given Smartgroup's high concentration in government clients, this will be a potential structural tailwind in the coming years.
The group continues to make acquisitions of smaller competitors and either retire older brands or consolidate them into its current offering.
Smartgroup shares are a buy for me. But only if you're patient enough to see the recovery of new car sales. I would personally rather invest my money somewhere else that might have some more short-term upside.