Xero Limited (ASX: XRO) shares have gone up 30% over the past month, are they still good value?
Xero is a global provider of cloud accounting software. It's one of the biggest in the world.
Strong growth from Xero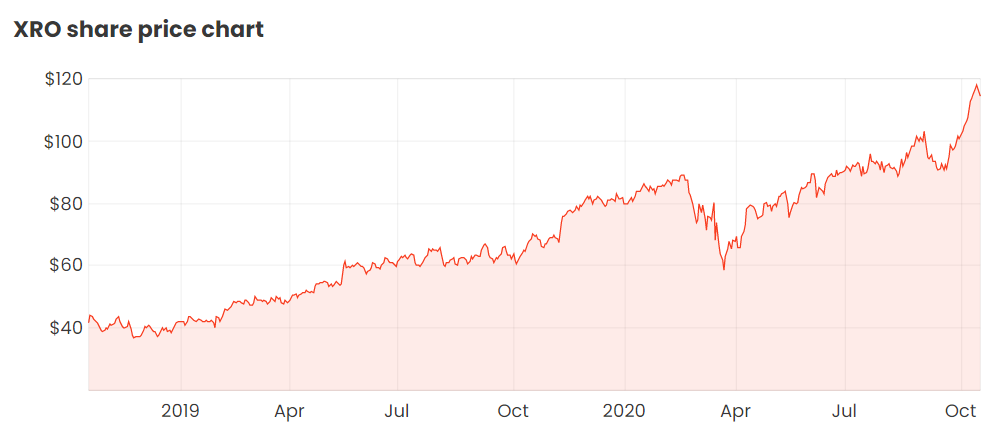 You can see from the Xero price chart that the company has been on a great run in the short term and the longer term. The company's underlying growth has powered the business higher.
In FY20, Xero reported that revenue grew by 30% to NZ$718 million and subscribers went up by 26% to 2.285 million. This top line growth is allowing the company to heavily invest in growth across other areas of the business.
It's important to realise that Xero is actually an incredibly profitable business, even if it's not reporting a large net profit each year. In FY20 it saw a gross margin of 85.2%. That means that most of the revenue falls to the next level of profit (like a waterfall with steps).
EBITDA (click here to learn what EBITDA) grew by 52% to NZ$139.2 million, which was much faster than the revenue growth.
Where to from here?
COVID-19 impacts are less obvious on the listed businesses because of their balance sheet strength. And many ASX shares have a strong digital connection to customers.
But the small and medium businesses in Australia as a whole aren't doing as well. This is Xero's customer base. So it may see subscriber suffering in FY21. Is this a short term problem or is Xero's subscriber number growth going to be permanently stunted by what is happening?
It's hard to say. Xero is certainly making a lot of good progress in the UK. In FY20, Xero saw its subscriber numbers rise by 32% to 613,000 with revenue rising by 54%. It obviously takes 12 months for Xero to receive a full year of revenue from a subscriber, whereas the subscriber growth is reflected instantly.
However, the continuing government support for businesses across the world is certainly indirectly helpful for Xero.
Are Xero shares worth buying?
The main question is whether Xero is worth buying today. Xero is harder to value because it doesn't make a profit, so you can't use traditional measures like the price/earnings ratio or free cash flow.
It can be dangerous thinking to simply say that valuation doesn't matter if Xero isn't earning profit whilst it's heavily investing. Xero wouldn't be worthy of having a market cap of $500 billion, but a $1 billion market cap would be a steal if the business was the same.
I'd take a pause on buying Xero shares for now. It's doing really well, but there are other ASX growth shares that I think would make better buys such as Pushpay Holdings Ltd (ASX: PPH).